Video surveillance shows embattled former Washington Local superintendent Patrick Hickey taking pictures at night outside the classroom door of a teacher who had claimed he harassed her.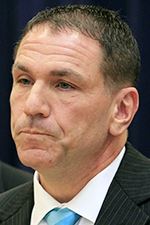 Hickey
The November incident led to Mr. Hickey's second paid leave and investigation into his conduct, but wasn't the cause of his resignation from the district, Washington Local school board President Thomas Ilstrup said.
Mr. Hickey insists he did nothing wrong, acted on advice of now interim-superintendent Cherie Mourlam, and that further video vindicated him.
A business card was at the heart of the matter.
In September, the first investigation began after board members learned a husband and wife who teach in the district had claimed Mr. Hickey harassed them after an alleged relationship between Mr. Hickey and the wife ended. Mr. Hickey ultimately received a letter of reprimand, which among other things told him not to interact with anyone he believes has filed a complaint against him.
Tensions between Mr. Hickey and the board continued, with board member Patricia Carmean filing a police report in November claiming Mr. Hickey harassed her. Mr. Hickey claimed Ms. Carmean was stalking him.
At about noon Nov. 17, Mr. Ilstrup announced further discipline against Mr. Hickey could be forthcoming. The video — shown to The Blade after a public records request — and card came into play.
Shortly after 7 p.m. Nov. 17, Mr. Hickey entered the Whitmer Career and Technology Center, which should have been locked at the time. He walks by the door of the teacher who claimed Mr. Hickey harassed her, stops, notes something on her door, and stays around it for a few minutes before leaving.
Multiple district officials said the object on the door was Ms. Carmean's business card.
About 10 minutes later, Mr. Hickey returned to the classroom, moved the card to be more visible, and then took a picture with his cell phone. He left and returned about 30 minutes later.
At that point, custodial staff noticed the card and stayed by the door, calling someone on a cell phone. When Mr. Hickey returned, he quickly entered a nearby hallway.
The district maintenance director called Mr. Ilstrup because staff were, as Mr. Ilstrup put it, "upset or frightened or worried" about Mr. Hickey returning on multiple occasions to the woman's classroom at night. Mr. Ilstrup returned to the school that night, saw the surveillance video and met with concerned staff members.
"I could see the fear in the employees' faces," he said.
Mr. Ilstrup said Mr. Hickey was suspended because it could appear his returning to the door and taking pictures could be a form of harassment or intimidation, and that it also initially appeared that Mr. Hickey was trying to "frame-up" Ms. Carmean.
Mr. Hickey says he was there for good reason, and he took a picture to protect himself.
Further video showed the card ended up on the teacher's door by happenstance. The card fell out of her husband's pocket earlier that day as he walked down the hallway. A staff member, apparently a substitute teacher, noticed it and stuck it in the door of the wife's classroom.
When asked why the teacher's husband had the business card, Ms. Carmean she said frequently gives out her card.
"I give my business card to people in case they need to call me," she said.
Mr. Hickey claimed vindication.
"I was absolutely, 100 percent cleared of placing that card on the door," he said.
He said he was at the high school to watch his son play basketball, and that he occasionally walked the district's halls at night, sometimes taking pictures of student art or achievements posted on the wall. His noticing the card was incidental, and he said he immediately texted his wife, secretary, and Ms. Mourlam, asking for advice, unsure why a board member's card would be there.
Ms. Mourlam told him to take a picture because she wanted to see if what he said was true.
"It was much to-do about nothing," Ms. Mourlam said. "He wasn't the one who put it there."
The initial decision to place Mr. Hickey on leave was done to prevent what could be further victimization of the teacher, Mr. Ilstrup said. He acknowledges Mr. Hickey didn't place the card on the door but that his actions still constituted a violation of his letter of reprimand.
"It was kind of creepy or weird that he was coming in a locked building, going in front of the classroom of the teacher who had alleged victimization," Mr. Ilstrup said. The first and second times Mr. Hickey comes to the door can be justified, he said. "But when he came in a third time, and he immediately turned and left when staff saw him, that caused me concern."
Mr. Ilstrup said the incident didn't lead to Mr. Hickey's decision earlier this month to accept a separation agreement that will pay him more than $200,000 in exchange for leaving the district two years before his contract expires. In his resignation letter, he said that he "could no longer subject the people I love to the evil and viciousness that seemed to never end."
Contact Nolan Rosenkrans at: nrosenkrans@theblade.com or 419-724-6086, or on Twitter @NolanRosenkrans.
Guidelines: Please keep your comments smart and civil. Don't attack other readers personally, and keep your language decent. Comments that violate these standards, or our privacy statement or visitor's agreement, are subject to being removed and commenters are subject to being banned. To post comments, you must be a registered user on toledoblade.com. To find out more, please visit the FAQ.