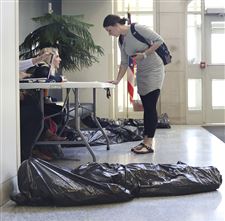 Emily Samaritani, left, speaks with public health senior Krysta Fischer, right, as Ms. Samaritani mans the information table.
THE BLADE/KATIE RAUSCH
Enlarge | Buy This Image
Mary Lee stopped abruptly as she came upon what looked like a body bag on her way to class Wednesday at the University of Toledo.
"At first I was confused. I was like, 'What is that?'" said Ms. Lee, 23, of Oregon, a senior majoring in public health. "Then I learned it's the nationwide Kick Butts Day."
In the lobby of UT's Health and Human Services building, volunteers sat behind a table to distribute information as three black garbage bags filled with blankets lay on the floor nearby to represent those who suffered the deadly effects of smoking and second-hand smoking.
Emily Samaritani, 22, of Toledo, a senior majoring in public health, said the four-hour display was part of the day of nationwide activities by young people.
Participants demanded that tobacco companies "stop marketing deadly products to them and encourage elected officials to help reduce youth tobacco use," according to a leaflet released by event organizers.
"I want people to know that smoking [remains] a big problem. Even though UT campus is smoke-free, a lot of people still smoke on campus," said Ms. Samaritani, vice president of the local chapter of Eta Sigma Gamma National Health Education Honorary, a nonprofit that organized the event.
The university's board of trustees banned all tobacco use on all UT campuses in 2014.
About 15.7 percent of high school students — 2.7 million — are smokers, as are about 17.8 percent, or 42.1 million adults, according to a leaflet handed out during the event.
Guidelines: Please keep your comments smart and civil. Don't attack other readers personally, and keep your language decent. Comments that violate these standards, or our privacy statement or visitor's agreement, are subject to being removed and commenters are subject to being banned. To post comments, you must be a registered user on toledoblade.com. To find out more, please visit the FAQ.