The first trip of Titan I was, well, a bit of an adventure.
St. John's Jesuit Academy students who built the St. Ayles skiff launched it for the first time Friday, with the maiden voyage on the pond in The Andersons' compound just south of the school. After the boat was in the water with five students aboard, teacher John May called out, "You understand how to steer?"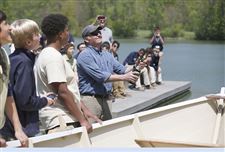 St. John's Jesuit Academy teacher John May pops a Champagne cork to christen the hand-crafted boat built by students at The Andersons' pond in Toledo.
THE BLADE/LORI KING
Enlarge | Buy This Image
The response was less than confident. Turns were made slowly.
"We'll figure it out," one of the students yelled back.
And they did. After a quick row out to the middle of the pond, then a quick row back, with former crew coach Phil Levering instructing from the dock, the first trip ended safely. Learning by doing was the day's creed, and really, the last two years'.
The St. Ayles skiff, a rowed boat, is a style created and popularized in the past decade in Scotland and inspired by traditional fishing skiffs. Students built the boat during semester-long enrichment programs at the academy, which is for seventh and eighth graders.
It's supposed to take 800 man-hours to complete the skiff — "I'm not sure how many boy-hours that is," Mr. May joked — so the project took a bit longer than projected at the school. But that's OK, since the longer construction period meant more boys could participate.
The students used Douglas fir and white oak, cutting, sanding, and applying epoxy and paint.
About 50 students worked on the project, and were on hand Friday to see its launch. The boys could rattle off what work they did: shaping the oars, working with acetone, and sanding, sanding, sanding.
"Looking back, we did a lot," said Malachi Norrils, 13, a seventh grader.
They worked in teams, with everyone given a role based on skill and desire.
"Honestly, it's now," Nathan Allen, 13, said when asked his favorite part. "We see the results we worked hours on."
Students learned how to do woodworking, which Yusuf Shabazz, 15, a freshman at St. John's, said is a skill he could now use around the house. They got crash courses in chemical compounds, and used math during construction. They also learned shop safety and some basic nautical terms and concepts.
"You had to learn things really fast," he said.
Mr. May is a proponent of project-based learning, and said the skiff was a way for students to learn skills they don't normally get these days. A carpenter's son, he built tree houses as a kid, while his students build structures on Minecraft.
And now, they build boats.
Contact Nolan Rosenkrans at: nrosenkrans@theblade.com or 419-724-6086, or on Twitter @NolanRosenkrans.
Guidelines: Please keep your comments smart and civil. Don't attack other readers personally, and keep your language decent. Comments that violate these standards, or our privacy statement or visitor's agreement, are subject to being removed and commenters are subject to being banned. To post comments, you must be a registered user on toledoblade.com. To find out more, please visit the FAQ.