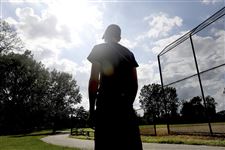 Housing insecurity is a persistent issue for students in Toledo, including a 16-year-old who thinks he has moved 10 times since sixth grade and who is currently living on his own.
THE BLADE/KATIE RAUSCH
Enlarge | Buy This Image
He lives a double life.
At school, he's jovial, engaged, looking to talk with friends. He plays football and dreams of being on a MAC team when he graduates.
At "home," though, he's serious and withdrawn. He tries to find ways to get school projects done that require Internet research, but he doesn't have Wi-Fi at the hotel where his mom stays, or at the relatives' houses he crashes in.
He's 16, now in high school. Since the sixth grade, he thinks he's lived in 10 different places. There have been evictions, short stays with family, and even a stint squatting in a foreclosed home.
"No one knew we were there," he said.
There's a sense of powerlessness, as if he has no control over what happens with his life. There are times when he tells himself he doesn't want to live anymore. But then he tells himself he can graduate, leave town, and not live like his family has — if only he works hard enough.
The Blade isn't naming the student because nearly no one knows he's homeless. Like many children struggling to find a place to live, he thinks he's alone. But there are thousands of children in Toledo who don't know where they'll call home next month, week, or day.
Data on homeless
Toledo Public Schools has the highest number of students classified as homeless in Ohio, according to data compiled by the Ohio Department of Education.
The district reported about 2,700 students as homeless, more than Columbus, Cincinnati, or Cleveland, according to recent departmental data and ODE Senior Executive Director Chris Woolard. Districts self-report their homelessness statistics, and the prevalence of charter schools makes it hard to see the full picture of a city's youth homelessness problem.
Homelessness doesn't just mean a student living on the streets or in a shelter. Most children who are homeless are couch-surfing, or living doubled up in friends' or relatives' homes. Their parents may have been evicted from an apartment, their house may have burned down, or a teenager may have been kicked out of their home.
And often times, especially with teenagers, they don't self report, said homeless advocates, meaning there are students living in trauma without anyone else knowing.
"There's probably an under-reporting of the double upped students," said Mike Badik, executive director of the Toledo Lucas County Homelessness Board, referring to students living temporarily at another family's home.
The district has seen a 37 percent increase in students classified as homeless over the past three years, said Heather Baker, coordinator for TPS' McKinney-Vento program, a reference to the federal homelessness aid law. But while some of that may be because of an increase in homeless students, it's also partly because the district had to get creative with how it tracked students, which uncovered more vulnerable children, Ms. Baker said.
Federal funds are given as grants to districts with high levels of homelessness among their student populations, and TPS used to receive about $170,000 a year. But the district didn't receive the grant the past two years, forcing TPS to reach out to community partners, Ms. Baker said.
The number of homeless students skyrocketed the past two years, she said, partly because the district did a better job in identifying homeless youths through their partner network.
"It forced us to reach out outside of our comfort zone," she said.
Among those partners is the Promise House Project, an organization that helps homeless and housing insecure youths, with a focus on lesbian, gay, bisexual, transgender, questioning, or queer young people. Lilian Briggs, executive director and co-founder of Promise House, said there are many reasons for a student to become homeless.
There's a lack of affordable housing, and many parents are "living half of a paycheck to half of a paycheck," she said. The opioid crisis can leave children of addicts without homes. And for some children, when their parents find out they are gay, transgender, or bisexual, she said, they get kicked out of the home at age 18.
"You're worried about where you will sleep, if you are safe enough," Ms. Briggs said.
Opioid crisis
Opioid addiction is a big part of why the 16-year-old can't find a stable place to live. His family's struggles started when his mom stopped paying bills on time.
He had his suspicions about where their money was going, and when he was prescribed OxyContin for a medical issue, the massive amount of pills disappeared even though he hardly used them.
"I know it was drugs," he said of the family's money problems. "I think she knows I know."
Freshman year, they had no electricity for lights. He told a couple of teachers and his coaches. They told him to not worry about things he couldn't control, and they helped where they could.
Part of the problem in Toledo is that there are not enough homeless shelter beds, and many of those that do exist have specific criteria, such as for families or domestic violence survivors, Ms. Briggs said. Those shelters are important, but nonspecific and nonreligious shelters are also needed.
Children move from a friend's couch to a relative's home until they have to leave again, Ms. Briggs said.
"We are seeing them drastically crumble inwardly," she said.
Both the trauma of homelessness, and the underlying factors that cause it, can significantly impair student performance, Ms. Baker said. The majority of TPS' homeless population would be considered truant.
School districts are required to have a liaison for homeless students, and to provide transportation to children to their school of origin if they want, so that a stay at a shelter or a relative's home doesn't mean a student has to transfer schools.
There's also the difficulty in tracking the full homelessness problem because of the decentralization of public education because of charter schools. There are several school districts within Toledo, and while each must report how many homeless students they have, the mobility among schools is high.
That means there's likely students without stable housing of which school officials are unaware.
"When you think about homelessness, the face of homelessness should be the face of a child," Ms. Baker said.
The 16-year-old said he doesn't tell his friends about what he's gone through because they wouldn't understand. And anyway, he said, what can they do to help? The assistance he's received, such as clothes or food, lasts a little while, but just a little while.
"I don't think anyone would get it," he said.
He also doesn't want people to think he's creating an excuse if he doesn't succeed. So he puts in work — at school, on the football field, at his part-time job. And dreams about leaving this life.
"It's just another pothole to get over, another bump," he said. "I'm so used to it."
The school district and community service groups have paired up for an initiative called Class Act Lucas County, consolidating school supply drives into one big push. Those interested can donate backpacks filled with supplies for students. Of the 7,000 backpacks given to TPS students last year, about 5,000 of them went to homeless students, Ms. Baker said.
Those who need bags can call 2-1-1, as can those interested in donating. More information can also be provided by Megan Hentges Cornwell, marketing and public relations director for the Salvation Army, at 419-241-1138, ext. 116.
Contact Nolan Rosenkrans at: nrosenkrans@theblade.com or 419-724-6086, or on Twitter @NolanRosenkrans.
Guidelines: Please keep your comments smart and civil. Don't attack other readers personally, and keep your language decent. Comments that violate these standards, or our privacy statement or visitor's agreement, are subject to being removed and commenters are subject to being banned. To post comments, you must be a registered user on toledoblade.com. To find out more, please visit the FAQ.