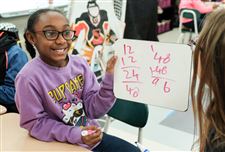 Anjali Campbell holds up the correct answer to teammate Sydney Genot in response to a math problem at Wayne Trail Elementary School in Maumee, Ohio on Wednesday, Nov. 15.
The Blade/Jetta Fraser
Enlarge | Buy This Image
You don't often get to play hockey in math class.
But at Wayne Trail Elementary School in Maumee, it's hockey week, so on Wednesday Kristen Bockbrader set up a net in the middle of her math class, with a goalie barrier across the front forcing students to aim for the corners.
Matthew Dembski was one of 22 students divided into four teams on Wednesday. Matthew is a Red Wings fan, evidenced by the classic red sweater he wore to class, but Miss Bockbrader made him a Pittsburgh Penguin for the day. The entire class was asked a trivia question, and a right answer earned each team one point. Questions included hockey trivia, such as which team had won the most Stanley Cups, along with math questions, such as calculating the area of an ice rink.
But the real points come after the question, when Miss Bockbrader calls up a student from each team and gives them a shot at the net. There were tape lines for one, two, five, and 10-point shots, but every student went for the 10-point shot.
"It's worth more points," fellow fourth-grade student Maya Davis said. "If you just focus on it, you can get it."
Matthew missed his first shot, but he got a second chance to redeem himself later in the game. He grabbed a hockey stick off a desk and prepared to shoot. The stick was about as long as he was tall, so he choked up on it, and shot the rubber orange ball at the net. He scored stick side on the tarp goalie, adding the 10 points to his team's total — which ended up being the Penguins' margin of victory.
Students enjoy the activity, Miss Bockbrader said, which is very similar to the activity she did two years ago for the last hockey week.
"My family is a big hockey family," she said while wearing her brother's old Bowling Green State University hockey jersey. That said, not everybody follows hockey, so for many students the week is an introduction to the sport.
Hockey ends up in every class, school principal Nick Neiderhouse said, whether it be turning the history of hockey into a timeline or learning why the area has so many walleye swimming in the Maumee River. This is the school's third hockey week, which happens every two years.
"Every student gets to experience hockey week when they come through Wayne Trail," he said. "At this age level students really start to develop a love for sports ... This is a great tie-in for what kids can learn."
Much of the curriculum is borrowed from the Toledo Walleye and the University of Toledo, which worked together on developing this program.
"It wasn't anything we started from the ground level," he said.
All 360 fourth- and fifth-grade students will be traveling to the Walleye game on Thursday.
"It's a loud game, and not just when they score a goal," Mr. Neiderhouse said with a laugh.
For many students, like Maya, this will be their first hockey game.
"I'm looking forward to the Walleye winning," she said.
Contact Zack Lemon at zlemon@theblade.com, 419-724-6282 or on Twitter @zack_lemon.
Guidelines: Please keep your comments smart and civil. Don't attack other readers personally, and keep your language decent. Comments that violate these standards, or our privacy statement or visitor's agreement, are subject to being removed and commenters are subject to being banned. To post comments, you must be a registered user on toledoblade.com. To find out more, please visit the FAQ.