When the Toledo community this year learned its public school system reported more homeless students than any other district in the state, many didn't believe it.
Renee Palacios, executive director of the Family House shelter, said she fielded call after call to the shelter from people who said, "Where are they? I don't see them."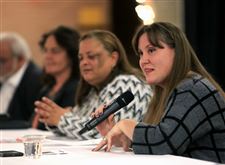 Renee Palacios, executive director of Family House, speaks during a panel discussion about homelessness at Lourdes University's Franciscan Center in Sylvania Thursday.
The Blade/Kurt Steiss
Enlarge | Buy This Image
"The kids don't wear signs that say, 'I'm homeless,'" Ms. Palacios told an audience Thursday at Lourdes University. "Our stereotypes, a lot of the time, will keep us from seeing reality."
Lourdes University early childhood education students Gina Hanson and Cody Culver, both seniors, organized Thursday's public forum at the Franciscan Center. They designed it to be both a resource for Lourdes education and social work students, and a springboard for community discussion.
"It's a huge issue right now in Toledo," Mrs. Hanson said. "We're going to encounter it when we're in the classroom, so we wanted ideas and tips to help us with our future students."
Toledo Public Schools reported 2,690 homeless students during the 2015-16 school year out of about 22,000 students, state data shows.
About 2,000 of those children were living doubled-up, meaning there was more than one family living in one dwelling. The others reported living in shelters.
Mike Badik, executive director of Toledo Lucas County Homelessness Board, reminded the audience that for each homeless child or sibling group, there's a parent in need.
"Part of the issue is not to forget that the parent or the guardian of the child needs the assistance, too," he said.
Ms. Palacios and Mr. Badik, along with TPS Director of Homeless Initiatives Evelyn McKinney and Leading Families Home CEO Tammy Holder, answered questions and provided insight about the city's homeless situation and how community leaders are grappling with the issue.
"Homelessness is traumatic for the family, and it's extremely traumatic for these kids," Ms. Palacios said. "And they need your support and your love and your compassion, especially those of you who are going to be teachers."
All four asked the audience to withhold judgment when they encounter or discuss someone in danger of losing their housing. Families become homeless after they've exhausted all their resources, and no one wants to live in a shelter, they said.
"Systems create homelessness as much as individual choices do. The only way we can move people out of homelessness is as a community," Mr. Badik said. "It's not their fault, it's all of our fault."
Ms. McKinney said there are many social service organizations in Lucas County working to lift people out of housing insecurity, but she wants to unite the public in the fight.
In the immediate future, the best thing the community can do is to ask social services organizations what they need. Right now shelters could use practical household items such as towels, toilet paper, cleaning supplies, and personal hygiene products, the speakers said.
"Don't do nothing," Ms. Holder said.
Contact Sarah Elms at selms@theblade.com, 419-724-6103, or on Twitter @BySarahElms.
Guidelines: Please keep your comments smart and civil. Don't attack other readers personally, and keep your language decent. Comments that violate these standards, or our privacy statement or visitor's agreement, are subject to being removed and commenters are subject to being banned. To post comments, you must be a registered user on toledoblade.com. To find out more, please visit the FAQ.