Students sat on the carpet in a corner quadrant of a Fort Meigs Elementary classroom, closely huddled and intently looking up at their fourth-grade teacher.
It was the first day of February. The Perrysburg students were in the middle of an African-American history unit they started last month, and for the first time in their academic careers, they were confronted with the harsh reality many African-Americans endured in America.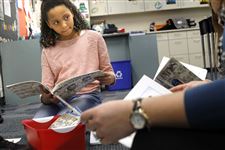 Kallie Thames, 9, reads along with other members of her fourth-grade class as they learn about Jackie Robinson and other prominent African-Americans.
The Blade/Katie Rausch
Enlarge | Buy This Image
Jackie Robinson integrating baseball, Ruby Bridges, the Greensboro sit-ins, Brown vs. Board of Education, and other pivotal people and events that occurred during the civil rights era came up during the discussion.
"What have we learned so far?" fourth-grade teacher Shauna Hunter asked her students.
Hands sprung into the air in quick succession. The students were eager to share.
"We learned about all sorts of people who stood up to white people," 9-year-old Kallie Thames said. "There was Martin Luther King, his 'I Have a Dream' speech, and the March on Washington."
An enthusiastic Nick Callen, 10, chimed in right as Kallie finished her sentence.
"We also learned about segregation, different water fountains, and now we get to integrate, and it's a lot more peaceful, and everybody gets along," he said.
In February, schools around the area are prepared to celebrate Black History Month. It's a tradition with roots that stem back nearly 100 years to 1925, when Harvard-trained historian Carter G. Woodson's Association for the Study of Negro Life and History started Negro History week.
The historian "like W.E.B. Du Bois before him, believed that truth could not be denied and that reason would prevail over prejudice," Howard University Professor Daryl Michael Scott wrote in an essay excerpt posted online by the Library of Congress.
Now the nation is celebrating what has become a month set aside to acknowledge what President Gerald Ford in 1976 described as "the too-often neglected accomplishments of black Americans in every area of endeavor throughout our history."
Curtis Cook, 10, reads aloud as he and other fourth-grade students learn about Rosa Parks Thursday at Fort Meigs Elementary School in Perrysburg.
The Blade/Katie Rausch
Enlarge | Buy This Image
In northwest Ohio, students and teachers have devised various ways to commemorate the accomplishments of African-Americans. Along with tailored curriculum, schools are commemorating Black History Month with exhibits, special programs, and theatrical performances.
This year's Black History Month also comes as Toledo's suburban schools have seen a small, but steady increase in minority students in the last 10 years. In Perrysburg's school district, for example, 11 percent of students were nonwhite in the 2006-07 school year. By the 2015-16 school year, that number had increased to 16 percent, according to data from the Ohio Department of Education.
Toledo Public Schools, the area's most diverse district with 62 percent of students identified as nonwhite in the 2015-16 school year, will observe Black History Month with a host of special events.
Rosa Parks' niece, Urana McCauley, visited Rosa Parks Elementary on Friday to discuss the legacy of her late aunt. At Scott High School, students will participate in a week of events devoted to Black History Month, including an African attire day, a Harlem Renaissance-themed program, and a soul food luncheon.
Also, there will be posters and exhibits that reflect the history of black excellence, said American government teacher Trevor Black.
"It's important to have posters on the wall for students to identify with those who have paved the way," he said.
Springfield High School's African-American club kicked off Black History Month with a theater production that infused song and choreographed dance to provide insight into African-American culture. The students staged two performances for the entire school.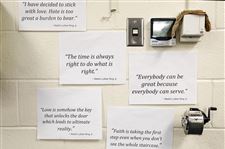 Students at Fort Meigs Elementary School got a unique lesson on race. 'We learned about all sorts of people who stood up to white people,' 9-year-old Kallie Thames said.
The Blade/Katie Rausch
Enlarge | Buy This Image
"We're hoping it will bring an awareness to why African-Americans like some of the things they do because it traces back to their culture," said Bonita Adams, teacher and playwright for the production performed at Springfield High.
Bishop Chester Trail, Sylvania School District's diversity specialist, said he would be visiting all 12 district schools to give them a personal black history lesson, drawn from some of his experiences when he traveled as a professional baseball player in the 1960s.
"I kind of take my history in the early South in the '60s, and share my experiences with racism and segregation and compare how it was then and how it is now," Mr. Trail, 74, said. "I try to give an educational piece on the things that we accomplished that just aren't in the history books."
But Mr. Trail added the district has focused on keeping the spirit of Black History Month alive year-round.
"We don't just do it in February," he said. "We're now making black history a part of American history."
At Fort Meigs Elementary, some students' reactions ranged from confusion to sadness as they learned more about black history.
Their venture into this black history lesson began with Mrs. Hunter giving them a first-hand experience of discrimination. She was mean to some students and kind to others, strictly based on the color of their shirts.
"It was really hard for me; I had butterflies," Mrs. Hunter said. "But in order to do it correctly, I had to be committed."
The lesson resonated with the young students.
Only two of the 17 students are nonwhite. But through their coursework, they've developed a compassion for the mistreatment of a people who didn't look like them.
"It felt really unfair and really annoying," Nick Callen said of that experience.
Their faces twisted in confusion as they tried to comprehend a time when people were mistreated simply because of the color of their skin.
"I learned that it wasn't fair back then," 9-year-old Leigha Kay said. "If I was alive back then I would be like, 'This isn't fair for the black people,' so I would've tried to stand up like Martin Luther King, Jr., did."
Contact Javonte Anderson at janderson@theblade.com, 419-724-6065, or on Twitter @JavonteA.
Guidelines: Please keep your comments smart and civil. Don't attack other readers personally, and keep your language decent. Comments that violate these standards, or our privacy statement or visitor's agreement, are subject to being removed and commenters are subject to being banned. To post comments, you must be a registered user on toledoblade.com. To find out more, please visit the FAQ.