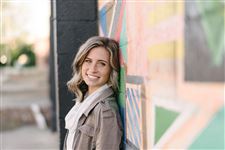 Taylor Fleitz
FAVORITES:
School Subject: Math
Extracurricular Activities: Cheerleading
Hobbies: Golf, 4-H
Car: Jeep Liberty
Store: TJ Maxx
Movie: The Blind Side
Musical Artist: Thomas Rhett
TV Show: Friends
FAST FACTS:
Cafeteria Food Must Have: Chicken nuggets
Last Book Read That Wasn't Required: Rose Under Fire
Person You'd Like to Meet: Maya Angelou
Person Most Admired: My uncle Daniel
Item always in your locker: Coffee Cups
First Top Accomplishment: Becoming a district champion, state champion, and qualifying/competitor at the Internationals in Anaheim, California for DECA
FUTURE:
After Graduation Plans: Pursuing a degree in biomedical engineering at the University of Toledo or Boise State University
Career Goal: To build and design artificial internal organs, artificial body parts, and prosthetics
Quote from teacher: "Taylor has been an amazing leader throughout her high school career," said Christy Avalos, teacher, "but this year she is an all-star! Taylor single-handedly brought back our homecoming parade. This was an awesome event that both our students and the community immensely enjoyed! Taylor also planned a Trunk or Treat for our high school programs to promote themselves while engaging in a community friendly event. Taylor is involved in Student Council, Students in Action, DECA and the Student Prevention Leadership Team. She makes a lasting contribution to every group and stays dedicated to her classroom studies."
- Information is compiled for The Blade by the Educational Service Center of Lake Erie West.
Guidelines: Please keep your comments smart and civil. Don't attack other readers personally, and keep your language decent. Comments that violate these standards, or our privacy statement or visitor's agreement, are subject to being removed and commenters are subject to being banned. To post comments, you must be a registered user on toledoblade.com. To find out more, please visit the FAQ.