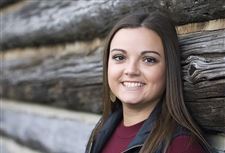 Kayla Thielen
FAVORITES:
School Subject: Math- specifically statistics
Extracurricular Activities: Student Council
Hobbies: Playing tennis with my sister
Car: BMW convertible
Store: Dry Goods
Musical Artist: Thomas Rhett
Movie: Footloose
TV Show: Bones
FAST FACTS:
Cafeteria Food Must Have: Chicken salad on a bagel
Last Book Read That Wasn't Required: Me Before You
Person Most Admired: My parents
Person You'd Like To Meet: Thomas Rhett
Item always in your locker: Snacks
First Job: Babysitting
Top Accomplishment: Getting a superior ranking at State Science Day- the highest you can get
FUTURE:
After Graduation Plans: Attend college to major in statistics and marketing and eventually get my Master's of Business Administration
Career Goal: Work for a global company in marketing or advising
Quote from teacher: "Kayla is one of the strongest student leaders I have encountered in my career," said Stacie Wachowiak, School Counselor. "Her kindness, joy, enthusiasm and hard work is contagious to those around her." Amy Schloegl, English teacher, describes Kayla as "an inquisitive, energetic student that eagerly enlightens and inspires class discussions and learning among her peers."
- Information is compiled for The Blade by the Educational Service Center of Lake Erie West.
Guidelines: Please keep your comments smart and civil. Don't attack other readers personally, and keep your language decent. Comments that violate these standards, or our privacy statement or visitor's agreement, are subject to being removed and commenters are subject to being banned. To post comments, you must be a registered user on toledoblade.com. To find out more, please visit the FAQ.