The Perrysburg Schools board of education voted unanimously Monday night to not renew the contract of a beloved elementary school principal.
More than 100 people attended the meeting and all 12 who spoke during the public comment portion praised Toth Elementary Principal Beth Christoff. Many told personal stories involving themselves or their children who attended the school, while others questioned the integrity of the district.After the meeting, Jarman Davis, the school board president, released a statement saying the district's decision stemmed from "performance concerns ... over a variety of issues," including "compliance problems, building culture concerns, and a general dysfunction in the school leadership."
Mr. Davis also said Ms. Christoff was given an opportunity to resign but chose not to.
VIDEO: Perrysburg board votes not renew principal's contract
Superintendent Tom Hosler recommended the board not renew Ms. Christoff's contract, which expires this summer. Chants of "shame" rang out from the crowd following the vote.
"I'm obviously disappointed and devastated, but I respect the board," Ms. Christoff said.
Ms. Christoff spent 20 years heading the school. She declined to get into specifics about what led to the issue, and board members did not elaborate during the public portions of the meeting.
Ms. Christoff met with the board in executive session.
"I just know I did what was right," she said. "I told the board some things were going on, and they didn't listen."
Several former students and supporters — many of them in tears — gathered outside after the vote
"Beth was by far the best principal we ever had," said Madelyn Rexer, who taught in Perrysburg Schools for 23 years. "What's been happening has been flabbergasting and shocking. The spirit and nature of Perrysburg Schools has always been one of cooperation and helping each other. That sure isn't happening now."
Ms. Rexer said an accusation that Ms. Christoff made a remark about a student needing medicine was "absolutely ludicrous."
Rachel Alteneder-Wesley said she isn't sure if her son, who has bipolar disorder, would still be alive without Ms. Christoff's guidance earlier in his life.
Marcus Paige said teachers at Toth support their principal, but chose not to show up out of fear for their jobs and retaliation.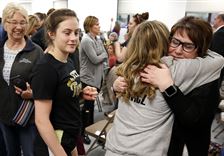 Former Toth student Bailey Lewicz, front, hugs Beth Christoff as the board members go into executive session during a Perrysburg Board of Education meeting at the Perrysburg Schools Administrative Building in Perrysburg on Monday.
The Blade/Kurt Steiss
Enlarge | Buy This Image
"I'm extremely concerned about the current atmosphere in the district," Ms. Alteneder-Wesley said. "The fact teachers feel they have no say in any decision is unacceptable."
Roaring applause from the crowd followed each speaker's statements. As the board went into executive session following the public comments, supporters lined up to hug Ms. Christoff.
Crystal Easter was one of about a dozen people wearing a "Toth loves Dr. C" T-shirt. Ms. Easter called the principal an "amazing person."
"She really helped my son, who has autism, make it through some issues," Ms. Easter said before the meeting. "She really helped him learn to love himself. She did everything she could to help make him a strong and independent person.
"I'm an educator, and I know when you have an administrator with the heart of an educator, you hold onto that person."
Ms. Easter believes the mystery surrounding Ms. Christoff's status had a lot to do with the high turnout.
"That's the way the Toth family is; we always rally together," Ms. Christoff said. "We rally when people are sick. We celebrate when people accomplish something. Sometimes we cry together and laugh together. That's what a family does."
Multiple board members expressed thanks for Ms. Christoff's service despite their vote.
"I know you love Dr. C," board member Gretchen Downs said, fighting through tears. "I love Beth Christoff. She's been a friend and an excellent principal. This entire district owes her a great debt of gratitude."
Contact Jay Skebba at jskebba@theblade.com, 419-376-9414, or on Twitter @JaySkebba.
Guidelines: Please keep your comments smart and civil. Don't attack other readers personally, and keep your language decent. Comments that violate these standards, or our privacy statement or visitor's agreement, are subject to being removed and commenters are subject to being banned. To post comments, you must be a registered user on toledoblade.com. To find out more, please visit the FAQ.