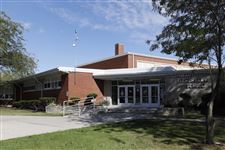 Bowling Green's Conneaut Elementary School, located at 542 Haskins Road.
THE BLADE/KATIE RAUSCH
Enlarge | Buy This Image
Bowling Green City Schools will close early Tuesday because of heat concerns, according to the district superintendent.
On Twitter, Superintendent Francis Scruci said the middle and high schools will release around 12:30 p.m., and the elementary students will be released at 1:30 p.m.
@BGSchools will release today at 12:30 for ms/hs and 1:30 for elementary, no pm pre-school due to the heat in our classrooms. The concern for the health and well-being is our first priority! Thanks for your support and understanding!

— Francis (@francis_scruci) September 4, 2018
He also said there will be no afternoon preschool because of heat in the classrooms.
Guidelines: Please keep your comments smart and civil. Don't attack other readers personally, and keep your language decent. Comments that violate these standards, or our privacy statement or visitor's agreement, are subject to being removed and commenters are subject to being banned. To post comments, you must be a registered user on toledoblade.com. To find out more, please visit the FAQ.