Rows of chambers hold intermediate-level radioactive waste in shallow pits at the Bruce Power nuclear complex near Kincardine, Ont.
ASSOCIATED PRESS Enlarge
In tiny Kincardine, Ont., about a four-hour drive north of Toledo, a $1 billion plan to bury radioactive nuclear waste is riling up a number of elected officials in northwest Ohio and southeast Michigan.
Ontario Power Generation, a publicly owned company that manages waste produced by that province's nuclear facilities, wants to dig a deep mine shaft on the site of its Bruce Power complex and put all radioactive waste other than spent fuel pulled from reactor cores — such as protective clothing, gloves, and miscellaneous plant parts — down that hole. Spent fuel, the most radioactive form of waste in civilian hands, would be sent elsewhere for long-term disposal.
Here's the catch: The Bruce Power complex is less than a mile from the Lake Huron shoreline.
Critics fear the dump, if built, will someday leak radioactive waste into Lake Huron and that the waste would, eventually, make its way to Lake Erie.
Forty million people live in the Great Lakes region, 30 million in the United States and 10 million in Canada. Most rely on Great Lakes water for drinking.
Detroit to Cleveland is the region's most densely populated shoreline — and the one that stands to take the brunt of any such accident.
Lake Erie anchors the Great Lakes region's $7 billion fishery and supports thousands of jobs through its tourism and recreation industries. Michigan and Ohio are two of the nation's most popular states for boating.
Mounting dissent
In the past two months, Toledo, Oregon, and — most recently — Port Clinton city councils have passed resolutions of opposition. Port Clinton passed its by a 7-0 vote last Tuesday.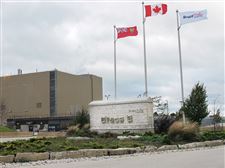 Ontario Power Generation is asking the government for permission to permanently store low and intermediate-level radioactive waste from the Bruce Power property.
ASSOCIATED PRESS Enlarge
And Ohio is somewhat late to this party.
Michigan officials have been crying foul for at least five years, with resolutions of opposition passed by officials of St. Clair Shores, the Macomb County Board of Commissioners, and others.
Numerous other public boards in Michigan, as well as business and environmental groups, have weighed in.
In a recent letter to a Canadian panel overseeing the project, U.S. Reps. Dan Kildee, Sander Levin, John Dingell, and Gary Peters of Michigan said that neither the United States nor Canada "can afford the risk of polluting the Great Lakes with toxic nuclear waste."
That sentiment was conveyed to Port Clinton City Council by activist Victoria Clemons, who has been tracking the history of opposition.
"It can't be right to take that kind of risk next to the Great Lakes," Ms. Clemons said. "It is definitely a Great Lakes issue. We are downstream. They cannot guarantee the safety of that. At some point, it will leak. The Great Lakes would be at risk, Lake Erie more than any of them."
Following the Port Clinton vote, Ohio Rep. Chris Redfern (D., Catawba Island) and Ohio Sen. Randy Gardner (R., Bowling Green) told The Blade that they plan to seek a resolution in opposition from the Ohio General Assembly in early 2014.
They want the state of Ohio on record against the proposal, along with the state of Michigan's objections.
Meanwhile, Michigan's two U.S. senators, Democrats Carl Levin and Debbie Stabenow, began seeking help this fall from U.S. Secretary of State John Kerry on the issue.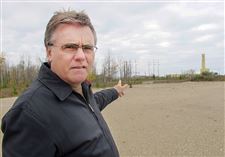 Neal Kelly, spokesman for Ontario Power Generation, stands in the area of the Bruce Power nuclear power complex in Kincardine, Ont., where the company proposes to drill a waste storage chamber.
ASSOCIATED PRESS Enlarge
Mr. Redfern and Mr. Gardner recently learned about the proposed dump from Ms. Clemons.
Their legislative districts encompass more Lake Erie shoreline than any others.
Ontario Power Generation began planning for it a decade ago. The utility began discussing it with Canadians in 2005.
U.S. Rep. Marcy Kaptur (D., Toledo), whose 9th Congressional District encompasses most of the Lake Erie shoreline between Toledo and Cleveland, said she is just starting to become acquainted with the issue but plans on taking her concerns to the Canadian ambassador's office. She said she also plans to work with U.S. Rep. Candice Miller (R., Michigan) on a bipartisan letter that also urges Secretary Kerry to negotiate an end to the project.
"My first thought is nothing should be done in the Great Lakes watershed that could potentially harm it," Miss Kaptur said. "Lake Erie is the part of the region that is most vulnerable. I would certainly encourage our Canadian partners to consider a less-risky proposal."
A matter of risk
Ontario Power Generation maintains the plan is not nearly as risky as it sounds.
The hole would be dug down 680 meters — nearly a half-mile deep — into hard rock that geologists believe hasn't shifted for 450 million years, Neal Kelly, utility spokesman, said.
It would be North America's first project known as a Deep Geologic Repository, or DGR, in civilian hands. The only other one is a U.S. military repository in New Mexico for military waste. Two others in civilian hands are in Europe, Mr. Kelly said.
"We understand there are lots of different opinions on this. It's not just Michigan and Ohio. There's pockets of it here in Ontario, as well," Mr. Kelly said. "We've been working on this more than a decade. The position we've taken is we're in it for the long haul."
The controversy has gained traction in recent months because the utility had four weeks of public hearings this fall.
The Canadian Environmental Assessment Agency is expected to issue a report in early 2014 that will be a crucial step in determining if the project can proceed.
The timeline
The utility expects to know by the end of 2014 or early 2015 if it will get a construction permit from Canada's Ministry of the Environment.
If it secures that, the project would be developed over five to seven years, Mr. Kelly said.
In an Aug. 7 letter signed by Tom Mitchell, Ontario Power Generation president, the utility said it will not build the project without support from Canada's First Nations (people Americans usually call Native Americans), including the Saugeen Ojibway Nations.
The site would hold all of the radioactive, nonfuel waste generated by Ontario nuclear plants to date, and all that is expected to be generated by the time they close. Once full, the shaft would be sealed with concrete, he said.
About half of the anticipated waste is on the site of the Bruce Power complex now. It has been steadily transferred there over 40 years, Mr. Kelly said.
The Bruce Power complex is one of the world's largest, with eight nuclear reactors each capable of producing about 800 megawatts. Those 6,400 megawatts are about seven times the electricity produced by FirstEnergy Corp.'s Davis-Besse nuclear plant.
The site, which produces 25 percent of Ontario's electricity, sits along the Lake Huron shoreline across from the upper tip of Michigan's thumb region.
The utility wants to bury waste at the Bruce Power complex to save on transportation costs, as well as the difficulties in getting another site approved.
It believes its plan is sound and poses no threat to the Great Lakes because of that area's geology, Mr. Kelly said.
Local support
Many such projects become classic NIMBY debates — an acronym for Not In My Back Yard.
Not so in Kincardine.
Larry Kraemer, Kincardine mayor, told the Associated Press that his Ontario town sees value in jobs created by the nuclear industry and is confident the technology is safe.
He said the risk of radioactive pollution from a dump is "so low as to be almost unimaginable."
The eight Bruce Power reactors employ about 4,000 people. According to Mr. Kraemer, revenue from the nuclear industry supports about half of the town's 12,000 jobs.
"We don't have the knee-jerk reaction when somebody says 'nuclear' that other people do," Joanne Robbins, chamber of commerce general manager in nearby Saugeen Shores, told the news service.
Mr. Kelly said the utility can have this discussion only because the site's geology happens to be suitable.
But he said it helps not having to deal with intense opposition from within Kincardine.
"We have a willing host community. That's always been the thing with the nuclear industry," he said.
A hot topic
Proposed nuclear waste dumps are often politically hot.
The U.S. government thought it was on its way toward establishing a permanent repository in Nevada's Yucca Mountain for America's spent nuclear reactor fuel, only to finally walk away from the project after years of opposition from Nevada residents and its senior member in Congress, Senate Majority Leader Harry Reid (D., Nevada). Several billions of dollars were spent researching it since the 1980s.
Closer to home, Michigan had once proposed a low-level radioactive waste dump in Lenawee County's Riga Township — just across the Ohio state line from Sylvania and West Toledo — for a multistate compact. That plan was scrapped about 20 years ago because of protests by Michigan and Ohio residents.
Ohio, by law, was required to build the dump after Michigan withdrew from the compact. Ohio officials spent about a decade looking for a site but couldn't find one that met all of its political and geological needs.
Congress has wanted states to shoulder more of the waste-disposal burden, but few dumps have been developed. Most of the waste east of the Mississippi River has been sent to a dump in Barnwell, S.C.
The NIMBY issue isn't lost on Mr. Redfern.
Although he doesn't want to risk waste leaching into Lake Huron and flowing down to Lake Erie, he said he recognizes America needs to come to grips with its nuclear dilemma.
"There are reasons why waste sites are needed," Mr. Redfern said.
"We, as Americans, have not faced this issue head-on."
He said this issue is an ideal fit for a new Lake Erie caucus being organized by himself and Mr. Gardner, with help from Ohio Sen. Capri Cafaro (D., Hubbard). The latter two will be co-chairmen.
The caucus, which is to have its organizational meeting in January, will reach out to elected officials from all parties, as well as state cabinet members, industry representatives, and environmental groups on Lake Erie issues.
"The Lake Erie Caucus will give us the natural starting point for elected officials, who — frankly — don't know enough about these issues because of their proximity," Mr. Redfern said.
This report includes information from The Blade's news services.
Contact Tom Henry at: thenry@theblade.com or 419-724-6079.
Guidelines: Please keep your comments smart and civil. Don't attack other readers personally, and keep your language decent. Comments that violate these standards, or our privacy statement or visitor's agreement, are subject to being removed and commenters are subject to being banned. To post comments, you must be a registered user on toledoblade.com. To find out more, please visit the FAQ.