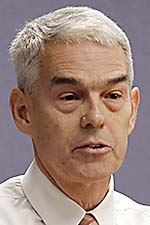 Gardner
THE BLADE/LORI KING
Enlarge | Buy This Image
Lake Erie could soon be getting the legislative muscle it needs to fight toxic algae that threatens drinking water, tourism, and the fishing industry.
But clean water advocates say the lake needs more than the bill now before the Ohio House, one approved by the Senate on Wednesday by a 32-0 vote.
Senate Bill 150, sponsored by Ohio Sen. Cliff Hite (R., Findlay), creates incentives for crop farmers to voluntarily develop nutrient-management plans and sets up a certification process for synthetic fertilizer applications.
But it does nothing for what some people see as a growing issue within the agricultural community: how livestock manure from concentrated animal feeding operations, or CAFOs, is stored and applied on area farmland.
Manure is mentioned in the latest report published in the fall by Ohio's phosphorus task force.
The report noted multiple sources of phosphorus but said farm runoff is most prominent because agriculture uses more than 80 percent of land in the Maumee River basin. Farmers use a combination of manure and synthetic products to fertilize their land.
"Why would they pass a bill that puts further restrictions on [commercial] fertilizer that doesn't do anything about manure?" asked Vickie Askins of Cygnet, a CAFO watchdog and spokesman for the Ohio Environmental Stewardship Alliance. "This loophole is ridiculous."
Farmers for years have fought efforts to pass what they consider burdensome regulations. But several organizations have noted that effective, voluntary programs are preferred over mandates — and that changes are likely, given the lake's recurrent algae problem.
The Ohio Soybean Association and Ohio Corn and Wheat Growers Association said in a joint statement they recognize the need to protect water quality.
"There are still many unknowns and no one has a clear understanding of exactly how phosphorus is moving through the soil profile from farm fields into waterways," said Jerry Bambauer, an Auglaize farmer who serves as Ohio Soybean Association president.
His and other agricultural groups support edge-of-field monitoring "that will show us exactly how this nutrient is moving and how best to keep it on the land where it belongs," Mr. Bambauer said.
Several larger environmental groups, including the Ohio Environmental Council, consider the Senate version vague and question its effectiveness as a voluntary measure, but said they support it because they want immediate action against the algae problem.
Paul Pacholski, president of the Lake Erie Charter Boat Association, lauded an amendment offered by state Sen. Randy Gardner (R., Bowling Green) providing $1 million from the state's Conservation Reserve Enhancement Program to develop alternatives to the U.S. Army Corps of Engineers' practice of dumping silt dredged from Toledo's shipping channel into Maumee Bay's open waters.
An additional $600,000 from that program would be given to area soil-and-water conservation districts to promote planting of cover crops and other erosion-control measures.
Mr. Pacholski said that was enough to for him and other charter-boat captains to drop their initial opposition and join on as neutral observers.
Mr. Hite called the bill "a step in the right direction."
Mr. Gardner encouraged the Senate to vote "based on what's in the bill, not on what's not in the bill."
"I recognize that while these are important steps in the right direction, there's clearly more we can do," Mr. Gardner said. "If we aren't successful on this issue, we might have additional drinking-water problems in this state — not just a lake issue, not just a farm-agriculture issue."
His statement alluded to last September's algae outbreak that overwhelmed a Carroll Township water-treatment plant that serves 2,000 Ottawa County residents.
The incident was the first time in Ohio history such a plant went into emergency shutdown because algae toxins had become too high to treat.
The case has been studied by other area water plant operators.
"We scream about fish and everything else, but you know something? It comes down to safe drinking water," Mr. Pacholski said.
Rick Unger, the charter boat association's executive director, said Mr. Gardner's plan to help reduce open-lake disposal was "a big deal."
"We've been fighting that for 10 years. We think it contributes to microcystis algae," Mr. Unger said. "It, just the perfect petri dish for growing algae."
The Ohio Environmental Protection Agency will sponsor a meeting at 6:30 p.m. Wednesday at One Government Center to discuss the Corps' 2014 application for open-lake disposal.
Contact Tom Henry at: thenry@theblade.com or 419-724-6079.
Guidelines: Please keep your comments smart and civil. Don't attack other readers personally, and keep your language decent. Comments that violate these standards, or our privacy statement or visitor's agreement, are subject to being removed and commenters are subject to being banned. To post comments, you must be a registered user on toledoblade.com. To find out more, please visit the FAQ.