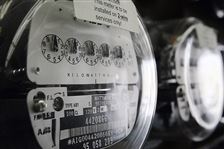 Northwest Ohio Aggregation Coalition members save money from FirstEnergy by being part of the group. They can choose to opt out.
ASSOCIATED PRESS Enlarge
From now until March 19, about 75,000 electric customers in 10 area communities have a chance to save themselves $25, but only if they're willing to forgo future savings they might reap from having a lower electric bill between now and 2017.
The Northwest Ohio Aggregation Coalition, an aggregated buying group that bargains for cheaper utility rates, is sending out letters this month to let its members know that from now through March 19 they can "opt out" of the current contract the group has for cheaper electric rates through FirstEnergy Solutions.
Ordinarily, it would cost a customer involved in NOAC a $25 fee to terminate their contract with FirstEnergy Solutions.
But Mark Frye, an energy expert who serves as NOAC's consultant, said that because the current electric contract is a lengthy six years — running from 2011 through 2017 — terms of the deal called for a free opt-out period at the midway point of the contract.
"Every three years by state law a customer gets the opportunity to opt out. That three-year process is occurring now with these letters," he said. "If they want to opt out [at no charge] they fill out the form. Otherwise, if they don't do anything they are automatically re-included."
After March 19, a member of NOAC who wants to opt out and select an offer from a different electric supplier will have to pay the $25 termination fee.
The 10 NOAC communities are Toledo, Maumee, Northwood, Oregon, Sylvania, Perrysburg, Holland, Lake Township, Ottawa Hills, and all unincorporated areas of Lucas County. Perrysburg Township was in the natural gas coalition in 2012 but dropped out to strike its own deal, but remains in the electric coalition.
The deal with FirstEnergy Solutions, a subsidiary of Akron-based FirstEnergy Corp., the parent firm of Toledo Edison, provides coalition customers with a savings of 6 percent off of Toledo Edison's price to compare, a figure that combines a variety of factors to determine the rate customers are charged.
For Toledo Edison customers, their price to compare is 6.157 cents per kilowatt hour. With the NOAC discount, they are paying 5.788 cents per kilowatt hour, a savings that can equate to about $20 or $30 a year depending on usage, experts have said.
NOAC also negotiates on behalf of its members for natural gas rates, and the current deal it has with Interstate Gas Supply will expire at the end of March.
The deal provides coalition members with a residential rate that is about 2.6 cents per hundred cubic feet below Columbia Gas of Ohio Inc.'s monthly rate.
Mr. Frye said it is typical to have a deal expire at the start of spring because at that point gas rates go up but customers tend not to use as much gas as they did during the winter. In the past, NOAC has gone without a spring or summer deal in place, and then it negotiates a deal in August or September for the upcoming winter.
This year the coalition might attempt to strike a deal in May because with the harsh winter the last three months it's possible gas rates may climb by August if the nation's gas supplies have not been restored to past levels.
"As it stands now the price of natural gas has responded reasonably well on the [New York Mercantile Exchange]. What the future holds is going to be interesting this summer as they try to inject gas in the ground and get back to reasonably typical storage volume in that time frame," Mr. Frye said.
"It will be more challenging," he added.
Contact Jon Chavez at: jchavez@theblade.com or 419-724-6128.
Guidelines: Please keep your comments smart and civil. Don't attack other readers personally, and keep your language decent. Comments that violate these standards, or our privacy statement or visitor's agreement, are subject to being removed and commenters are subject to being banned. To post comments, you must be a registered user on toledoblade.com. To find out more, please visit the FAQ.