Utopia East's initial route in northwest Ohio may not be the only casualty of a Wood County judge's ruling that pipeline company Kinder Morgan does not have eminent-domain rights.
A group of landowners in Wood, Henry, and Fulton counties who had settled with Kinder Morgan on payments for easements across their properties say the company hasn't paid the full amounts agreed upon. They had arranged for payments from the company to be split between 2016 and 2017 for tax purposes.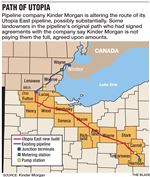 THE BLADE
Enlarge | Buy This Image
While Kinder Morgan made the payments in 2016, it hasn't made the second payments, said Steve Davis, an attorney from Lancaster, Ohio-based Sitterley, Vandervoort, & Davis who is representing the nine landowners.
At issue appears to be a route change that Kinder Morgan, North America's largest energy-infrastructure company, said it was conducting in a recent court filing. Those landowners are no longer in the path of the proposed pipeline, so Kinder Morgan no longer needs the easements.
"Kinder Morgan has made and will continue to make all payments due to landowners with whom right-of-way agreements have been negotiated," said Allen Fore, vice president of public affairs at the company.
While Kinder Morgan hasn't announced where the new route will go, Mr. Davis said the affected landowners are all west of Sandusky County, indicating the company is attempting to circumvent Wood County.
Mr. Davis represents dozens of landowners who signed easement agreements with Kinder Morgan. Those who received a single check have received full payments from the company.
"They got their money, been fully paid, and they are not getting any pipe," Mr. Davis said. "That's a good day."
But nine landowners who agreed to split the payments say they've only received half their money, as Kinder Morgan told them in March they wouldn't pay the second half because it no longer needs the easements. Mr. Davis' position is that the landowners are owed the money regardless, because they had a contract with the company.
The property owners believe they are owed about $250,000 combined, he said.
While Mr. Fore said he couldn't comment on individual negotiations with landowners, he did say Kinder Morgan believes it's an important distinction when the company no longer needs an easement.
"If there are routing adjustments that take us off of properties, that's a different piece of it, so they are not going to be impacted at all," he said.
Utopia East is a 12-inch pipeline proposed to run from eastern Ohio to a chemical company in Windsor, Ont. Kinder Morgan had petitioned Ohio courts in numerous counties to use eminent-domain rights across dozens of properties whose owners refused to grant easements.
But Wood County Common Pleas Judge Robert Pollex ruled in October that Kinder Morgan doesn't have eminent-domain rights for the project. The company appealed the ruling to the 6th District Court of Appeals, but filed a motion earlier this month saying the matter is moot because it acquired a route bypassing the properties at issue.
Ohio Revised Code Chapter 1723 gives certain private companies power to appropriate private land as long as they follow eminent-domain procedures, which include paying fair market value for seized land. Any taking of property is prohibited "except as necessary and for a public use."
Among eligible companies are "common carriers," which can include pipeline companies transporting petroleum products. The concept of common carriers — which offer freight or passenger transportation to the general public — and their use of eminent domain goes back to the railroads. Other kinds of common carriers now included under Ohio law are electric utilities and water companies.
Contact Nolan Rosenkrans at: nrosenkrans@theblade.com or 419-724-6086, or on Twitter @NolanRosenkrans.
Guidelines: Please keep your comments smart and civil. Don't attack other readers personally, and keep your language decent. Comments that violate these standards, or our privacy statement or visitor's agreement, are subject to being removed and commenters are subject to being banned. To post comments, you must be a registered user on toledoblade.com. To find out more, please visit the FAQ.