It doesn't look like much now, just a few old metal storage tanks and a pair of large holes in the ground flanked by the cornfields of southeast Kansas.
But a year from now when the fermentation vats finally heat up at the new Element LLC ethanol plant, a joint venture between The Andersons Inc. of Monclova Township, and Colwich, Kan.-based ICM Inc ., those in the biofuels industry say the project could be a game-changer.
"It's taking a number of fairly new and emerging incremental technologies, technologies that you might see applied here or there, … and putting them together in one facility, which is a fairly novel approach," said Geoff Cooper, executive vice president of the Renewable Fuels Association, the leading trade association for the ethanol industry in the United States.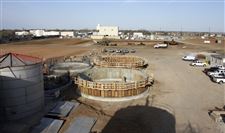 Workers construct fermenter tanks at the new $175 million Element LLC ethanol plant located in southeast Kansas on the site of the demolished High Plains Energy plant in Colwich. The Element plant, which will open in the spring of 2019, is a joint venture between The Andersons Inc., of Monclova Township, and ICM Inc., of Colwich, a firm that develops ethanol plant technologies and designs and builds ethanol plants.
ICM Inc. Enlarge
"There's great potential for this project to serve as blueprint that could be adopted more broadly across the industry and really help diversify the industry's product streams," Mr. Cooper said.
Announced in early March and now in the early stage of construction, the Element plant is a $175 million joint investment. When operational it is projected to produce 70 million gallons of ethanol annually, while also having the lowest annual carbon footprint of any ethanol plant now operating.
Located on the site of a bankrupt and demolished early generation ethanol plant near ICM headquarters in Colwich, a tiny town northwest of Wichita, the joint venture melds The Andersons strength in grain transactions and ICM's leading-edge technologies in designing and building ethanol plants.
"We had all these technologies in mind. We had wanted to do this so we went out looking for partners. And we got together with The Andersons," said Jeff Scharping, ICM director of sales and marketing. "The Andersons has been a great choice, and we're excited to have them as partners," he added.
Mike Irmen, president of The Andersons Ethanol Group, which will own 51 percent of the project, said: "Twelve years ago, we worked with ICM to build the first of our ethanol plants. Since then, our ethanol business has grown to become a significant contributor to our company's success and an important part of our vision for the future."
What has both the Monclova agribusiness and industry officials excited is Element's ability to "crack the kernel," to paraphrase an oil refining term.
"That's exactly the model were looking at," Mr. Cooper said of the oil industry model.
"If you look at a barrel of crude oil, it comes into the refinery as one thing and comes out 20 different things with the highest possible revenue streams," he said.
The Element plant has a similar operating strategy.
"It will be a biorefinery," Mr. Cooper said. "It will take a corn kernel and turn it into a whole spectrum of high-value products."
The key to the project is cellulosic ethanol.
Cellulosic ethanol is ethanol produced from cellulose — the stringy fiber of a plant — rather than from the plant's seeds or fruit. Traditionally, an ethanol plant takes corn, strips out the starches to make ethanol, and leaves the cellulosic kernel fiber husk as a by-product that is usually turned into distilled dried grain fed to cattle.
"You're usually left with about 4 pounds of cellulose out of 15 pounds of corn. That's a waste of time and space," Mr. Scharping said.
The Element plant will use a new ICM technology that removes fiber from a corn kernel at the start of the ethanol-making process and converts it to a product that can be fermented into ethanol.
The plant is expected to produce 7 million gallons of cellulosic ethanol annually, or about 10 percent of the plant's overall ethanol production.
With the cellulose already stripped out, what's left can be broken down more easily — fat into corn oil for biodiesel, starch into ethanol, CO2 gas as a byproduct, and richer distilled dried grains that no longer have fiber and can be sold to any of the cattle, swine, or poultry markets.
Currently DDGs compete against corn. But this high protein DDG will compete against soybean meal.
"Now we're competing in a whole different market," Mr. Scharping said. "This diversification is making more profit streams and revenue streams."
Along with new technologies and new products are new designs.
Mr. Scharping said this plant will be unlike any of the 105 other plants ICM has designed and built.
"This is a brand new ethanol plant design, and I venture to say it's revolutionary," he said.
"If you built a plant today with an older design essentially you're building a new 10-year-old plant. Things haven't changed much in a decade," he said.
The Element plant "is brand new from the ground up. We've rethought the ethanol plant," Mr. Scharping added.
Even the power source is unusual.
Most ethanol plants rely on a supply of natural gas to heat up their fermentation vats.
Seventy percent of the Element plant's natural gas needs and 80 percent of its electrical power will come from a generator run by a gasification process that creates synthetic natural gas from the burning wood waste.
"It's really from tree waste. In Wichita, we get a lot of ice and that gets on trees and breaks limbs that fall on electric power lines," Mr. Scharping said.
"Westar [Energy utility] is trimming trees on a regular basis, and we'll use that waste for our gasification process," he said.
Producing ethanol from both corn and corn fiber will give the plant a very low carbon index rating and should generate carbon credits.
As a result, plans call for ethanol produced at the Element plant primarily to be sold in California under that state's progressive Low Carbon Fuel Standard, or other emerging low-carbon markets.
Mr. Cooper said, "It's always been the industry's vision that we would transition and maintain the [corn ethanol] base, but future growth would be predicated on cellulosic feedstock — corn stover and feed straw and paper waste.
"What we've learned over the last several year is there's an interim step between corn ethanol and those other sources. And that is the fiber in the corn kernel itself," Mr. Cooper said. "That's kind of what we're seeing emerge in the marketplace today."
Contact Jon Chavez at jchavez@theblade.com or 419-724-6128.
Guidelines: Please keep your comments smart and civil. Don't attack other readers personally, and keep your language decent. Comments that violate these standards, or our privacy statement or visitor's agreement, are subject to being removed and commenters are subject to being banned. To post comments, you must be a registered user on toledoblade.com. To find out more, please visit the FAQ.