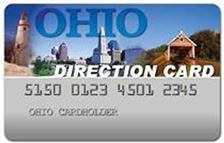 Ohio's food-stamp program issues cards that look like this for people to make their purchases at markets. Starting Jan. 1, there will be tougher work requirements for 134,000 Ohioans who receive benefits.
If you're invested in the booming stock market, you have plenty to be thankful for today. Got a job? Food on the table? Savings? A roof over your head? Give thanks again.
But if you rely on food stamps to help feed yourself and your family, beware. Starting Jan. 1., Gov. John Kasich's administration plans to impose tougher work requirements on 134,000 Ohioans who receive food stamps.
Click here to read more Blade editorials.
In a state that is still recovering from the Great Recession, in which the unemployment rate is again rising, a lot more people are likely to go hungry. The state should seek a waiver from the federal work rules for another year.
The administration's more stringent welfare-to-work rules, which began in the Ohio Works First program, have shrunk the state's welfare rolls. Ohio's temporary Aid to Needy Families (TANF) caseloads have gone down by about 45 percent — more than 100,000 families, including 60,000 children — since Mr. Kasich took office in January, 2011.
What didn't turn out as well was the "work" part: getting more recipients into jobs or meaningful training in a recession-battered state. The liberal advocacy group Policy Matters Ohio reports that just 8 percent of people who left the welfare program did so because their incomes rose.
Ohio's jobless rate has ticked up the past two months — to 7.4 percent in September and 7.5 percent in October. It is now worse than the U.S. rate of 7.3 percent. The state still is 221,000 jobs short of the number it had in November, 2007, the month before the recession began, Policy Matters says.
There is no evidence that welfare caseloads in Ohio are lower because more family members found work, says Liz Schott, a senior fellow with the Center on Budget and Policy Priorities, a nonpartisan research institute in Washington.
In fact, fewer Ohio Works First families entered employment in 2011, after the crackdown began, than in 2010, according to the Ohio Department of Jobs and Family Services' work requirement report. The decline was slight — from 16,516 households to 16,492. No one knows whether the figure went up or down last year, because the state no longer issues the report.
Tougher work requirements appear to be a way to cut the welfare rolls no matter what. Now they are to extend to nondisabled adults in the Supplemental Nutrition Assistance Program (SNAP), more commonly known as food stamps.
Recipients in 72 of Ohio's 88 counties will lose food benefits for 33 months unless they find work. About 8,200 jobless, childless adults in Lucas County who receive food stamps will be affected, says Lisa Hamler-Fugitt, executive director of the Ohio Association of Foodbanks. Food aid for these adults, between the ages of 18 and 50, averages $189 a month.
Many of Ohio counties expect an increase as much as tenfold in work-participation slots needed to fulfill the requirement. But there are only 9,000 acceptable work experience slots available statewide, Ms. Hamler-Fugitt says.
People with limited education and no transportation have a hard enough time finding jobs. Food-stamp benefits already have declined by an average of $9.50 per person per month, starting this month.
The U.S. Department of Agriculture is offering a waiver from the more-stringent work requirements, which are part of federal law, for next year. The requirements were waived during the recession and are set to expire in the 2015 fiscal year. Ohio decided to end the waiver for most counties ahead of time.
The Kasich administration should reapply for a total waiver, to give all counties an opportunity to provide better job training to help recipients meet the work requirements. Otherwise, what began as a crackdown will turn into a mean-spirited Catch-22 foisted on poor Ohioans.
Guidelines: Please keep your comments smart and civil. Don't attack other readers personally, and keep your language decent. Comments that violate these standards, or our privacy statement or visitor's agreement, are subject to being removed and commenters are subject to being banned. To post comments, you must be a registered user on toledoblade.com. To find out more, please visit the FAQ.