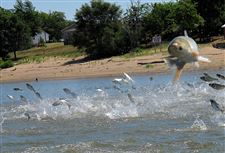 This 2012 photo shows invasive Asian carp, jolted by an electric current from a research boat, jumping from the Illinois River near Havana, Ill.
ASSOCIATED PRESS Enlarge
Asian carp continue their relentless approach to the Great Lakes — if they haven't already arrived. Infiltration of the lakes, including Lake Erie, by the voracious piscine predators would threaten the region's $7 billion-a-year fishery and have grave implications for hundreds of thousands of jobs, economic growth, and the environmental health of much of the country, all of which depend on keeping the lakes healthy and free of the most virulent invasive species.
Yet the U.S. Army Corps of Engineers, the federal agency charged with stopping the onslaught of Asian carp, continues to dither instead of lobbying aggressively for the only solution that now seems likely to work: complete separation of the Great Lakes basin from the Mississippi River basin, where Asian carp have been prevalent for nearly two decades. That option was one of eight the Corps offered this week, as it essentially dumped the problem in the lap of Congress.
Click here to read more Blade editorials.
Physically separating the Lake Michigan and Mississippi River watersheds, which are connected near Chicago, would be technologically complicated, hugely expensive — the Corps estimates the job would cost as much as $18.4 billion — and time-consuming, taking as long as 25 years to complete. Those projections are pegged to the possibility of a flood in the region so disastrous that it would be expected to occur once in 500 years at most.
So-called hydrological separation is unpopular among many business and political leaders in Illinois, President Obama's home state, as well as the shipping industry. Critics contend that such a massive project could affect the quality of drinking water and other natural resources, flood-management strategies, and navigation in the Chicago area.
But because of delay and temporizing by the Corps and politicians while the carp have advanced, the time has passed for relying on less-extensive solutions, such as electric barriers. Separation also would be more likely to improve than to degrade flood control and water quality in both watersheds, advocates argue credibly.
Last year, Asian carp DNA was found in Lake Michigan. A live Asian carp was caught in a lake next to a river that feeds into Lake Michigan. Fish have moved through an electronic barrier designed to stop Asian carp from getting into the lake; two years ago, the protective device failed temporarily.
The issue has special urgency for the western Lake Erie basin, the heart of Great Lakes fishing industries and a potentially inviting habitat for Asian carp. If Congress is to act quickly to stop the carp, it needs specific proposals from the Corps aimed at achieving a permanent solution, not just a list of options.
A bipartisan bill passed by lawmakers in 2012 called on the Corps to provide an action plan by this month. What they got instead this week was mostly a conceptual discussion.
Corps officials plan meetings on the carp report this month in cities throughout the Great Lakes region, including Ann Arbor and Cleveland. Comments by people who are most affected by the issue will be useful. But the Corps concedes its report "is not a decision document."
Describing Asian carp as mere "nuisance species" vastly understates the destruction they can wreak in the Great Lakes, the world's largest source of fresh water. The time for talk is over. The Corps needs to produce a plan to keep the carp out of the lakes, and Congress needs to approve it — now.
Guidelines: Please keep your comments smart and civil. Don't attack other readers personally, and keep your language decent. Comments that violate these standards, or our privacy statement or visitor's agreement, are subject to being removed and commenters are subject to being banned. To post comments, you must be a registered user on toledoblade.com. To find out more, please visit the FAQ.