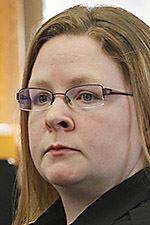 Lyle
Not so long ago, what was then called the Lucas County Dog Warden's Office measured its success — proudly — by the number of stray and abandoned animals it killed, not by how many dogs it rescued. That began to change when Julie Lyle, whose new title is the nicer-sounding "director of canine care and control," replaced Tom Skeldon in 2010.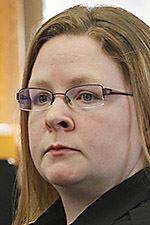 Lyle
Now, though, there are unsettling indications that the bad old institutional culture Ms. Lyle was hired to change — including the justification of rigid kill-first policies in the name of public safety — is re-emerging. Ms. Lyle and the county Board of Commissioners, to which she reports, need to offer the community a clear statement of the dog pound's current priorities, assuming they can agree on what those are.
Click here to read more Blade editorials.
Although Ms. Lyle remains hampered by inadequate and antiquated facilities that the county board has long refused to spend money to improve, she has brought more-humane values to her department. She has cooperated successfully with local groups to get more dogs adopted.
Working with Ms. Lyle, executives of The Blade and its parent company, Block Communications Inc., contributed the seed money to launch "Cutie's Fund," which pays for emergency health care for dogs that come to the shelter so badly ill or injured that they otherwise would have to be killed. Such improvements appeared to be taking root.
More recently, though, The Blade reported that Ms. Lyle's department was killing hundreds of dogs a year because of "food guarding" — seemingly aggressive behavior to protect their food supplies. Animal welfare experts say such conduct can be quickly corrected through the simple expedient of making food available to guarders at all times, rather than at times set by the department.
After Ms. Lyle resisted a shift to such a "free feeding" system, citing its cost and bureaucratic inconvenience, county commissioners ordered the department to adopt the policy last week — but only as a three-month pilot program. Instead of making food guarding an immediate capital offense, the program gives some dogs a temporary reprieve and allows rescue groups to take them.
Even so, a dog that should have qualified for the program was killed instead, in what Ms. Lyle called a "staff error." The director says her employees now consult a "euthanasia checklist" she devised to prevent such a mistake from recurring. That would seem to be something the department should have been doing all along, before it killed any dog.
Meanwhile, the department continues to kill dogs it deems more-aggressive food guarders, instead of engaging in behavior modification that Ms. Lyle says she lacks the staff and resources to provide. The director insists she is doing her duty to protect public safety.
At the same time, Cutie's Fund is virtually broke. Ms. Lyle's department and other county officials are doing little to promote it and solicit donations.
The president of the county board of commissioners, Carol Contrada, has taken a greater interest in the dog pound that her more-senior colleagues have done; it's to be hoped that concern will extend beyond this year's campaign if she is re-elected. But it appears that she and Ms. Lyle aren't always on the same page in addressing major issues in the canine-care office.
They need to be. And if they can't get there, the department may require new leadership.
Guidelines: Please keep your comments smart and civil. Don't attack other readers personally, and keep your language decent. Comments that violate these standards, or our privacy statement or visitor's agreement, are subject to being removed and commenters are subject to being banned. To post comments, you must be a registered user on toledoblade.com. To find out more, please visit the FAQ.