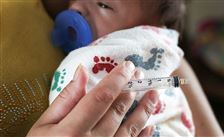 Addicted babies are sometimes treated by swaddling and cuddling.
THE BLADE
Enlarge | Buy This Image
A growing number of Ohio babies are born drug-dependent, entering the world with the pain of opioid withdrawal, respiratory complications, low birth weight, feeding problems, and seizures. They sweat and cry, spending days or weeks in neonatal intensive-care units.
Last year, the nearly 1,700 inpatient hospitalizations for drug-dependent babies in Ohio cost nearly $100 million, a Sunday story by Blade staff writer Marlene Harris-Taylor reported. And most of the money for extended hospital stays is paid with public dollars through Medicaid.
Click here to read more Blade editorials.
Finding more ways to reduce those hospital stays -- as the state and some local hospitals are doing -- by better treating addicted mothers and their drug-dependent babies is morally right and financially smart.
Statewide, the number of drug-addicted women having babies increased nearly 143 percent over nine years, from 1,553 in 2004 to 3,772 in 2013. The number of drug-addicted babies rose from 14 per 10,000 live births in 2004 to 88 per 10,000 in 2011. Those rates are almost certainly higher today.
The dramatic increase in babies born to drug-dependent mothers is an inevitable — and tragic — consequence of Ohio's opioid and heroin epidemic. Even the most callous among us understands that newborn babies did nothing to cause their dependence on drugs.
Roughly 80 percent of babies born to drug-dependent mothers will develop neonatal abstinence syndrome, or NAS, a condition that babies experience when withdrawing from drugs that a mother has taken during pregnancy. Not surprisingly, most new NAS cases in Ohio stem from heroin and prescription painkillers such as OxyContin and Percocet.
The high-risk group for having NAS babies is white women ages 25 to 34 from rural areas.
In northwest Ohio, several hospitals are sharing ways to treat addicted babies, providing models for hospitals around the state. Current practices include keeping babies in a quiet place without much stimulation and swaddling and cuddling them.
If nonpharmacological methods don't work, hospitals turn to medication such as methadone, which eases or stops a baby's withdrawal symptoms. Later, babies are slowly weaned from the drugs. But in some local hospitals, babies complete their treatment at home — a practice that, if adopted by hospitals around the state, would save tens of millions of dollars.
A $4.2-million program launched by the state this spring also aims to reduce typical hospital stays — by as much as 30 percent. The three-year pilot project — a partnership involving the governor's office, Ohio Medicaid, and the Department of Mental Health and Addiction Services — includes early identification, counseling, and medication-assisted treatment.
The project is called Maternal Opiate Medical Support, or M.O.M.S. It is expected to help 300 women, and babies, addicted to heroin and prescription painkillers in Athens, Cleveland, Columbus, and Cincinnati, said Eric Wandersleben of the Department of Mental Health and Addiction Services.
Some funding for M.O.M.S. will cover vouchers for housing, transportation, baby-sitting during treatment, and other important supports for recovery. The state will rigorously track results in a two-year evaluation.
Accountability measures are always good, but agencies serving the drug-dependent shouldn't wait for a state report to start replicating some of the project's common-sense ideas and practices. Nor should hospitals around the state delay in adopting practices that Toledo-area hospitals are using to effectively reduce hospital stays.
Helping drug-dependent babies and their mothers is a moral imperative, as well as an economic and public health necessity.
Guidelines: Please keep your comments smart and civil. Don't attack other readers personally, and keep your language decent. Comments that violate these standards, or our privacy statement or visitor's agreement, are subject to being removed and commenters are subject to being banned. To post comments, you must be a registered user on toledoblade.com. To find out more, please visit the FAQ.