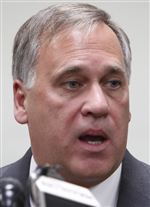 Mohr
A stunning rise in the number of women entering Ohio prisons should encourage elected officials to seek better ways of managing the state's $1.5-billion-a-year prison system.
Driven largely by a growing number of drug-addicted offenders from rural counties, Ohio prisons now hold nearly 4,200 women. From 2012 to 2013, the number of women coming to state prisons increased by 11 percent, from 2,580 to 2,854, said JoEllen Smith, spokesman for the Ohio Department of Rehabilitation and Correction.
Click here to read more Blade editorials.
Ohio's opioid and heroin epidemic is largely to blame for the increase, as more low-level female drug offenders are sent to prison. "That population is very much nonviolent and drug-addicted, often with male co-defendants leading the case," state prisons Director Gary Mohr said recently.
At the Ohio Reformatory for Women in Marysville, which holds more than 2,600 prisoners, the top three offenses for women entering the prison are drug possession, theft, and trafficking, said public information officer Elizabeth Wright.
Moreover, the statewide share of women prisoners coming from rural counties — those with fewer than 100,000 residents — has nearly doubled in the past decade. Altogether, Ohio's 28 prisons hold more than 50,000 inmates.
In an interview with The Blade's editorial page, a 28-year-old drug offender from Hardin County (population 32,000) said heroin and illicit prescription painkillers are easy to get in her rural community. As with most other opioid addicts in Ohio, she started using prescription painkillers — in her case, Percocet. She eventually graduated to heroin because of its lower cost and availability.
"The pills swept me off my feet," she said at the Ohio Reformatory for Women. "It got to the point where I couldn't even get out of bed without using a pill. I went straight from Percocet to heroin. Everyone was saying: 'Why don't you just do heroin? It's so much cheaper.'"
Mr. Mohr has prudently called for diverting more low-level drug offenders from prison to community-based treatment programs. To do that, Ohio will need more adult drug courts.
Most counties, including Lucas County, still don't have a drug court. The state also needs more community programs to serve as effective alternatives to incarceration.
Ohio's prosecutors and judges also must get better educated on addiction. Too many of them still don't understand that chemical addiction is a compulsive disease, not a moral choice.
"A big part of the problem is that a number of people, including judges and prosecutors, see addiction as a state in which people have more control than they actually have," Orman Hall, the director of Gov. John Kasich's Opiate Action Team, told The Blade's editorial page. "Opioid and heroin addiction is a compulsive disorder. In the early stages, people have very little ability not to relapse."
Finally, prisons must expand the amount of effective drug treatment they provide, even as Ohio courts continue to send them people who would be better served in community programs.
The growing number of women entering prison in Ohio is more than a demographic shift. It's a grim reminder that the state's criminal justice system is failing to deal effectively, and humanely, with its heroin and opioid epidemic.
Guidelines: Please keep your comments smart and civil. Don't attack other readers personally, and keep your language decent. Comments that violate these standards, or our privacy statement or visitor's agreement, are subject to being removed and commenters are subject to being banned. To post comments, you must be a registered user on toledoblade.com. To find out more, please visit the FAQ.