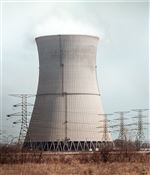 FirstEnergy wants a rate hike so it can continue to operate its troubled Davis-Besse nuclear plant in Ottawa County.
THE BLADE
Enlarge | Buy This Image
The "energy security" bailout plan negotiated by FirstEnergy Corp. and the pliable staff of the Public Utility Commission of Ohio is a sweetheart deal for the Akron-based company, whose holdings include Toledo Edison. But it's a raw deal for the utility's ratepayers and the state's environment. Instead of rubber-stamping the scheme, PUCO commissioners need to demand a better-balanced approach.
FirstEnergy wants as many as 1.9 million consumers in Ohio to pay more — about $3.25 a month more for the typical residential customer during the first year of the eight-year plan — so it can continue to operate its troubled Davis-Besse nuclear plant in Ottawa County and its aging Sammis coal-fired plant in northeast Ohio, and to buy power from coal-burning facilities in southeast Ohio and Indiana. The plan would move Ohio even farther away from, rather than toward, the clean-energy future it needs to embrace.
Click here to read more Blade editorials
Worse, the plan would dictate a market for the power produced by these plants — guaranteeing the utility not only operating costs but also profits — even if cheaper energy could be obtained elsewhere. And if market electricity prices don't rise as FirstEnergy projects over the life of the agreement, consumers would bear much of the expense of that shortfall.
If PUCO rejects the proposal, FirstEnergy warns, the Davis-Besse and Sammis plants are at risk of closing. The utility should be phasing out the Sammis facility, which opened in 1959 and remains one of the largest sources of carbon-dioxide pollution in Ohio and the nation. Instead, it expects its customers to subsidize the plant's continued operation, however dirty and inefficient.
Similarly, if FirstEnergy believes it can maintain profitability at Davis-Besse — assuming the federal government renews the nuclear plant's license when it expires in 2017 — it should not force its customers, including Ohio employers, to hedge that bet. The plant's history of operating problems, including a two-year shutdown earlier this century, does not inspire confidence.
FirstEnergy officials say their proposal would preserve reliable sources of electric power, stabilize energy rates, maintain jobs, and ultimately save customers $560 million over its eight years. But the Office of the Ohio Consumers' Council estimates that the plan could cost the utility's customers as much as $3.9 billion.
The plan also includes commitments by FirstEnergy to reduce carbon pollution, invest in renewable energy, and promote energy efficiency. But the provisions are either unenforceable or so heavily qualified that they likely would have little effect.
A state law enacted in 1999 aimed to deregulate Ohio's energy markets, stimulating greater competition among providers. At the time, FirstEnergy was a key advocate of that law. Today, though, the utility wants government regulation, not market competition, to determine its revenue.
The utility also was a major supporter of a bad law enacted last year that froze Ohio's useful standards to promote renewable energy and enhanced energy efficiency — another attack on competition in the generation of electricity. Its latest rate request continues that march backward, even as negotiators at the United Nations climate meeting in Paris seek ways to reduce global reliance on fossil fuels.
FirstEnergy wants PUCO to approve the rate hike it seeks by next February. Unless the utility and commission staff can achieve a better, fairer settlement in the meantime, commissioners should act in the best interests of the state and of ratepayers, and respond: No deal.
Guidelines: Please keep your comments smart and civil. Don't attack other readers personally, and keep your language decent. Comments that violate these standards, or our privacy statement or visitor's agreement, are subject to being removed and commenters are subject to being banned. To post comments, you must be a registered user on toledoblade.com. To find out more, please visit the FAQ.