On one of his last visits to Toledo, and there haven't been many recently, Gov. John Kasich said, "Who could forget Toledo?"
Should we laugh or cry?
Almost everyone in authority in Columbus since James A. Rhodes left office has managed to forget Toledo. But Mr. Kasich forgets us more than most.
Click here to read more Blade editorials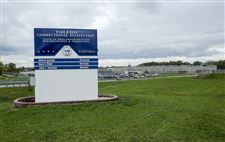 The state will be sending 125 death-row inmates to Toledo Correctional Institution because it says that would be best for the inmates and staff.
THE BLADE
Enlarge | Buy This Image
Now that he is running a never-ending campaign for president, Mr. Kasich has almost forgotten Ohio (ironically, the only state he carried in 2016).
But, at last, Mr. Kasich has "done something for Toledo." He is sending us the state's 125 death-row inmates.
Thanks, Big Guy. Good to know you are thinking of us.
True to form, the governor didn't ask anyone here whether this is something we would welcome.
Gary Mohr, director of the Ohio Department of Rehabilitation and Correction, has good reason to relocate the inmates from the Chillicothe Correctional Institution to the Toledo Correctional Institution. The decision was not based on fiscal matters, but because of Toledo's more modern facility and to ensure the ongoing safety of both prison staff and inmates.
That's great; just dandy.
Could there not have been some semblance of dialogue about this?
Could the city of Toledo not have had some assurance that preparations have been thoroughly made and safeguards put in place?
Residents who live near the Toledo Correctional Institution have apparently received no assurance from the DRC that their safety will not be in jeopardy. And to add insult to insult, state Sen. Edna Brown, of Toledo, who serves on the Correctional Institution Inspection Committee in the Ohio Senate, said she was not privy to the decision.
Said Senator Brown: "This has been going on behind closed doors, and that troubles me. Something of this magnitude should not be discussed behind closed doors without any input from the legislature, the union, or anybody else. I know how close the prison is to that residential neighborhood," said Ms. Brown, who was a Toledo city councilman in the 1990s.
Moreover, the Ohio Civil Service Employees Association, which represents 327 of the 402 prison workers at the Toledo Correctional Institution, did not know about the decision until just before the general public learned of the department's intent to make the move.
Ms. Brown urges that before moving inmates, DRC officials meet the citizens' advisory committee and the community, "to assure neighbors there will not be additional risk to the community." And while Toledo Mayor Paula Hicks-Hudson said prison authorities will not perform executions here, she also said more information is needed. The DRC, operating in the shadows outside the public view, is simply not acceptable.
As for Governor Kasich, you could get an appointment with him to speak about this if you lived in New Hampshire or were one of the Koch brothers — the famous big-time GOP givers who have helped Rob Portman to the tune of $8 million this year.
Guidelines: Please keep your comments smart and civil. Don't attack other readers personally, and keep your language decent. Comments that violate these standards, or our privacy statement or visitor's agreement, are subject to being removed and commenters are subject to being banned. To post comments, you must be a registered user on toledoblade.com. To find out more, please visit the FAQ.