On the field, it'll be Ohio State vs. Michigan when the Buckeyes head to the Big House in Ann Arbor on Saturday to tackle their arch rivals, the Wolverines.
But on the food page today, it's Urban Meyer vs. Jim Harbaugh as we offer some of their families' favorite football fare.
Both men were born in Toledo and have clearly taken some of the city's "you will do better" ethic with them into the world of sports. We'll leave the details of wins, losses, and stats from the coaches' college and professional careers to our stellar sports staff. Suffice it to say that, despite Michigan's overall record in this matchup of 58 wins to Ohio State's 48, Mr. Meyer's Buckeyes have a five-game winning streak to protect as they head to Ann Arbor.
This matchup is always the most important game of the season.
And so, of course, you need to feed the fans who will be cheering, screaming, and either celebrating or agonizing over every pass, every kick, and every touchdown. You can work up a serious appetite while watching a game this critical, with state pride and bragging rights on the line.
Shelley Meyer, Urban's wife of 28 years, scores a lot of points when she serves Pepperoni Bread, a swirl of spicy meat and cheese baked into tender-on-the-inside but crispy-on-the-outside dough. She says this three-ingredient recipe "is a tailgate classic." It travels beautifully to the stadium or to a friend's house, wherever you watch the game. And it's also great to serve at your own home to friends and fans gathered around the TV.
And you certainly won't fumble with Mrs. Meyer's chili recipe, which she says is intended to be ready when you get home from cheering on the team. It simmers away in a Crock-Pot and is a hearty dish to offer Cincinnati-style over spaghetti with cheddar cheese, chopped onions, and other goodies on top. (With a laugh, she emphasizes that the chili gets ladled over plain spaghetti noodles: "Don't want people adding chili over spaghetti and meatballs!")
Faith, family, and football — in that order — are at the heart of the Meyers' lives. But food may very well be fourth on that list.
Jackie Harbaugh, who has both married and raised football coaches, says that her son Jim really enjoys a number of recipes the family acquired from another coach's wife: Millie Schembechler. The late wife of deceased Michigan legend Bo Schembechler, for whom Jim played, was a native of Mississippi and noted for her Southern hospitality.
Jane Chronis of Ann Arbor, whose mother, Jane Pilcher, would help her dear friend Mrs. Schembechler cook all week in preparation for tailgating at home games on Saturdays, offers a couple of "standards." These are recipes that would satisfy dozens of people "before the games at the stadium [and] after the games at the Schembechler house," she remembers. They have remained Harbaugh family favorites for more than 30 years, since Jim was the Michigan quarterback.
Kick off your football feasting with this simple, sensational starter: Millie's Crab Dip. Full of flavor — and generous quantities of the star player ingredient — it will get a great reception when you serve it with assorted crackers.
There will be no delay of game penalty with the Four-layered Lemon Dessert that is not only easy to make but can be finished ahead of time so you don't miss even a moment of the action or the half-time performances. You'll earn an extra point if you proudly flaunt the team colors by preparing this maize-colored creamy confection in a blue serving dish.
"Go Bucks!" say Ohio State fans. "Go Blue!" say their Michigan counterparts.
And we say, hail to Saturday's victors: You and your fellow fanatics will eat fabulously well with these favorite Buckeye and Wolverine football foods as you watch the big game and cheer for your team.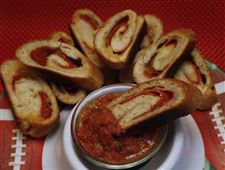 Pepperoni Bread and dip from Urban and Shelley Meyer.
The Blade/Lori King
Enlarge | Buy This Image
Pepperoni Bread
Shelley Meyer says that this hearty bread "is a tailgate classic." With just three ingredients, it's a winner.
1 13.8-ounce tube refrigerated pizza crust
1½ cups shredded Italian cheese of any kind
Scant 3 ounces of sliced pepperoni (turkey pepperoni is less greasy)
Preheat oven to 350F. Line a baking sheet with non-stick or lightly greased foil.
On a work surface, roll out the dough. Sprinkle shredded cheese all over the surface, leaving a 1-inch border on all sides. Place pepperoni all across the top of the cheese, in one layer.
Roll up dough along a long side, tucking any stray cheese and pepperoni inside. Press seams together and pinch ends tightly closed.
Place seam-side down on the prepared baking sheet. Bake for 25 to 30 minutes until top is golden brown, rotating the baking sheet once halfway through.
Wrap the Pepperoni Bread in several sheets of foil to keep warm until you get to tailgate. Slice with a serrated knife and enjoy!
Optional: Serve with dipping sauces (marinara, pesto, Ranch dressing, etc.), if desired.
Yield: 8 to 10 slices
Source: Adapted from Shelley Meyer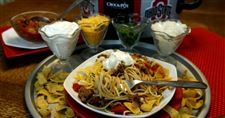 Chili with spaghetti from Urban and Shelley Meyer.
The Blade/Lori King
Enlarge | Buy This Image

Chili
This chili recipe "comes out different every time I make it," says Shelley Meyer, and is a favorite each time. This "is usually for AFTER the game," she added.
1 pound lean ground beef
1 pound ground turkey breast
1 large onion, chopped
1 46-ounce bottle of Spicy V-8 vegetable juice
2 14.5-ounce cans any type of "chili ready" chopped tomatoes
2 15.5-ounce cans spicy chili beans (chili hot)
1 minced jalapeño, if desired
2 teaspoons cumin
3 to 4 tablespoons chili powder
1 teaspoon garlic salt
Salt and pepper, to taste
For serving: Prepared spaghetti noodles, shredded cheddar cheese, sour cream, corn chips, minced jalapeños, chopped onions
Brown ground beef, ground turkey, and onion in a large skillet over medium heat, then drain.
Meanwhile, in crockpot (use a liner!) add all other ingredients and stir well. Add browned ground beef/onion. Cook on low all day or overnight.
Serve over spaghetti noodles. Top with shredded cheddar cheese, sour cream, corn chips, more jalapeños, and/or chopped onions, if desired.
Source: Adapted from Shelley Meyer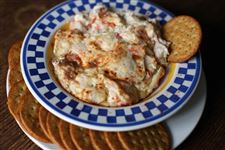 Jim and Sarah Harbaugh's favorite dip called "Millie's Crab Dip."
The Blade/Amy E. Voigt
Enlarge | Buy This Image
Millie's Crab Dip
This is one of Millie Schembechler's classic recipes, one that could always be counted on to please guests that she and Bo welcomed to their house after the games.
8 ounces softened cream cheese
1 tablespoon milk
6½ ounces flaked crab meat
2 tablespoons chopped onion
½ teaspoon horseradish
¼ teaspoon salt
¼ teaspoon pepper
Paprika, for garnish
Crackers, for serving
Preheat oven to 375F. Grease a 2-cup capacity baking dish.
Mix all the ingredients together and spread into the prepared baking dish. Bake for 20 minutes or until warmed through.
Sprinkle dip with paprika and serve with crackers.
Yield: About 2 cups
Source: Adapted from Millie Schembechler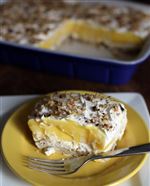 Jim and Sarah Harbaugh's favorite four-layered lemon dessert.
The Blade/Amy E. Voigt
Enlarge | Buy This Image
Four-layered Lemon Dessert
This maize-colored Michigan dessert can be made a few days ahead, so it's ready to serve at game time.
1 cup flour
1 stick (½ cup) butter, softened
1½ cups chopped walnuts, divided
1 cup powdered sugar
1 8-ounce package cream cheese, softened
1 8-ounce container Cool Whip, thawed, divided
1 3.4-ounce box instant vanilla pudding and pie filling
2 3.4-ounce boxes instant lemon pudding and pie filling
4 cups milk
Preheat oven to 350F.
For first layer, blend flour with butter. Add 1/2 cup chopped walnuts. Press into ungreased 9- by 13-inch baking pan. Bake 15 minutes and cool.
For second layer, mix powdered sugar with cream cheese. Fold 1 cup Cool Whip into cheese mixture. Spread on baked crust and chill.
For third layer, beat vanilla pudding, lemon puddings, and milk until thick. Spread over the cheese layer and chill to set.
For fourth layer, spread remaining Cool Whip over the top of pudding. Sprinkle remaining nuts over Cool Whip. Cover and store in refrigerator until serving.
Yield: 12 servings
Source: Adapted from Millie Schembechler
Contact Mary Bilyeu at mbilyeu@theblade.com, and follow her at facebook.com/thebladefoodpage.
Guidelines: Please keep your comments smart and civil. Don't attack other readers personally, and keep your language decent. Comments that violate these standards, or our privacy statement or visitor's agreement, are subject to being removed and commenters are subject to being banned. To post comments, you must be a registered user on toledoblade.com. To find out more, please visit the FAQ.