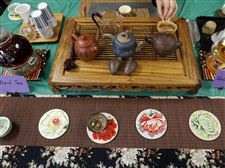 Li Yan, originally from China, left, brought a portion of her traditional tea service to share during a Halloween-themed potluck October 31 at the Sylvania Schools Administrative Offices.
The Blade/Katie Rausch
Enlarge | Buy This Image
Representatives from all over the world gathered at the Sylvania Schools Administration Building, 4747 N. Holland-Sylvania Rd., for "an international melting potluck," as Najwa Badawi joyfully called it.
Ms. Badawi teaches English as a second language and thought it would be fun to have her 30 students bring dishes from their homelands for a lunch-time party. As each one brought in something to share, Ms. Badawi bustled around trying to find room for the bounty on a table already generously overloaded with food.
There was shafout, a Yemeni salad of bread dressed in an herbal yogurt sauce. Ana Snyder brought in two different Venezuelan pumpkin desserts: torta de auyama, a pumpkin loaf cake, and a flan called quesillo. Sfeeha — Lebanese meat pies — were set out near Libyan couscous featuring chickpeas, green beans, and meat.
Nada Ahmed shared Lebanese tabouleh, and Nuha Awad offered Syrian-style grape leaves. Tigist Mekonnen contributed misir wot — "lentils with hot sauce," she said — served with injera (a spongy flatbread used for scooping the stew) that had been made with teff, "pure Ethiopian flour." Chinese egg rolls were even being fried in a corner of the classroom, for maximum freshness.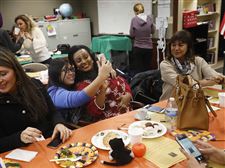 Tram Vo, originally from Vietnam, center left, snaps a selfie with Tigist Mekonnen, originally from Ethiopia, center right, during a Halloween-themed potluck October 31 at the Sylvania Schools Administrative Offices.
The Blade/Katie Rausch
Enlarge | Buy This Image
The list of foods and countries continued down the table: Mujadarah, lentils and rice with caramelized onions that's enjoyed throughout the Middle East. Sushi and Japanese-style stuffed peppers. Shulbato, a Palestinian mix of eggplant and cracked wheat. Mirza ghassemi, a grilled eggplant dish from Iran. Kabsa, the national dish of Saudi Arabia, full of chicken, potatoes, and rice. Mexican arroz con leche, a creamy rice pudding, and pork tamales. Layali Lubnan, known in English as "Lebanese nights," a fragrant orange blossom and rose-scented custard topped with pistachios.
Jackie Jiang, a friendly young man who works at Sakura Japanese Steak House, has been in this country over a year, he said. He brought purchased cookies to the potluck, he said. "I don't know how to make Chinese food," he said with a smile — only sushi.
Boungtae Lee and his wife Youngja Hur have been married for nearly 50 years and emigrated recently from South Korea. She brought two bowls: one she called "American kimchi," the other "original kimchi," which had a significant dose of spicy heat. She had wanted to accommodate those who might have tamer palates while also showing off her traditional recipe, the national dish of Korea.
The enticing lunch was set out eagerly as the students enthusiastically talked over each other about what they'd brought. It was food served with enormous pride and with tender memories.
"It's food that has a story," Ms. Badawi said.
And there were beverages, too. Li Yan — who came to Toledo four-and-a-half years ago with her husband, an engineer for Siemens, and their two young sons and who teaches Chinese part-time at Maumee Valley Country Day School — had established herself at a table in the back of the classroom to serve black, white, and wu long teas.
"This is just a part of the tea set," she said of the inviting array of small pots and delicate ceramic cups she'd set out to encourage her friends to sit down and sip as they ate, lingering over both conversation and food. "I cannot take them all."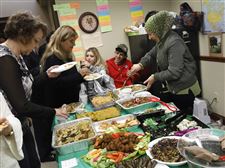 Itaf Moussa, right, laughed as she dished up food during a Halloween-themed potluck October 31 at the Sylvania Schools Administrative Offices.
The Blade/Katie Rausch
Enlarge | Buy This Image
In China, we have six kinds of tea," Ms. Li said, but she brought only three to the potluck. Each tea had been brewed, ready to pour. "For different teas, I use different teapots," she said, so the unique flavors of each variety don't get muddled together.
Ms. Mekonnen, who came to this country nine years ago with her husband, served small cups of Ethiopian coffee full of floral, slightly spiced flavor. She showed her friends a video on her phone of having roasted the beans in a saucepan on her stove top so that they would be at their freshest before brewing.
In addition to classroom lessons and special events like the potluck, Ms. Badawi takes her students on field trips and adventures, such as Sandpiper boat tours during the summer, and encourages them to go out and experience their new home. "They have fun," she said with great enthusiasm.
She said it generally "takes about two years to become comfortable speaking English," and about seven years to gain real fluency. "We have four doctors in [this] class," Ms. Badawi said. "Maybe 70 percent have college degrees. [But] they need to improve their language skills to get along in this country." So they study and practice daily.
"We have five different locations around the Lucas County area, and this is only one of them," she said of the site for her English for Speakers of Other Languages, or ESOL, class. In 2016, the program taught more than 200 students at locations in Holland, Rossford, Sylvania, and Toledo. It's "a hidden secret," Ms. Badawi said. For more information, call 419-824-8539.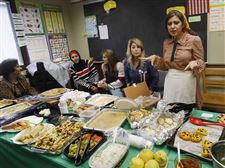 Instructor Najwa Badawi, right, encourages her students to take food home with them at the end of a Halloween-themed potluck October 31 at the Sylvania Schools Administrative Offices.
The Blade/Katie Rausch
Enlarge | Buy This Image
Ms. Snyder, a pediatrician from Venezuela, came here to be with her husband, William, who is from Toledo, she said. They had met 11 years ago in Paris, when she was on vacation and trying to visit her sister, who'd just had a baby. Ms. Snyder did not speak French and was having difficulty navigating in the midst of a transit strike when her future husband helped her to get on the right bus. They now have a 4-year-old son with dual citizenship; he was born while the couple lived in Paris and is learning both French and Spanish in addition to English.
While Ms. Snyder knows she would be able to find groups of expatriates from her country (or, more generally, from Central and South America) to align herself with in larger cities, she prefers being in this area where it's more difficult to remain in a comfort zone. She likes the challenge of "not [being] able to blend into" a ready-made clique that keeps her isolated and somewhat removed from her new country.
"Toledo is the real America," Ms. Snyder said. "I want to be with the real Americans."
Tabouleh
½ cup cracked wheat
2 big bunches parsley
2 tomatoes
1 small bunch green onions
¼ cup dried or fresh mint, crushed
Juice of 2 lemons
1 tablespoon salt
½ cup olive oil
½ teaspoon black pepper
Wash cracked wheat. Drain and put in bowl. Add all the chopped parsley, tomatoes, onions, and mint, then add lemon juice, salt, oil, and pepper.
Source: Nada Ahmed
Shulbato (Eggplant, tomato, and cracked wheat)
1 large onion, chopped
1 clove garlic, chopped
½ cup olive oil
1 medium eggplant
2 medium sized tomatoes, chopped finely
Salt and black pepper, to taste
1 cup cracked wheat
In a pan, sauté onions and garlic in olive oil until translucent. Chop the eggplant into 1-inch cubes — don't remove peel. Add it to the pan.
After it softens, add chopped tomatoes and mix. Cover and cook for 7 minutes, then add 2 cups of water, the salt, and pepper. Let it come to a boil, then add washed and drained cracked wheat. Cover and cook for 10 minutes on low heat.
Eat with salad or as a main dish.
Source: Najwa Badawi
Mujadarah
1 cup lentils
3 cups water
Salt and pepper to taste
¾ cups rice
1 teaspoon powdered cumin
2 large onions
½ cup olive oil
Combine lentils, water, salt, and pepper. Cook over medium heat for 10 minutes until lentils are half-cooked. Add rice and cumin. Cook until water is absorbed and rice is cooked.
Slice onions and fry slowly in oil until dark brown. Garnish over mujadarah. Pour the oil over mujadarah.
Serve with plain yogurt or with salad.
Source: Abla Dudar and Nadia Murtada
Layali Lubnan (Lebanese Nights Semolina Pudding)
Simple syrup:
1 cup water
¾ cup sugar
1 tablespoon rose water
Pudding:
4 cups whole or 2% milk
1 cup coarse semolina
4 tablespoons sugar
3 tablespoons condensed milk
1 tablespoon rose water, divided
1 teaspoon orange blossom water
1 cup whipped cream
½ cup chopped pistachios, to garnish
First, make the simple syrup: just boil all the ingredients of the syrup together, stirring slowly for 7 minutes. Then turn off heat and let cool.
Make the pudding: In a non-stick pan, add milk, semolina, sugar, condensed milk, and half of rose water. Boil, continuously stirring until it forms a thick, creamy consistency. Once it becomes thick, switch off the burner and add the remaining rose water and the orange blossom water.
In a Pyrex glass dish or individual cups, pour the semolina milk pudding and level it with a spoon. Then add the whipped cream on top and add pistachios. Refrigerate for two hours to set. Serve chilled.
To serve, pour syrup around portions of the pudding or over the individual cups.
Source: Adapted from Majid Alshehaddeh
Contact Mary Bilyeu at mbilyeu@theblade.com, and follow her at facebook.com/thebladefoodpage.
Guidelines: Please keep your comments smart and civil. Don't attack other readers personally, and keep your language decent. Comments that violate these standards, or our privacy statement or visitor's agreement, are subject to being removed and commenters are subject to being banned. To post comments, you must be a registered user on toledoblade.com. To find out more, please visit the FAQ.