What are you doing New Year's Eve? Why, reviewing 2017's food news, of course, which is alternately sweet and sour — and even salty in some cases — with moments of both joy and sadness.
In no particular order, here is our list of the top food-related stories of the past year.
A fixture in the Toledo area for years, The Andersons are closing their stores.
The Blade
Enlarge | Buy This Image
A store like no other is no more
The Andersons, which was much-loved for attentive, knowledgeable service and high-quality foods and goods, closed its Toledo, Maumee, and Columbus grocery stores in June as countless customers mourned. Whether looking for everyday groceries or for specialty items, shoppers relied upon it; they especially valued its local focus, which supported a wide variety of northwest Ohio foods, beers, and wines. Sofo Foods now uses the defunct store's recipes to bake ciabatta, Continental Italian, sourdough, Killer Ciabatta, and Killer Sourdough breads; and many of the employees who lost their jobs have found work in other food service areas such as wine shops, markets, and restaurants. But The Andersons will always hold a special place in people's hearts.
Maybe you know some 
little places to go ....
Downtown continues to come back to life, flourishing as it flaunts flavors at restaurants as varied as the Chop House from Mainstreet Ventures, Fowl and Fodder's second location, Cilantro's, both the Heights and Brim House at the Renaissance Toledo Downtown Hotel, the newest Barry Bagels franchise, Jera's Heavenly Sweet bakery, and the already-announced newest location of Balance Pan-Asian Grille.
A boon to those who work in the area, these investments in the city are also delicious destinations inviting people to come down for fantastic food. You will dine better in downtown Toledo.
Grocery games
Although the city planning commission once again rejected Kroger's plan to purchase property from the Sisters of Notre Dame in February, city council approved the project in March by a vote of 10 to 2 (with Sandy Spang and Peter Ujvagi objecting). Plans are thus continuing to build a big, bright Marketplace and to phase out the smaller store currently located on Monroe Street across from the new site.
Whole Foods, which was purchased by Amazon in June and has still neither followed through with plans to open one of its 365 models on Secor Road (just a short distance from the planned Kroger) nor canceled them outright, continues to leave Toledoans wondering when — or if — we might have our own store. Until a decision is made, devotees will have to continue schlepping up to Ann Arbor to shop at the closest location.
Owner Robert Harris holds two of his vegetarian dishes at Greenleaf Cafe in Toledo: Baked Cheesy Spaghetti and Greenleaf Special Salad.
The Blade/Lori King
Enlarge | Buy This Image
Vegans have landed
The vegetarian/vegan Greenleaf Cafe opened in the spring. Paleo, vegan, and gluten-free scones prepared by Tracy Plumb-Ruiz of Chef Tracy 419 are sold at area coffee shops. Vegan cookies, brownies, fudge, and Beyond Meat burgers are being served at Grumpy's. The Attic, above Manos Greek Restaurant, has vegan-friendly options, while Cilantro's promises it can modify any menu item to make it vegan. The Leaf and Seed meal delivery service has started providing plant-based home-style cooking. And even Tony Packo's now offers vegan chili dogs at its newest establishment on Secor Road.
The Phoenix Earth Food Co-op and Asian and Middle Eastern restaurants have always been reliable resources for those on a plant-based diet. But the expanded options in Toledo prove that it's not just a college kid fad anymore.
And even though there's a pig in its front window, downtown's Adams Street Cafe serves up a delicious daily vegan special.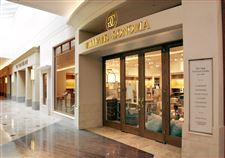 The Williams Sonoma store in the Franklin Park Mall, which opened in 2005, is closing in mid-January.
blade Enlarge
Saying so long to 
Williams-Sonoma
In early December, Williams-Sonoma — the much-loved kitchen supply store at Franklin Park Mall — announced that it will close in mid-January. Known for the exceptional quality of its inventory and the depth of knowledge of its friendly staff, it is a high-end toy store for kitchen connoisseurs. The store held classes and presentations for all age groups, encouraging and engaging both novice and skilled culinarians. Something was always simmering on the stove, enticing people to stop and shop ... or, at least, to look around. That cozy corner for cooks will be missed by many.
Gold rush
On Jan. 25, chef Mathew Peters and commis (assistant) Harrison Turone, representing Team USA, won the gold medal (not to mention 20,000 euros) at the Bocuse d'Or, one of the world's most prestigious professional cooking competitions. The biannual contest involves 24 teams, which each prepared meat and plant-based dishes of striking complexity and beauty. After a 12-month training program — which included a special dinner hosted by the Culinary Vegetable Institute in Milan, Ohio, in July, 2016, (the CVI also shipped produce for use during the final cooking round in Lyon, France) — the United States beat its previous best placement, the silver medal in 2015, to take home the grand prize for the first time in the competition's 30-year history.
At a cook-off held in Las Vegas in November, chef Matthew Kirkley and commis Mimi Chen were selected to represent us and defend our title in January, 2019.
#HimToo
Just after it was announced that Mario Batali's Molto Mario show would return in 2018 with six new episodes, the chef and entrepreneur was accused of — and acknowledged engaging in — sexual misconduct and other grossly inappropriate behaviors. The Food Network chopped his show, while ABC fired him from The Chew. He has stepped back from running his food empire, apologizing to "my friends, my family, my fans and my team" while promising to "work every day to regain your respect and trust."
ABC also had to contend with accusations of impropriety regarding pastry chef Johnny Iuzzini, co-judge of The Great American Baking Show, choosing to abruptly cancel this holiday-themed series after airing only two episodes. Lauren Katz of Virginia, who won the first season of the competition in 2015, posted on her Facebook page after the initial allegations against Mr. Iuzzini were revealed: "I am so sad for the contestants (and cohosts, crew, and co-judge) who have devoted hours and hours of time writing and practicing recipes, spent over a month away from their families for filming, and have just had their dreams dashed." While she said she doesn't excuse past behavior, she gives Mr. Iuzzini credit for kindness and professionalism toward her.
And she noted that, with no prize money at stake, the chance to showcase one's talent on national television was a priceless opportunity that has now been taken from the bakers. In a brief Facebook video, the show announced that Vallery Lomas had won.
Fast-casual boom
Fast-casual chain restaurants — quick cuisine that's fresher than fast food, without the formality of traditional restaurant dining — are a force to be reckoned with.
If you need proof, just head to Secor Road between Monroe Street and Central Avenue, where nearly a dozen different establishments are tempting your taste buds (many of them competing in the very same complexes): Fuzzy's Taco Shop, Blaze Pizza, Piada Italian Street Food, Wingstop, Macs N' Melts, Chipotle Mexican Grill, Five Guys, Zaza Wood-Fired Pizza, First Watch, Pizzafire, and Fusian.
Generally of higher quality, and with more nutritious menu options than the old drive-thru standbys, this concept is clearly winning the popularity contest with customers.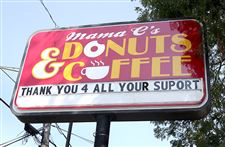 In August, Mama C's Donuts was forced to close temporarily due to a norovirus outbreak.
THE BLADE/DAVE ZAPOTOSKY
Enlarge | Buy This Image
Viral outbreak
In August, Mama C's Donuts and nearly 400 of its customers — including The Blade's own Lauren Lindstrom, a dedicated health reporter who truly immersed herself, unwittingly, in the story — were felled by the dreaded norovirus. The doughnut shop was closed for a week as it underwent intensive cleaning and sanitizing, which even included the added assistance of St. Luke's Hospital's Xenex disinfecting robot that utilizes ultraviolet light to annhilate bacteria and viruses.

VIDEO: Mama C's Donuts reopens after norovirus outbreak
No cause was attributed to the outbreak and no reports of further illness have been reported. Yann and Chandar Chao, who have owned the Maumee shop for nearly 15 years, happily welcomed back devoted customers, who were thrilled to support the local business and satisfy their sweet teeth all at the same time
Eeny, meeny, 
miny, moe
Talk amongst yourselves about these stories, any of which could have rounded out the list. Registry Bistro and Element 112, which serve creative cuisine to counter our comfort food reputation, both celebrated five-year anniversaries. The Great British Bake-Off lost judge Mary Berry and hosts Sue Perkins and Mel Giedroyc, who all stayed with the BBC, when Love Productions moved its enormously popular international hit show to England's Channel 4 for £75 million; judge Paul Hollywood stayed with the program, and was joined by cooking expert Prue Lieth and entertainers Noel Fielding and Sandi Toksvig.
U.S.-based Spanish chef José Andrés' World Central Kitchen has utilized food trucks and pop-up kitchens to feed nearly 3 million people in hurricane-ravaged Puerto Rico.
Engagement Chicken started to trend once it was discovered that Prince Harry had proposed to his fiancée, Meghan Markle, as they were preparing the magical food of love for dinner one evening.
The Joaquin Phoenix-produced documentary What the Health? became a pro-vegan sensation on Netflix, despite making controversial and unsubstantiated nutrition claims (i.e.: eating one egg per day can be as damaging as smoking five cigarettes daily).
Walt Churchill's Market in Perrysburg took up the Tiedtke's and The Andersons' tradition of the holiday cheddar, slicing up a big cheese in early November to celebrate the season.
And UberEATS began to offer delivery, not merely driving, service around town, bringing you dinner from local restaurants; Shipt, on the other hand, will bring your groceries from Meijer.
Just some food for thought, to keep you entertained until you get to sip your champagne at midnight.
Contact Mary Bilyeu at mbilyeu@theblade.com, and follow her at facebook.com/​thebladefoodpage, bladefoodpage on Instagram, or @BladeFoodPage on Twitter.
Guidelines: Please keep your comments smart and civil. Don't attack other readers personally, and keep your language decent. Comments that violate these standards, or our privacy statement or visitor's agreement, are subject to being removed and commenters are subject to being banned. To post comments, you must be a registered user on toledoblade.com. To find out more, please visit the FAQ.