Mary Machon, left, and Rose Brancatto, of Bensell Greenhouse, show some examples of terrariums.
The Blade/Jetta Fraser
Enlarge | Buy This Image
Those over 40 can't help but look around and see reminders of the 1970s: clothes and furniture in big bold prints, the rust, green, and gold tones of that time, the occasional Pet Rock, and even terrariums.
Wait ... terrariums?
Yes, terrariums, and they've grown in popularity and are much like most of us remember them: glass containers that are sometimes enclosed and sometimes not, with tiny plants growing out of dirt with little stones or pebbles on top.
"They've made a comeback in the last two years," said Mary Machon, the owner of Bensell Greehouse on Dorr Street in Toledo.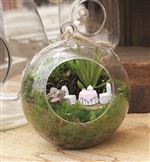 Closed terrarium.
The Blade/Jetta Fraser
Enlarge | Buy This Image
They're a great way for gardeners to keep their thumbs green during the winter months, she said. They're also a favorite way for parents and grandparents to introduce their little ones to gardening, she added.
Plus, students in classrooms and young people's clubs, such as Boy Scouts and Girl Scouts, take up terrarium projects to learn how plants grow and thrive, she noted.
"It's affordable, and they are tiny," Ms. Machon said of the little plants and their companion small glass containers. "It's such a great project for kids. They get to touch plants. It's an inexpensive way to start [youngsters] off, to get them interested in plants."
Before discussing the containers and the types of plants that go inside them, let's be clear about something: Fairy gardens and terrariums are terms that some use interchangeably because they think the small gardens are one in the same.
"No they're not," said Theresa Hoen, owner with husband Bob Hoen of Hoen's Garden Center and Landscaping in Holland.
"A true terrarium is closed with plants that create their own environment. It usually has a small opening," she explained, referring to the 40-something-year-old garden in a container that many remember. "Since then, we've embraced the opened terrariums."
Theresa Hoen, of Hoen's Garden Center and Landscaping, shows some of the many terrarium the center sells.
The Blade/Jetta Fraser
Enlarge | Buy This Image
Fairy gardens, meanwhile, incorporate figurines of fairies. Sometimes people put other small figures inside these gardens too. Both are labeled miniature gardens, Ms. Hoen said.
"You can use fairy garden and miniature garden interchangeably," Ms. Hoen said.
How one describes the small gardens may depend on one's preferences.
"What [changes] it from being a terrarium to a miniature garden is when you add accessories that create a miniature world," Ms. Hoen said, referring to figurines.
While some contemporary terrariums have openings large enough to let the gardener insert plants and soil, Ms. Machon describes them as basically enclosed containers with no air flow other than what the plant produces.
Ms. Macon also said just about anything can be used for terrariums. Of course you can buy glass terrariums new, but don't overlook thrift stores that are often loaded with glassware that can be turned into terrariums, she said.
A plant is placed in a terrarium.
The Blade/Jetta Fraser
Enlarge | Buy This Image
"People used to use glass Mason jars. Now you can use glass blocks. I have an inverted jar with a plant in it. I have glass salt and pepper shakers," that serve as terrariums, Ms. Machon said.
Meanwhile, Ms. Hoen said glass balls are popular now.
"There are really neat vessels," said Ms. Hoen, adding that sometimes those vessels are not all glass. Some may have other materials, such as metal or wood on them.
"Most are glass, from glass globes to glass pieces that are more cylindrical. The sky's the limit. If it holds soil, it can be planted," Ms. Hoen said.
And what about the soil? Why not get it for your terrarium from your yard?
"Don't go to the backyard. That dirt's too heavy," said Ms. Machon. "You want to make sure you use a really nice, quality soil, a nice loose soil, to make sure the roots can break through and use the space you give it. You won't want anything that is too high in peat; peat holds water too long and [if] your root system sits in water too long, they could rot away before they get a chance to get established."
It's also vital to choose the right type of plant.
"Sometimes people will put a succulent with a foliage and they look great at first, but they don't work well together," Ms. Machon said. "You want to choose plants that can handle higher humidity and have leaf structure to them so they will not grow and pack inside the container."
Among the preferred plant choices are pilea, wandering Jew, tradescantia, selaginella, and ferns, Ms. Machon said.
"There's always baby tears, which is a wonderful one but we caution people because it's aggressive. Some of them do flower, but they don't necessarily have the dynamic, beautiful bloom," Ms. Machon said.
This terrarium at Hoen's Garden Center and Landscaping can be closed or open, depending on the plants that are used.
The Blade/Jetta Fraser
Enlarge | Buy This Image
Stone, bark, pea gravel, and mosses are great to put with plants in terrariums, Ms. Machon added. Ms. Hoen suggests first putting stones on the bottom of the vessel, as that will keep the roots from sitting in water because there's no drainage system in terrariums.
After putting in the stones, Ms. Hoen said, "Then put a little charcoal that you use for plants to keep the soil sweetened and keep it from molding."
Ms. Hoen describes interest in these little worlds as a passion among gardeners that easily transfers the love of terrariums, opened and closed, and to other miniature gardens.
"It has afforded us to garden 12 months out of the year," Ms. Hoen added.
Also, they make great conversation items.
"They draw people in to see what you've done. If there are tiny flowers, they are neat little finds for people to take a look at," Ms. Machon said. "You can start in the middle of winter. It's a great Saturday or Sunday project, and a great way for people to get a great feel for gardening in the middle of winter."
Contact Rose Russell at: rrussell@theblade.com or 419-724-6178.
Guidelines: Please keep your comments smart and civil. Don't attack other readers personally, and keep your language decent. Comments that violate these standards, or our privacy statement or visitor's agreement, are subject to being removed and commenters are subject to being banned. To post comments, you must be a registered user on toledoblade.com. To find out more, please visit the FAQ.