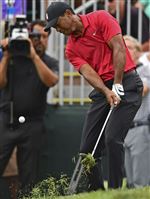 Tiger Woods follows his shot from the rough on the seventh hole during the final round of The Memorial.
ASSOCIATED PRESS Enlarge
DUBLIN, Ohio — A storybook final-round script needed a rewrite, just like the weather forecast.
But Tiger Woods didn't leave Muirfield Village Golf Club angry. In fact, despite fashioning a balky putter that never cooperated during the week, Woods left Ohio with another dose of confidence in a season filled with promising results for the 14-time major champion.
Woods shot an even-par 72 on Sunday and finished tied for 23rd at 9 under, six shots out of a playoff. He hit the ball well enough to win the tournament, which caused some consternation. But with the U.S. Open at Shinnecock Hills on the horizon, Woods is a golfer brimming with self-belief.
"I had some chances to shoot some good rounds this week," said Woods, who shot 72-67-68-72. "Overall, my game is where it needs to be heading into the U.S. Open, and that's something that's very positive. I just need to hit better putts. This week I didn't feel comfortable with my lines and my feel was a little bit off. Consequently, I missed a bunch of putts."
VIDEO: Tiger Woods after The Memorial
Woods will fly back to his home in Jupiter, Fla., to practice and hang out with his kids before arriving at Shinneock on Long Island next weekend. There was little hint in his voice or body language that he was concerned about his subpar putting. A little tweak is all that's needed. On the ballstriking front, Woods thinks it's the best he's hit the ball in five or six years.
"If I just putt normally, I probably would have been right there with those guys in the last couple of groups," he said. "If I just keep building on this, with how I'm hitting it right now, I'm in good shape for two weeks from now."
Birdies on two of his first five holes got Woods to within three shots of the leaders. However, momentum stalled from there, as he parred his final four holes on the front nine and shot 38 on the back.
Woods was first in the field in three strokes gained stats — tee-to-green, approach to the green, and proximity to the hole. But he was second-to-last in strokes gained putting, giving up seven shots on the greens, bringing the old axiom drive for show, putt for dough to real life.
Woods had five three-putts and missed seven putts inside 5 feet. He averaged almost 30 putts per round. But it should be noted he battled back from being 4-over after seven holes in the first round Thursday.
"I keep getting just a little bit more fine-tuned," Woods said. "I've had little building blocks along the way, and I keep getting a little bit better, a little bit more refined, and you start to see the results. I'm starting to hit the golf ball better. If I just make a few more putts like I did earlier in the year when I was putting really well, you put those two together, then I'll have something."
Contact Kyle Rowland at: krowland@theblade.com, 419-724-6110, or on Twitter @KyleRowland.
Guidelines: Please keep your comments smart and civil. Don't attack other readers personally, and keep your language decent. Comments that violate these standards, or our privacy statement or visitor's agreement, are subject to being removed and commenters are subject to being banned. To post comments, you must be a registered user on toledoblade.com. To find out more, please visit the FAQ.