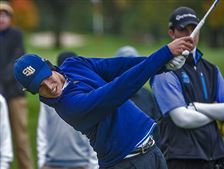 St. John's junior Jack Mancinotti earned runner-up in the Divi­sion I state boys golf tour­na­ment Saturday.
PHIL LONG/OHIO PRESS PHOTO SYSTEM Enlarge
COLUMBUS — Jack Mancinotti did his best to control what he could during the final round of the Division I state boys golf tournament Saturday on Ohio State's Scarlet Course.
The St. John's junior wasn't able to close the gap after being three shots out of the lead following Friday's opening round, but he shot well enough to leave with some hardware.
After shooting 73 on Friday and 77 on Saturday for a two-day total of 150, Mancinotti earned a runner-up finish behind Dublin Coffman senior Nick Sparling, who followed a 70 on Friday with a 76 for a 146.
Sparling also won the title a year ago.
"I just tried to play my best and forget what other players around me were doing," Mancinotti said. "It was a solid day. I'm so happy [to be the state runner-up]."
Mancinotti's performance helped St. John's take fourth with a 648. Dublin Jerome shot 641 to win its third consecutive championship, followed by Pickerington North (646) and Cincinnati St. Xavier (647).
Findlay placed 11th (707).
"[Mancinotti has got] a lot to be proud of," coach Mussa Orra said. "He played extremely well, as he has all season long, and he's only a junior."
Also competing for the Titans were seniors Jack Meredith (167), Nicholas Graf (170), and Luke Campbell (171), and freshman Tommy Sullinger (167).
"This is something they've worked for for all four years, and they earned this," Orra said. "It's just great for them to have gotten this opportunity."
Findlay improved by 11 strokes in the final round, shooting 348 on Saturday. All but one of its players shot better scores.
Leading Findlay were junior Spencer Shoemaker (170) and sophomore Sam Griffith (173).
"We had a solid season," coach Bob Soellner said. "There were definitely a lot of people who didn't pick us to do this well."
Competing individually were Bowling Green junior Trey Walker (177) and Maumee senior Mitchell Kontak (179). Both players improved by one stroke from their opening-round performance.
"It was just a rough two days overall but I enjoyed what I could," Kontak said. "Being the first player at state from Maumee is a feat."
In the Division I girls tournament on Ohio State's Gray Course, St. Ursula was 10th (693) and Perrysburg placed 12th (747) as Jerome won its third consecutive championship with a 622.
Sophomore Lizzie Win shot 164 to lead St. Ursula, followed by juniors Kathryn Young (170), Monica Torda (178), and Emily Antypas (181).
"We've got to learn how to play better in the cold weather and the rain," Win said. "Next year we'll be stronger as a team."
Senior Monica Dorner led Perrysburg with a 174.
Also competing were Northview freshman Ashley Knight (181) and Anthony Wayne sophomore Maria Connelly (190).
Guidelines: Please keep your comments smart and civil. Don't attack other readers personally, and keep your language decent. Comments that violate these standards, or our privacy statement or visitor's agreement, are subject to being removed and commenters are subject to being banned. To post comments, you must be a registered user on toledoblade.com. To find out more, please visit the FAQ.