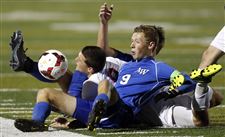 Anthony Wayne's JJ Fortner (9) collides with Mentor's Brock Venman in a Division I state semifinal. It was the only loss of the season for the Generals.
THE BLADE/JEREMY WADSWORTH
Enlarge | Buy This Image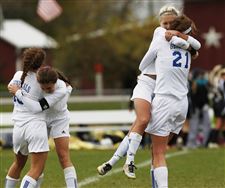 Anthony Wyane's Baily Hertzfeld, left, hugs Abby Allen, as Sarah Petrell (21) lifts Katelyn Bixler after the Generals beat Perrysburg to win a district title.
THE BLADE/KATIE RAUSCH
Enlarge | Buy This Image
It was all Anthony Wayne on the soccer pitches this fall.
The Generals' boys team earned a No. 2 ranking in the state poll and reached the final four in Division I, while the AW girls made a run to the regional final.
In Division III, the Oak Harbor girls reached the state semifinals.
The AW boys posted a 17-1-4 record, falling 1-0 to Mentor in the state semifinals. The Cardinals scored the game-winning goal with just 3 minutes, 28 seconds left in regulation.
The Generals won the Northern Lakes League championship for the second straight season and outscored their opposition 65-9. Senior goalkeeper Austin Kaminski allowed just two goals in the 12 games heading into the state semis.
AW had nine seniors and 11 letter winners back for second-year coach Brian Billings from a team that was 16-1-2 in 2012, when it lost in a regional semifinal to Southview.
Anthony Wayne shared the NLL title with Northview after the Generals went 4-0-2 and the Wildcats were 6-1-0. AW senior forward Ben Conkin earned All-Ohio second-team honors.
Northview senior goalkeeper John Wendt was named to the Division I All-Ohio first team after giving up just 10 goals in 18 games.
St. John's Jesuit (15-3-2) reached the regional semifinal with dramatic wins over Perrysburg and Findlay in the district tournament. Junior midfielder Camden Buescher earned All-Ohio first team as the Titans won the Three Rivers Athletic Conference title.
In Division II, Maumee senior forward Alexander Wagener and Port Clinton senior forward Simon Schultz earned All-Ohio first team. The Panthers reached the D-II regional semis.
Rossford junior midfielder Hector Aguirre and Napoleon senior forward Tyler Zachrich were named to the D-II all-state second team. Rossford won the Northern Buckeye Conference title, the school's first NBC championship in any sport. The Bulldogs went 9-1 to win the school's first title in any sport since 2002.
In Division III, Archbold senior midfielder Brodie Nofziger earned all-state first-team honors. The Blue Streaks shared the Northwest Ohio Athletic League title with Bryan.
Liberty-Benton senior midfielder Zach Garver, Ottawa Hills senior defender Max Isenberg, and Clay senior forward Mason Pelphrey all made the all-state second team. Isenberg's Green Bears reached the D-III regional semifinals. L-B earned a No. 6 ranking in the final D-III poll.
Among the girls, Anthony Wayne (14-4-2) won a district title before falling 3-1 to Rocky River Magnificat in the regional title game. Junior midfielder Abby Allen was named All-Ohio second team.
The Generals also won a district title last season and lost in the regional semifinal to eventual D-I state champion Perrysburg. This was AW's first regional final appearance.
Anthony Wayne shared the NLL title with Perrysburg with 6-0-1 records.
Notre Dame (16-2-2) was ranked No. 5 in the final D-I poll. The Eagles, who won the TRAC title, reached the regional semis where they fell 2-0 to AW. Notre Dame senior midfielder Dani Johnson was named all-state first team.
Clay senior goalie Alyssa Heintschel also was All-Ohio first team.
Northview senior forward Erin Bishop was tabbed all-state second team, along with Southview senior midfielder Bethany Thomas.
In Division II, Maumee (13-6-1) made a run to the regional semifinals. Senior midfielder Maddy Woolford set a school record with 29 goals. and earned All-Ohio first-team honors.
Oak Harbor won a Division III regional title before bowing out with a 4-1 loss to Gates Mills Hawken. The Rockets (18-2-1) were ranked No. 10 in the final state poll. Freshman midfielder Emma Barney earned All-Ohio second team.
Liberty-Benton (18-1-1) finished the regular season ranked No. 5, but the Eagles fell to Oak Harbor in the regional final. Senior midfielder Samantha Johnson and senior forward Kayla Trevino were both All-Ohio second team.
Woodmore (18-2-0) won the school's first NBC soccer championship. The Wildcats went 10-0 during conference play.
Archbold won the NWOAL title, and senior midfielder Jesse Fidler was named all-state second team.
— Mark Monroe
Guidelines: Please keep your comments smart and civil. Don't attack other readers personally, and keep your language decent. Comments that violate these standards, or our privacy statement or visitor's agreement, are subject to being removed and commenters are subject to being banned. To post comments, you must be a registered user on toledoblade.com. To find out more, please visit the FAQ.