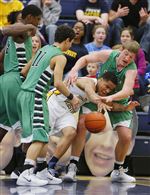 Ottawa Hills' R.J. Coil, right, and Toledo Christian's Garshawn Paynther battle for a loose ball during their game on Friday night. At left are Ottawa Hills players Ellis Cummings and Hunter Sieben.
THE BLADE/ANDY MORRISON
Enlarge | Buy This Image
Ottawa Hills wanted to establish a dominating tone early at Toledo Christian on Friday night, and the Green Bears did just that with a stifling defensive effort.
Ottawa Hills bolted out to a 16-point lead at the half and rolled to a 56-33 victory.
The Green Bears — who led 12-6 after the first quarter — forced nine turnovers during the first half to build the insurmountable cushion.
"We talked about coming out with a lot of energy and that was one of our focuses," OH coach John Lindsay said. "I thought we did a nice job coming out quick and aggressive. We had great movement on defense. Guys were putting good pressure on the ball, and guys were getting into the passing lanes. I thought we were outstanding."
PHOTO GALLERY: Click here for more photos from this game
Senior forward Geoff Beans scored eight of his game-high 16 points in the first half.
Fellow seniors R.J. Coil and Ben Silverman each chipped in with 11 points for Ottawa Hills (13-1), which also solidified its position atop the Toledo Area Athletic Conference, improving to 9-0.
Ottawa Hills, which also defeated Toledo Christian 41-33 on Jan. 4, has won 10 straight games. The Green Bears are ranked fifth in the Division IV state poll.
Senior Garshawn Paynther paced Toledo Christian (11-7, 8-3) with 10 points, and Kyle Kempton added eight.
The Green Bears opened up a 12-3 lead to start the game by forcing five turnovers in the first eight minutes. Beans converted an easy transition lay-in off of a turnover for a 9-3 lead. Then, after another Eagle miscue, the 6-foot-7 Beans knocked down a 3 to complete a 7-0 run.
"The last four games we've jumped out to a really quick start," Beans said. "That is such a big advantage. That is us being mentally focused by tipoff and coming out hot. It was big that we held them to 10 points in the first half."
TC's Mason Hecklinger drained a 3 to stop the OH surge.
The Green Bears then asserted their height advantage the rest of the night. The 6-foot-9 Coil — who finished with 11 rebounds — grabbed his own rebound, scored, and was fouled late in the second quarter. Coil completed the three-point play to put the Green Bears up 24-10.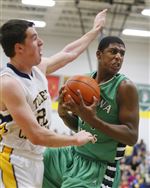 Ottawa Hills' Ellis Cummings grabs one of his seven rebounds on Friday night. Toledo Christian's Nathan Walton is at left.
THE BLADE/ANDY MORRISON
Enlarge | Buy This Image
Ottawa Hills finished the first half on a 14-4 spurt.
"We had nine turnovers in the first half, and that's too many against Ottawa Hills," TC coach Dave McWhinnie said. "You have to really take care of the ball. It's tough to ever come back on a team like that. That set the tone for the night."
Ottawa Hills senior center Ellis Cummings, who is 6-7, finished with seven rebounds.
Cummings grabbed an offensive board that led to an easy bucket inside for Coil to start the third quarter.
"Their size got to us," McWhinnie said. "It's tough to deal with so many big guys coming at you."
Toledo Christian had won seven in a row after breaking a five-game losing streak.
Ottawa Hills grabbed 30 rebounds as a team, including 12 offensive boards.
"We will keep grinding it into the post and keep finish the ball," Beans said.
Ottawa Hills built a 27-point lead on Silverman's two late free throws late in the game. The Green Bears hit 3 of 4 attempts from 3-point range, and Silverman had two.
Ottawa Hills was the preseason pick to win the conference, while reigning TAAC champion Toledo Christian was picked third.
The Green Bears' only loss was to Southview — 58-55 in overtime on Dec. 7.
"We are pleased with where we are, but we have five games ahead of us," Lindsay said.
Contact Mark Monroe at: mmonroe@theblade.com, 419-724-6354 or on Twitter @MonroeBlade.
Guidelines: Please keep your comments smart and civil. Don't attack other readers personally, and keep your language decent. Comments that violate these standards, or our privacy statement or visitor's agreement, are subject to being removed and commenters are subject to being banned. To post comments, you must be a registered user on toledoblade.com. To find out more, please visit the FAQ.