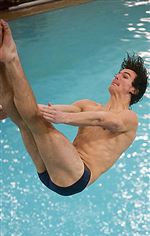 Mitchell Layman of St. John's competes in Ohio's Division I diving meet. He finished ninth.
SPECIAL TO BLADE/PHIL LONG Enlarge
CANTON — St. John's Jesuit senior Mitchell Layman placed ninth in the Division I state diving meet on Thursday at the C.T. Branin Natatorium.
Layman, who finished 15th in the 1-meter event last season, posted a score of 451.30. The winner was Stephen Romanik of Macedonia Nordonia, whose score was 565.10.
Michael Minor of St. Francis de Sales finished 10th with a score of 448.40. Minor's teammate, Jecorlin Frazier, placed 17th (275.25).
In the D-II competition on Wednesday, Oak Harbor's Cooper Hicks finished eighth (335.25). His teammate Bryce Buderer finished 10th (328.40). In the D-II girls meet, Napoleon's Aspen Flood placed 15th (306.30) and Wauseon's Jordan Sloan finished 16th (298.35).