SANDUSKY — Northview keeper Ryan Bules made the initial save Saturday.
But Medina's Ian Gummo hustled for the rebound, crashed the net, and used his body to get the ball over the goal line for the lone score in a 1-0 Division I regional championship win against the Wildcats at Sandusky's High School's Strobel Field.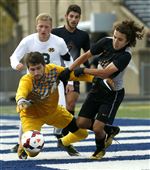 Medina goalie Tyler Glasenapp blocks a shot by Northview's Andrew Kunkel during a Division I regional final Saturday at Sandusky High School.
THE BLADE/LORI KING
Enlarge | Buy This Image
"Obviously we're disappointed," Northview coach Mark Del Verne said. "We felt like we had the right combination, the right team, but we just didn't come out on top. It's disappointing to end the season with this group. I felt like every time I got to watch them play, it was like, I got to marvel in the wonders of the gifts that God had given them, but it was tough watch it end.
"Words can't describe what a great bunch of kids they are. They just bought in and bought into each other. It was terrific, just terrific. Tremendously blessed to be a part of it."
Bules and the Northview defense held off a strong attack from the Bees, led by Andy Proster, whose initial shot was saved in the play Gummo ended up scoring on, but Medina ended the Wildcats' season for the second consecutive year in the same round at the same location.
"I kind of had a basic understanding of how they wanted to do things, and I think they're a lot like us in that they might have been an afterthought in a bunch of people's minds," Del Verne said of playing the same team in consecutive regional championships.
"We want to take the next step. And the next step is getting through this stadium here with a win. We think we're real close. Next year… we're younger than most teams that got here."
Medina started attacking Northview's goal 10 minutes into the match, as Brendon Leckie put a long throw in into the middle of the field to Parker Csiszar, whose shot went over the crossbar.
Then with 27:30 to play, Gavin Csiszar played a through ball to Andy Proster, who got in behind Northview's defense, but Bules saved the ball out for a throw in.
Thirty seconds later, Parker Csiszar hit a hard shot from distance that smacked off the right post.
Northview's best opportunity of the first half came with 11 minutes left, as Ruben Gonzalez took a free kick from 35 yards out. However, Medina goalkeeper Alex Stan corralled the shot and the Bees had a breakaway opportunity off of it that included a pair of crosses in the Wildcats' box and a shot that sailed above the goal.
Bules shut down the Bees' attacks in the final minutes of the first half to keep things 0-0 at the half.
"He's done great," Del Verne said of Bules. "He's been awesome. This is his second year starting and he has one more year. He's a phenomenal, phenomenal keeper. He's kept us in some games and we've kept him in some games."
In the second half, Northview had the first opportunity on goal, as Marios Kamilaris' header went just wide right of the goal just under two minutes into the half.
But just three minutes later, Gummo scored the lone goal with his well-timed crashing run.
The Wildcats had a handful of opportunities to tie the score, including a pair of free kicks taken by Gonzalez and a throw in from close to the corner flag in the final minute that Northview played into the box like a corner kick and sent Bules in on. Bules ended up getting a head on the ball, but after a bit of pinball in the box, went out for a goal kick to end the game.
The Wildcats end the season with a 10-5-5 record, and graduate four seniors — Kamilaris, Andrew Kunkel, Sam Goecke, and Osama Khrawesh.
"It's been — nobody had us winning much, they all thought we were way, way down, but we just told the boys to get better every day, and they did and it caught fire and got healthy at the right time," Del Verne said. "To watch them play, was just glorious, when they did it, it was just an act of glory. It was a sweet ride — I can't think of enough adjectives of appreciation for them taking me on it and allowing me to be a part of it."
Goecke thinks the team will go far next season, and said he'll take the lessons learned with him in graduation.
"It's been incredible playing with these guys," he said. "I've been with these guys since my sophomore year. It's a special group of guys — obviously not the result we wanted today, but I think next year they're definitely going to go far.
"Coach Del Verne has taught us so much and it's crazy how much I'll use the life lessons he teaches us everyday," Goecke added. "What I've learned in games you can definitely apply to life. Coach Del Verne's a great guy and he's taught me so much these past three years."
Guidelines: Please keep your comments smart and civil. Don't attack other readers personally, and keep your language decent. Comments that violate these standards, or our privacy statement or visitor's agreement, are subject to being removed and commenters are subject to being banned. To post comments, you must be a registered user on toledoblade.com. To find out more, please visit the FAQ.