It took Ed Heintschel 38 seasons of coaching to get his name on the basketball court at St. John's Jesuit, and it took Titans star player Vincent Williams, Jr., one game into the new season to own that newly-painted floor under the dome on Airport Highway.
Vincent Williams, Jr. of St. John's Jesuit drives to the basket Friday against Rogers. Williams scored the 1,000th point of his prep career, and the Titans rolled to a season-opening 89-52 victory.
The Blade/Katie Rausch
Enlarge | Buy This Image
In the first game of his senior season, Williams scored 33 points and grabbed 16 rebounds to lead St. John's to a decisive 89-52 nonleague victory against visiting Rogers in the 2017-18 opener for both teams.
When Williams rammed home a highlight-reel dunk off a steal with 2:44 left in the third quarter to hit 31 points for the game, the versatile 6-foot-5 guard-forward had the 1,000th and 1,001st points of his career.
Senior wing Houston King added 25 points for the relatively inexperienced Titans, who led just 19-14 after one quarter but pulled away steadily thereafter on the night the gym was dedicated to Heintschel.
Now in his 39th season, Heintschel pushed his career record to 692-209 after feeling some warmth from the St. John's community and many former players who joined their coach in a pregame reception and an on-court ceremony before tipoff.
"It's humbling and overwhelming really," Heintschel said of the honor. "The reception before [the game] was amazing with a lot of people, which was nice to see.
"The players we've had on the floor here are the ones who have gotten the wins that led to this kind of recognition. I've been blessed to have great kids, and I think our school environment helps us in all of our athletics. I know it's helped me in basketball."
VIDEO: St. John's-Rogers
The longtime coach, who has won more games at the big-school (Division I and formerly Class AAA) level than any coach in Ohio boys basketball history, moved within four wins of passing legendary Middletown coach Paul Walker into the No. 4 spot in wins in state history.
In typical Heintschel fashion, he was grateful for the honor, but also eager to step out of the spotlight so it could shine on his current players.
"I couldn't wait for the game to start," Heintschel said.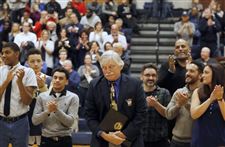 St. John's Jesuit head coach Ed Heintschel, center, is applauded by family, friends, players, and fans before Friday's game against Rogers.
The Blade/Katie Rausch
Enlarge | Buy This Image
Williams, a first-team All-Ohioan last season who has signed to play at Virginia Commonwealth, already had a double-double with 22 points and 11 rebounds by halftime, which came with St. John's ahead 39-26.
"It was a great night for [Heintschel] with everybody that came out to support him, and it was a great atmosphere all around," Williams said. "I felt like I had to get my thousandth point just for him.
"We executed on offense, and played hard on defense, and we got a lot of transition points. I had to get my points inside [and 13-of-17 at line] because I couldn't make any jump shots."
Despite 20 points from guard Joshua Ellis and 12 from forward Christian Smith, both seniors, the Rams saw St. John's gradually increase its lead as the second half unfolded.
The Titans, who shot 63 percent (20-of-32) after the break, outscored Rogers 50-26 in the final two quarters.With Williams and King, St. John's only returning starters, combining for 19 of the Titans' 26 third-quarter points, the lead increased to 65-36 entering the final quarter.
"Vince just makes everybody better," Heintschel said. "There's so many things he can do. I've talked to college coaches when they inquired about him, and told them that you just put him on the floor with four guys.
"He might be a point guard and he might be a forward. It doesn't make any difference. You put him out there with any four, and they're going to be better players. He's humble, and he's unselfish, and he's a really good player."
The 901st game for Heintschel was the first as a high school head coach for Ketaan Wyatt, who was encouraged by the first-half play of his Rams before seeing what they will need to fix as the season progresses.
"It was definitely a great atmosphere," Wyatt said. "I think my kids started out the first part of the game playing hard, and playing the way we wanted to play. That was a positive to build on.
"We were a little short-handed, but no excuses here. We're going to go back to the drawing board and try to come out better next time."
St. John's was 33-of-66 (50 percent) from the field for the game, including 7-of-13 on 3-pointers. The Titans were 16-of-22 at the foul line, and outrebounded the Rams 41-29.
Rogers was 20-of-55 (36 percent) from the field, including 6-of-24 on 3s, and was 6-of-7 at the line.
Contact Steve Junga at sjunga@theblade.com, 419-724-6461, or on Twitter @JungaBlade.
Guidelines: Please keep your comments smart and civil. Don't attack other readers personally, and keep your language decent. Comments that violate these standards, or our privacy statement or visitor's agreement, are subject to being removed and commenters are subject to being banned. To post comments, you must be a registered user on toledoblade.com. To find out more, please visit the FAQ.