When Stan Joplin took over the Southview boys basketball coaching job, winning their holiday tournament was one of his first goals.
Thanks to balanced scoring and transition offense, the Cougars have checked it off their coach's list.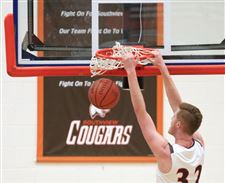 Southview's Christian Wagenhauser dunks the ball during Friday's game against Central Catholic. Southview won the game to take the championship of the Southview Holiday Tournament.
The Blade/Kurt Steiss
Enlarge | Buy This Image
Christian Wagenhauser led four Cougars in double figures in scoring as they beat Central Catholic 48-37 in Friday's championship game of the Southview Holiday Tournament.
"We wanted to win the holiday tournament, try to make it a tradition and protect our home court," Joplin said. "We accomplished that."
Wagenhauser had 12 points to lead all scorers. Tehree Horn and Ryan Fries each had 11 points for Southview, and Zech Miller added 10. Having balanced scoring is something no coach will complain about.
RELATED CONTENT: Boys roundup ■ Girls roundup ■ Prep scoreboard
"We've got some guys who can shoot the ball," Joplin said. "It's nice to have that kind of balance. No one has played us zone yet because they know we can shoot the ball. ... It's nice to have the balance when they can't key on just one person."
The Cougars did a great job of finding opportunities in their transition offense. Joplin said they've had a tendency to all fill the same lane, but they stayed wide and found open teammates and easy shots against Central Catholic.
Horn was pressed into duty as normal ball-handler Tyson King was saddled with foul trouble for much of the second half, leading to some less-than-ideal rotations for Southview.
"We didn't make some good basketball decisions down the stretch," Joplin said. "Some players were in different positions, so it was good we can still come away with a win with him fouling out. For the most part, it wasn't smooth sailing late."
Jonzell Norrils had 10 points to lead the Irish, and Dominique Cole added eight, including two 3-pointers.
The Irish topped Cardinal Stritch on Thursday, and Central coach T.J. Hunt said competing against two teams who are favorites in their leagues — Stritch in the Toledo Area Athletic Conference and Southview in the Northern Lakes Leauge — can only help his team down the road.
"We played two really good opponents," Hunt said. "We played two teams that are at the top of their conferences. Great competition, a great opportunity, a good test for us to measure where we are."
Southview held a five-point halftime lead, but back-to-back 3s from Cole and Norrils pushed Central ahead 30-29 midway through the third.
However, Miller answered with a pair of drives, Horn had another, and Miller closed out the third with a drive to put Southview ahead 37-30 entering the fourth.
Hunt felt his team played well defensively, but the execution wasn't there on offense. He's still dealing with a team that came together late after eight players joined after the football team's deep run into the postseason.
"We're still transitioning," Hunt said. "They're getting their basketball legs, but they've had less times with reps than other kids. They've made a lot of strides, and we'll continue to practice and get reps in."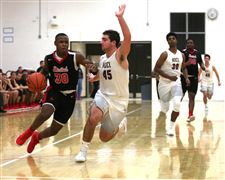 Joey Holifield of Cardinal Stritch drives to the basket against Notre Dame-Cathedral Latin's Brian Carney.
The Blade/Kurt Steiss
Enlarge | Buy This Image
CARDINAL STRITCH 47, NOTRE DAME-CATHEDRAL LATIN 38
Cardinal Stritch coach Jamie Kachmarik gave his team three days off around Christmas, and now he thinks that might have been one day too many. Kachmarik saw his team underperform for the second consecutive night, but the Cardinals escaped with the win.
"The energy has been there and the effort, it's just the execution," Kachmarik said. "It's tough. You're not on a schedule, you're not in school. It's different. But, boy, it's been a struggle offensively. ... We're just out of whack. The best thing for us coming up is practice."
Cardinal Stritch used an 8-2 run in the middle of the fourth to hold off a Notre Dame rally. The Cardinals held a 22-14 lead at the half, but Notre Dame chopped it to 34-30 early in the fourth. Stritch opened the lead back up to 42-32 with 2:55 to play.
Joey Holifield led Stritch with 16 points, and Jordan Burton added 15 points. No one else scored in double digits, and that was a concern for Kachmarik.
"The thing is, [Jeff] Dunsmore hit a 3-pointer yesterday. Collin Yost was 0 for the tournament, and he usually has two or three 3s a game," Kachmarik said. "We weren't getting that."
Notre Dame forward Brian Carney led all scorers with 17 points, including a pair of 3-pointers.
Guidelines: Please keep your comments smart and civil. Don't attack other readers personally, and keep your language decent. Comments that violate these standards, or our privacy statement or visitor's agreement, are subject to being removed and commenters are subject to being banned. To post comments, you must be a registered user on toledoblade.com. To find out more, please visit the FAQ.