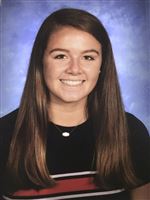 Herrmann
Herrmann, a 5-foot-7 junior point guard and third-year varsity starter for the Hawks, passed the 1,000-point milestone in her career on Feb. 1.
Her 22 points in a 56-47 Toledo Area Athletic Conference loss at Cardinal Stritch brought her total to 1,010 points.
Herrmann leads the TAAC in scoring this season at 16.5 points per game. She also averages 6.9 rebounds, 3.4 assists, and 2.1 steals per contest for Maumee Valley, which is 11-9 overall and in first place at 10-3 in conference play.
Herrmann, who shoots 37 percent from the field and 69 percent from the foul line, scored a career-high 34 points at Parkway High School in December, 2016, during her sophomore season.
Named first-team All-TAAC last season, she also excels in the classroom, carrying a 3.86 grade-point average. Her athletic talents extend to field hockey and lacrosse.
"Shannon is a strong three-season athlete at Maumee Valley," Hawks basketball coach Terri Herrmann said. "Her endurance, speed, agility, amazing dodging skills, and specific sports skills give her a tremendous edge over the competition. She has led the team in scoring in all three of her varsity sports.
"One of Shannon's strengths on the basketball court is her ability to draw the defense and create space to make an impressive pass to her teammates down low. She has impacted the team's success this year with her leadership. She is both a player and a coach during practices and games."
Guidelines: Please keep your comments smart and civil. Don't attack other readers personally, and keep your language decent. Comments that violate these standards, or our privacy statement or visitor's agreement, are subject to being removed and commenters are subject to being banned. To post comments, you must be a registered user on toledoblade.com. To find out more, please visit the FAQ.