Just when Northview looked about ready to be one-and done in the Division I boys basketball tournament Friday night, the Wildcats used a decisive 17-0 fourth-quarter run to turn a 10-point deficit into a 62-54 victory against Mansfield Madison at Start High School.
That sets up a third Battle-of-Sylvania showdown for Northview (20-3) against rival Southview (22-1), which advanced by holding off Rogers down the stretch in a 52-46 win in the second semifinal.
The Cougars, who defeated Northview twice in Northern Lakes League play during the regular season (61-58 and 68-47), will meet the Wildcats in a district semifinal at 6:15 p.m. Thursday at the University of Toledo's Savage Arena.
PHOTO GALLERY: Division I sectional at Start
RELATED CONTENT: Boys sectional roundup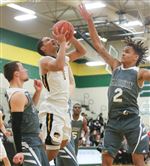 Sylvania Northview's Alek West shoots in front of Madison Comprehensive's Kyle Jackson (2) during a sectional championship game Friday, March 2, 2018 at Start High School in Toledo.
THE BLADE/JEREMY WADSWORTH
Enlarge | Buy This Image
Alek West — Northview's 6-foot-3 junior guard and the NLL's co-player of the year — led the Wildcats' game-changing rally, scoring 13 of his team-high 20 points and adding three key steals in the fourth quarter.
"The coaches did a great job of motivating us," West said. "We kept saying defense was going to win us this game, and that's exactly what we did. We worked hard on the defensive end, and it paid off on offense.
"I just had to work my hardest and motivate the rest of them. None of those points would've come without my teammates. They got me the ball in the right places."
Northview (20-3) also got 16 points from Sam Clear, and 10 points and nine rebounds from 6-7 senior center Colton Snow, who contributed six of his points in the fourth to assist West in the big comeback.
VIDEO: Northview-Madison
"We started attacking them," Northview coach Jeremy McDonald said. "I kept telling them — and I thought I was going to be wrong — that Madison was going to wear down. They had three long bus rides and a really tough game on Wednesday. In the fourth quarter, it looked like I finally knew what I was talking about. We attacked the glass and finally got some shots to fall."
When the Rams' Kyle Jackson scored an inside bucket 15 seconds into the fourth, Madison owned a 49-39 lead and looked ready to salt things away.
Madison (15-9) seemed to have an answer for every Wildcat surge, especially the 6-6 Jackson, who led all scorers with 26 points.
West ignited the comeback with two free throws at the 7 minute, 35 second mark, and a layup off a steal 18 seconds later.
Snow added an inside bucket, and West's three-point play got Northview within 49-48 with 5:26 remaining.
Jackson was called for goaltending on Clear's layup attempt 32 seconds later, and the Wildcats had a 50-49 lead.
Snow tipped in his own miss with 4:32 left, West converted another three-point play off a steal, and Snow's putback capped the big run and gave Northview a 56-49 lead with 3:17 remaining.
Jackson finally ended his team's 0-for-5 stretch from the field, hitting a 3-pointer to get the Rams back within 56-52 with 3:03 to play.
But the Wildcats hit six of their nine free throws in the final 2:45 to ice it.
Northview was 21-of-41 (51 percent) from the field, including 4 of 11 on 3s, and was 16-of-22 at the foul line. The Wildcats edged the Rams 28-27 in rebounding, and committed just six turnovers while forcing 12.
VIDEO: Southview-Rogers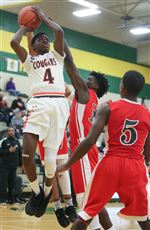 Sylvania Southview's Tehree Horn puts up a shot during Friday's sectional championship game against Rogers.
THE BLADE/JEREMY WADSWORTH
Enlarge | Buy This Image
In the second semifinal, NLL champion Southview answered the challenge against a young but talented Rams team, which they edged at Rogers 57-56 on Jan.2.
The Rams (9-13), who lost a heartbreaker 49-48 to Start in last week's City League championship game on a buzzer-beating 3 by the Spartans' Brandon Lewis, chose to open its tournament trail with a rematch against the Cougars. That choice was made by first-year Rams coach Ketaan Wyatt, Sr., at the draw.
When Rogers' Christian Smith netted two free throws with 6:54 remaining, the Rams had taken a 43-42 lead.
But the stretch run belonged to the more experienced Southview squad, which outscored Rogers 10-3 in the game's final 5:11.
Ryan Fries, who finished with 16 points, hit a 3 to give the Cougars a 45-43 lead.
After a Rogers turnover, Jason Johnson converted a driving layup, and senior forward Zech Miller followed with layup off a feed from junior point guard Tyson King for a 49-43 edge with 2:16 left.
Miller bounced back admirably from a week earlier when, although his team thumped Northview by 21 points, he fouled out and went scoreless.
On this night, the 6-2 Miller led the Cougars with 19 points and nine rebounds, and limited Rogers' 6-6 Smith, the CL's leading scorer at 18.5 points per game, to just 12.
"I feel a ton better," Miller said of his rebounding for his disappointing game last week. "It means a lot to me and a lot to my team to get this win.
"We just came off that big win over Northview, so we were pretty confident that we could take this one. We all came out here and fought our hardest, and we got the W."
Johnson had seven, and King six as the Cougars won their 13th consecutive game.
"Defensively, what we wanted to do was limit them to one shot," Southview coach Stan Joplin said. "They're the most athletic team in northwest Ohio, and they've got length. They're very good on the boards.
"We got a lead, and then we started to turn the ball over. We've got to learn to keep sharing the basketball, but for the most part, defensively, we did a pretty good job, and they didn't make too many outside jump shots. They're a very tough team and we're very happy we got a win and can play another day."
Rogers, which trailed 30-24 at halftime, pulled within 40-39 entering the fourth after closing the third on a 5-0 run.
Sophomore guard Ketaan Wyatt, Jr., had 11 points, and senior Josh Ellis and senior Da'Sean Nelson added nine points each for Rogers.
"I'm going against a legend in Stan Joplin, and I'm just a rookie head coach," said Ketaan Wyatt, Sr. "He made the right adjustments, and my adjustments didn't work. So, this one I take on the chin. I've got a team full of 15-year-olds. We'll be back.We just have to learn how to finish."
Southview was 19-of-40 (48 percent) from the field, including 7-of-14 on 3s, and was 7-of-8 at the foul line. The Cougars committed 11 turnovers and forced 12.
Rogers was 17-of-43 (40 percent) from the field, including 3-of-12 on 3s, and was 9-of-14 at the line. The Rams had a 24-23 rebounding edge.
Contact Steve Junga at: sjunga@theblade.com, 419-724-6461, or on Twitter @JungaBlade.
Guidelines: Please keep your comments smart and civil. Don't attack other readers personally, and keep your language decent. Comments that violate these standards, or our privacy statement or visitor's agreement, are subject to being removed and commenters are subject to being banned. To post comments, you must be a registered user on toledoblade.com. To find out more, please visit the FAQ.