BOWLING GREEN — The Perrysburg boys ran away with their second consecutive team title, and Anthony Wayne took its third consecutive girls crown Friday night in the Northern Lakes League track and field championships at Bowling Green High School.
The Yellow Jackets posted 179 points to easily top boys runner-up Northview (103) and third-place Springfield (89).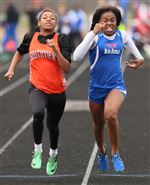 Victoria Abunaw of Springfield, right, edges Charnae Merrell of Sylvania Southview in the girls 100 meter dash during Northern Lakes League championships at Bowling Green High School.
THE BLADE/JEREMY WADSWORTH
Enlarge | Buy This Image
"It came together with all the guys doing their best," Perrysburg coach Jim Hentges said. "We actually had some PRs, and we had some young kids contributing.
"The distance runners really came through. We lost a lot of sprinters from last year, but we got replacements for them. It just all came together. We've looked good all year, and this was a great night."
In a more tightly-contested meet, the Generals won the girls team crown with 128 points, followed by runner-up Springfield (107) and third-place Perrysburg (104).
"I hate to go with a coaching cliché, but it really was a total team effort," first-year AW coach Kevin O'Connor said. "The throwers, the jumpers, and on the track in distance and sprints. Everyone rose to the occasion. We had good spots all around the track.
"It's nice to continue what looks to be a tradition, and we look to keep it going the rest of this spring and into the future."
VIDEO: Northern Lakes League championships
RELATED CONTENT: TRAC championships ■ TAAC/NWOAL championships
Perrysburg's boys, who won eight of the 17 events, were led by a track/field double from Bradley Browning, who won the 110 hurdles in 15.51 seconds, and cleared 12 feet, 9 inches to take the pole vault title.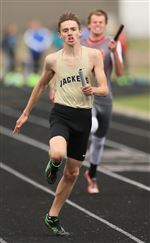 Jacob Matthews of Perrysburg runs the final leg of the boys 4X200 meter relay.
THE BLADE/JEREMY WADSWORTH
Enlarge | Buy This Image
The Jackets also got wins from Caden Togrul in the 300 hurdles (40.73), Adam Ohls in the 3,200 (9:40.92), Cameron Glowacki, who won the high jump Wednesday by clearing 6-2, and from their 400, 800 and 1,600 relays.
The AW girls, who won six events, were paced by an individual title from Kaylee Kahl in the 1,600 (5:17.22) on the track, plus three field-event wins – Lily Hassan (shot put, 35-2½); Alexa Fries (high jump, 5-2); and Karsyn Ashbaugh (discus on Wednesday, 116-8).
The Generals also won the 400 and 800 relays.
Individually, the spotlight was on the meet's two speedsters, as Northview's Dorian Hooker II tripled in the sprints, and Springfield's Victoria Abunaw captured both hurdles titles and also won the 100-meter dash.
Each also were on scoring relays.
Hooker, who transferred from Sylvania rival Southview after winning the 200 and 400 titles in last year's meet, took things up a notch this year after sitting out half the spring season because of Ohio High School Athletic Association transfer rules.
He added a 100-meter title in 10.89 seconds on a cold, windy and dreary May evening. Hooker repeated in the 200 with a 21.87, and won the 400 in 49.71.
"In this meet I just really wanted to try my best and get my times low so I can start peaking at the right time for the state meet," Hooker said. "I've been challenging myself lately. I just had to layer up tonight and stay warm and not let [the cold weather] get to my head. I had to block it out and run."
Abunaw edged Southview's Charnae Merrell (12.65 to 12.66) in a photo finish in the 100 before sweeping the hurdles. She won the 100 highs in 12.65, and took the 300 lows in 46.36. She also anchored the Blue Devils' narrow runner-up finish in the 400 relay, contributing 38 points to her team's total.
"It was a very close race [in 100 versus Merrell] but I got her with the lean," said Abunaw, who will run next year at Akron. "When you're running, you can tell because you put your body forward. I feel like her legs were in front of me, but my body had leaned over the line first. They go by the chest.
"By the 300 hurdles my [quadriceps muscle] was hurting a little bit, so that wasn't my best race. But I still won. I wanted to save my leg for districts.
"I'm very excited for the districts, because it should be better weather, and then at the regionals there's better competition for me to improve."
Other boys individual winners included Springfield's Johnathan Hale (shot put) and DeVondre Prince (long jump); Southview's Eric Hollar (800); Bowling Green's Zach Applegate (1,600); and Northview Thomas Hosler (discus). Southview won the 3,200 relay.
Rounding out the girls individual titles were Springfield's Mia Rose (400) and Olivia Holley (pole vault); Northview's Jenna Kill (800) and Emma Steingass (3,200); Maumee's Tatyana Jackson (long jump); and Southview's Merrell, who repeated her 200 title from a year ago.
Perrysburg won the girls 1,600 relay, and Northview won the 3,200 relay.
Contact Steve Junga at sjunga@theblade.com, 419-724-6461, or on Twitter @JungaBlade.
Guidelines: Please keep your comments smart and civil. Don't attack other readers personally, and keep your language decent. Comments that violate these standards, or our privacy statement or visitor's agreement, are subject to being removed and commenters are subject to being banned. To post comments, you must be a registered user on toledoblade.com. To find out more, please visit the FAQ.