BOWLING GREEN — It took a push from the bottom of its lineup, a handful of pinch runners, and tense last out, but Anthony Wayne will play on in the Division I baseball tournament.
The Generals broke a sixth-inning tie with a two-out rally, then held off Springfield in its final at-bat to claim a 4-3 victory in a district semifinal Wednesday evening at Carter Park.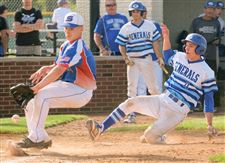 Anthony Wayne's Andrew Murphy scores as Springfield pitcher Triston Todorowski waits for the ball during a Division I baseball district semifinal game in Bowling Green.
THE BLADE/JEREMY WADSWORTH
Enlarge | Buy This Image
Anthony Wayne needed contributions from all throughout its roster, and received what it needed to advance to the district championship game.
"That's why they're here: we bring 22 guys for a reason," Generals coach Mark Nell said.
RELATED CONTENT: St. Francis, St. John's advance to district baseball final
The district final will be an all-Northern Lakes League affair, as Perrysburg outlasted Central Catholic 6-2 in the second semifinal.
Anthony Wayne put the go-ahead run on base with Carter Holck's leadoff single to start the sixth, but a botched bunt attempt led to a double play that cleared the bases.
With two outs in the inning, Nos. 7 and 8 hitters Camron Kottenbrock and Brock Nartker both drew walks, setting the stage for designated hitter Hogan Heck. Heck laced a single to right field, and sophomore Ronnie Mitchell – who had been put into the game as a pinch runner – to score from second.
VIDEO: Anthony Wayne 4, Springfield 3
"The first pitch was something nice, something I could drive, preferably to the right side," Heck said of his at-bat. "That was my job, and that's what you have to ask for. If everyone does their job, that's the only way to get good results, and that's what happened in that last inning."
Nell said Anthony Wayne brought Mitchell to the varsity team in large part because of his speed on the basepaths. He said Mitchell is "one of the fastest kids in the school," and saw the move pay off when Heck delivered with a single.
"Hogie got a good pitch, the right pitch, and he went with it," Nell said. "We had Ronnie out there because he can fly. I brought him up from JV for that reason."
Nartker struck out nine Blue Devils across 6.2 innings, during which he allowed three runs and seven hits. But due to the OHSAA's pitch count rule – a daily limit of 125 pitches – he had to exit the game with two outs and two runners on base in the seventh.
The Generals inserted Andrew Murphy to close the game, which he did by drawing a game-ending pop-up from Springfield first baseman Kyle Rhonehouse.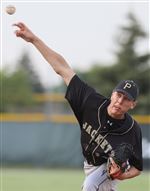 Perrysburg pitcher Payton Faris delivers against Central Catholic.
THE BLADE/JEREMY WADSWORTH
Enlarge | Buy This Image
In the second game, Perrysburg and Central Catholic found themselves locked in an defensive struggle through five innings.
Yellow Jackets starter Payton Faris and Central Catholic starter Parker Swartz allowed one run apiece in their first five innings of work, but it was a Perrysburg pinch hitter that finally broke open the game.
Matt Fritz entered the game with Ben Boros standing on third base, and the Yellow Jackets went to their old reliable: the squeeze play. Fritz laid down a perfect sacrifice bunt, leaving the Irish with no chance for a play at the plate.
"We squeeze all the time — that's what we're known for," Perrysburg coach Dave Hall said. "We've been struggling this year squeezing. The kid that came in, Matt Fritz, has been one of our pinch hitters we haven't played in a few games.
"For him to come down and get that squeeze was big."
Drew Sims tacked on an RBI base hit later in the inning, then came around to score on a walk to give Faris a 4-1 lead with six outs remaining.
Justin Schiets belted a solo home run to right field in Central Catholic's half of the inning, but it was the last offense the Irish mustered. Brock Frydenlund tacked on an RBI double and then scored on a wild pitch in the seventh to give the Yellow Jackets additional cushion.
Faris completed all seven innings with two runs allowed.
Anthony Wayne and Perrysburg will meet at 5 p.m. Friday here for a district championship.
VIDEO: Perrysburg 6, Central Catholic 2
Contact Nicholas Piotrowicz at: npiotrowicz@theblade.com, 419-724-6110 or on Twitter @NickPiotrowicz
Guidelines: Please keep your comments smart and civil. Don't attack other readers personally, and keep your language decent. Comments that violate these standards, or our privacy statement or visitor's agreement, are subject to being removed and commenters are subject to being banned. To post comments, you must be a registered user on toledoblade.com. To find out more, please visit the FAQ.