Genoa
Coach: Paul Patterson, fifth year
2017 record: 8-3 overall, 5-2 NBC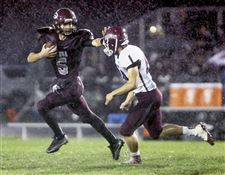 Genoa's Jacob Plantz returns as a four-year, two-way starter for the Comets.
THE BLADE
Enlarge | Buy This Image
Top players: Seniors Andrew Bench, 6-foot-5, 225 pounds, TE-LB; Jacob Plantz, 6-2, 205, QB-DB; Nathan Lewis, 6-1, 210, TE-DE; Jacob Bradfield, 6-0, 170, RB-DB; Caleb McGeorge, 5-11, 170, QB-DB. Juniors Daniel Novotney, 6-1, 235, RB-LB; Sam Witt, 5-11, 205, RB-LB-K.
Outlook: With eight starters back on offense and seven on defense, the Comets have experience — especially at the skill positions — on both sides of the ball.
Bench earned third-team All-Ohio honors at linebacker. Plantz, who is a four-year, two-way starter, completed 28 of 46 passes for 503 yards and five scores in 2017.
Bench, who also was first-team All-NBC as a tight end, had 10 catches for 208 yards. Novotney earned second-team All-NBC honors on defense, while Bradfield is in his third season as a starter.
Witt, who was named third-team All-Ohio as a kicker, had four field goals and converted 53 extra points.
The Comets will operate primarily out of the wing-T, "but we have the ability to use multiple schemes on offense and defense," Patterson said.
Genoa must replace Noah Edwards, who led the league in scoring and rushing. And a lack of overall depth could be a potential pitfall if injuries occur.
"We have the potential to be a very good team," Patterson said. "Our goals as a program are to win the NBC, make the playoffs, and advance in the playoffs. We can only control what we do on a daily basis. If everyone focuses on doing their job to the best of their ability, we have a good chance of being successful."
Eastwood's Ceyleon Damron comes back to help the Eagles make another run at a NBC crown.
The Blade
Enlarge | Buy This Image
Eastwood
Coach: Craig Rutherford, second year
2017 record: 14-1, 7-0
Top players: Seniors Ceyleon Damron 6-0, 188, RB-LB; Gavin Slattman, 6-0, 188, QB-DB. Juniors Jaden Rayford, 6-1, 195, RB-DB; Justin Pickerel, 5-10, 175, RB-LB.
Outlook: The Eagles lost perhaps the best class in school history to graduation. Just two starters return on both sides of the ball from a team that made it to the Division V state championship game, but the cupboard is not bare.
Eleven letterwinners are back among 44 varsity players.
Rayford rushed for 2,205 yards and scored 36 touchdowns in 15 games, earning first-team All-NBC honors.
Pickerel ran for 452 yards rushing and seven scores. Damron added 449 yards rushing and 10 TDs.
Slattman heads up the 4-4 defense, making 41 tackles in 2017.
Experience in the offensive backfield will be a strength with the return of three of the top four leading rushers from a year ago. Size and athleticism on the offensive line should also be a strong suit.
But a small senior class and the replacement of the entire offensive and defensive lines are concerns for the Eagles.
"Even though our offensive line will be inexperienced, I like the way they are coming together," Rutherford said. "It helps having three talented running backs returning. Our non-league games are challenging, but we know that it will prepare us for our league schedule."
Otsego
Coach: Matt Dzierwa, sixth year
2017 record: 9-3, 6-1
Top players: Seniors Mitchell Downs 5-11, 186, QB; Austin Meier, 6-3, 179, WR-DB; Ryan Harroun, 6-2, 187, WR-LB; Will Gase, 6-1, 172, WR-DB; Cole Steel, 5-8, 190, OL-DL; Keegan Digby, 6-0, 215, OL/DL; Logan Krompak, 5-11, 206, OL-DL.
Outlook: The key offensive components return for the Knights, who reached the playoffs for the first time since 2006 last season.
Downs earned second-team All-Ohio honors after he threw for 2,522 yards (212 of 354) and 32 TDs including the playoffs. Meier was named first-team All-Northwest District after recording 62 receptions for 714 yards and nine scores. Harroun earned second-team all-league honors as a linebacker.
Among 46 on the varsity are 10 seniors and 10 letterwinners. Seven starters return in the Knights' spread offense. Five are back on the 4-2 defense.
But Dzierwa said inexperience defensively, particularly at linebacker and corner, are concerns.
"If we stay healthy on offense, we should be able to move the ball," Dzierwa said. "Defensively, we must have some guys step up and contribute for the first time."
Lake
Coach: Mark Emans, sixth year
2017 record: 6-4, 4-3
Top players: Seniors Dawson Delventhal, 6-1, 185, QB; Luke Walsh, 6- 2, 210, WB-LB; Joe Muetze, 6-4, 285, OT-DT; Jeremiah Glander, 6-2, 220, OL-DL; Damion Allison, 6- 0, 255, OL-DL; Griffin Pollick, 5-10, 190, LB; Justin Cole, 5-10, 185, LB.
Outlook: Lake, which last won the NBC title in 2015, has eight starters back on each side of the ball. Among 60 varsity players, 17 are seniors and 22 are returning letterwinners.
Allison earned first-team All-NBC honors on offense, while Muetze was named to the second team. Glander and Cole made all-league second team defensively.
The team's leading rusher and scorer, Blake Osborn, graduated. But Delventhal rushed for 264 yards. He also completed 35 of passes 71 for 482 yards and four scores out of Lake's shotgun/wing-T system.
Emans said his team's strengths are a strong senior class, returning experience, and better depth than in the past. The entire offensive line returns. But he said the team lacks overall speed and needs to become more physical.
"I think that we have a tough nonleague schedule that will prepare us for the NBC schedule," Emans said. "We think that the season will be a battle and we are excited to get started."
VIDEO: Rossford season preview
Rossford
Coach: Todd Drusback, ninth year
2017 record: 4-6, 3-4
Top players: Seniors Brent Deyarmond, 6-3, 250, OT-DE; Cam Reynolds, 6-4, 190, WR-DB; Jacob Birchall, 5-11, 220, OG-DE; Brandon Abernathy, 5-11, 180, WR-DB; Drew Bertz, 5-8, 160, WR-DB; Austin Szczublewski, 5-10, 180, RB-LB. Juniors Kyle Kromenacker, 6-0, 185, QB-DB; Lucas Klotz, 6-0, 160, WR-DB; Jacob Shiffert, 6-0, 170, WR-DB; Luke Rhue, 5-9, 210, OG-DT.
Outlook: With 15 letterwinners back, the Bulldogs have plenty of varsity experience. Drusback said many guys are competing for positions.
Reynolds caught 44 passes for 675 yards to earn second-team All-NBC honors. Kromenacker completed 40 of 53 passes for 551 and eight scores out of Rossford's spread, no-huddle system.
Deyarmond, who was named to the all-league second team, enters his third year on the line along with Birchall.
But depth at certain positions could be possible trouble areas.
"We believe we can compete for a league title and playoff berth," Drusback said. "We're excited to see how our team progresses during the preseason scrimmages."
Fostoria
Coach: Derek Kidwell, fifth year
2017 record: 5-5, 2-5
Top players: Senior Jaydn Miller, 5-9, 230, FB-LB. Juniors Devin Mauricio, 5-9, 160, QB-FS; Roger Hall, 5-6, 215, OL-DL; Zach Chavana, 5-9, 175, FB-LB.
Outlook: Kidwell has led his alma mater to a 15-25 record in four seasons. With 36 players, including seven seniors, the Redmen have four starters back on offense and five on defense.
Miller had a team-high 647 rushing yards on 117 carries and led Fostoria with 14 TDs. A veteran offensive line will lead the way for Miller, who enters his third season as the top back.
Kidwell cites his Pro-I offensive running attack as a strength as well as the team's linebackers in the 4-4 system.
But a lack of depth in the trenches is a concern.
"If our offensive line comes along and can move people, we should have a very capable running attack this year," Kidwell said. "Defensively we have to run to the ball and tackle a lot better."
Elmwood
Coach: Greg Bishop, second year
2017 record: 1-9, 0-7
Top players: Seniors Kain Brossia, 5-9, 295, OL-DL; Garrett Wright, 5-9, 185, RB-OLB; Marshall Tienarend, 5-10, 160, WR-DB; Conner Barringer, 5-10, 220, OL-LB. Juniors Mason Lentz, 6-3, 180, WR-DB; Sanford Fraley, 5-10, 190, TE-LB; Will Bechstein, 6-2-, 240, OL-DL.
Outlook: The Royals will run the spread and the offensive line as a unit returns plenty of experience.
There are 15 returning letterwinners and 10 seniors on the 40-man roster. Elmwood has nine of 11 starters back on each side of the ball.
According to Bishop, Brossia has a great motor and strength. Lentz is a playmaker, while Fraley has good instincts and is an aggressive leader. Wright is versatile and athletic. Tienarend and Barringer are defensive leaders.
A lack of depth makes staying healthy a key factor in the team's success.
"We have seen great strength gains in the weight room this offseason," Bishop said. "Our offensive and defensive lines will have to control the trenches for us to be successful. We will need to stay healthy in all positions."
Woodmore
Coach: Lou Bosh, third year
2017 record: 2-8, 1-6
Top players: Seniors Michael Lindhorst, 6-0, 210, OL-DL; Paul Morgan, 6-2, 235, OL-DL; Kipp Saam, 6-2, 225, OL-DL; Taityn Rollins, 6-3, 170, WR-DB. Juniors Nate Fligor, 5-11, 230, RB-LB; Dylan LaFountain, 6-1, 175, WR-DB; Andrew Barringer, 6-4, 200, WR-LB. Sophomore Aaron Sandrock, 6-1, 175, QB-DB.
Outlook: Bosh, who was the head coach at Woodmore for 12 seasons previously (1998-2009), is back for the third year of his second stint.
Sandrock earned All-NBC honorable mention for his work in the secondary for the Wildcats, who will run a two-back, multiple-set offense.
Lindhorst, Morgan, and Saam are three-year letterwinners and among just five seniors. Key newcomers are juniors Tristan Tracy (OL-LB) and Tyler Babka (WR-LB).
Bosh said his offensive line and an overall strong work ethic are strengths. But trouble areas include little depth and youth (36 of the 41 players are underclassmen).
"We will be very young, but we will continue to be very competitive each week," Bosh said. "We are coming into the season with a lot of excitement and energy because we have several young players returning that saw playing time last season. They are showing a great deal of confidence because of it."
Contact Mark Monroe at: mmonroe@theblade.com, 419-724-6354, or on Twitter @MonroeBlade.
Guidelines: Please keep your comments smart and civil. Don't attack other readers personally, and keep your language decent. Comments that violate these standards, or our privacy statement or visitor's agreement, are subject to being removed and commenters are subject to being banned. To post comments, you must be a registered user on toledoblade.com. To find out more, please visit the FAQ.