Sylvania Southview's Jared Yoshino (3) celebrates scoring the game-winning goal Wednesday at Strobel Field in Sandusky, Ohio.
THE BLADE/JEREMY WADSWORTH
Enlarge | Buy This Image
SANDUSKY — It was the worst night of the season for the 19 senior players on the Southview boys soccer team when they closed the regular season by giving up nine second-half goals in a nightmarish loss to Northern Lakes League champion Anthony Wayne.
But, in that darkest hour, a championship team may have been born, as the Cougars used it as motivation to get where they are now — one win from a Division I state championship.
PHOTO GALLERY: Southview is state bound
Senior forward Jared Yoshino took a perfectly place throw-in from senior midfielder Jared Lyle and surged down the left side to score the golden goal Wednesday night, giving Southview a 1-0 victory over Aurora with 3:07 left in the second overtime of a state semifinal at Strobel Field.
"[Lyle] just threw it out there and I was one-on-one with the goalie, and I kicked it in," Yoshino said. "I don't even know how I got there.
"I knew he would throw in a good ball, so I just tried to read it. It was perfect, and it was great to get a breakthrough on them. They had a great defense."
It was just the third shot on goal in the 107-minute contest for the Cougars (17-3-2), and it sends them to Saturday's 7 p.m. state championship match at Crew Stadium in Columbus.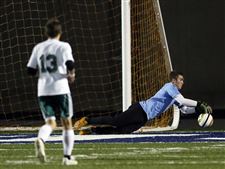 Sylvania Southview's goalie Eric Breeden had nine saves, including this one, in the shutout win.
THE BLADE/JEREMY WADSWORTH
Enlarge | Buy This Image
Cougars goalkeeper Eric Breeden made nine saves to record the shutout.
"It was the best feeling in the world to help our team win the game and send us to state [final]," Yoshino said. "It's an amazing feeling. I never thought this would happen."
Unranked Southview will face No. 2 state-ranked Powell Olengtangy Liberty (21-1). Liberty defeated Mason 1-0 on Wednesday night in the other semifinal.
"Honestly, we've done that the whole season," Lyle said of his throw-in connection with Yoshino. "He knows when I'm looking to throw to the corner.
"He was ready and the defender wasn't, so he made the best of it. I was just there to help him along."
"We said at halftime, 'Your space is out wide because they're going to pack it in the middle. We have to utilize that space.' It paid off," said Southview coach Chad Cody.
"Our offense starts sometimes with our dead-ball situations, and we knew the pressure Yoshino can apply to the defense."
In a scoreless opening half, Southview was in the neighborhood more frequently but couldn't quite get to the doorstep, while Aurora knocked on the door several times.
The Greenmen (16-4-2) got five shots on goal, all stopped by Breeden.
Southview, with a strong wind at its back, had several decent rushes from midfield, but managed just one shot on goal. Lyle's free kick from 40 yards out was on the mark in the 17th minute, but was grabbed by Aurora keeper Justin Pavlick.
The match grew more close-to-the-vest after halftime, with Aurora managing just two shots on goal over those 40 minutes, and Southview producing none.
The Cougars best opportunity came on a left-corner throw-in from Lyle in the 75th minute. But, with a cluster of bodies in front of the goal, no Southview player got near the ball.
Breeden made one save in each of the OT periods, and Pavlick made one on a Lyle free kick with 6:25 left in the second extra stanza.
Cody, Yoshino, and Lyle all echoed how a 9-3 loss to AW in the regular-season finale inspired the Cougars to their farthest tournament run in the program's history.
"It was a huge motivator," Cody said. "That was an embarrassing loss. Anthony Wayne is an outstanding team and deserved to win, but we just folded. That game could definitely be a blessing in disguise. Everyone was embarrassed, but it motivated us."
"We all knew we could come back strong from that," Yoshino said. "It helped us, because we worked harder in practice and knew what we had to do to come back and win. That taught us to fight back no matter what happens."
"That game made us realize something," Lyle said. "We were kind of cloud-9 toward the end of the season, and they beat us. We realized we had to come out and play our best, and we've been playing the best soccer of our lives since then."
Contact Steve Junga at:sjunga@theblade.com, 419-724-6461 or on Twitter@JungaBlade.
Guidelines: Please keep your comments smart and civil. Don't attack other readers personally, and keep your language decent. Comments that violate these standards, or our privacy statement or visitor's agreement, are subject to being removed and commenters are subject to being banned. To post comments, you must be a registered user on toledoblade.com. To find out more, please visit the FAQ.