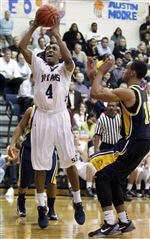 Anthony Glover of St. John's goes to the basket against Whitmer's Ricardo Smith in Wednesday night's game.
THE BLADE/JEREMY WADSWORTH
Enlarge | Buy This Image
Marc Loving glanced up at the four-sided scoreboard that hangs over the court at St. John's Jesuit and considered the accomplishment.
His Titans had nearly doubled Whitmer's score in the fourth quarter before cruising to a 60-37 victory Wednesday night in a Three Rivers Athletic Conference boys basketball game.
Surprised?
"I would say, yeah, a little bit," said Loving, a 6-foot-7 senior. "But I feel like we worked hard and we deserved it."
The TRAC figures to be tightly contested this year. The coaches picked Central Catholic to win the league with a slight edge over St. John's and defending champion Whitmer.
But for one night, St. John's snubbed its nose at the nip-and-tuck expectations.
Loving, an Ohio State commit, scored a game-high 22 points and Austin Gardner added 14 as the Titans (3-0, 1-0 TRAC) opened conference play with a resounding statement.
In a defensive-scrap-turned-rout — St. John's led 20-16 at halftime — the Titans outscored Whitmer (1-1, 0-1) 19-6 in the third quarter and continued to pile on, almost doubling the visitors' score at 44-23 early in the fourth.
"It says that we'll be a contender for the TRAC championship," Loving said. "Whitmer is a good team, and our coaches prepared for this moment."
His coach, meanwhile, was less willing to see the night as anything more than one early-season victory.
"It's one game, and it's the first game," said Ed Heintschel, who moved within eight wins of 600 for his career. "We've still got a long ways to go. That's the ultimate cliche, probably, but it's absolutely a fact. We've got a lot of league games. We play them later in the season at their place, and it could be reversed.
"I'm at a point where I would never anticipate anything. You never know what's going to happen game to game. We're happing with the way we played tonight, but we've got to keep playing."
Marc Loving of St. John's charges over Whitmer's Nigel Hayes in Wednesday's Three Rivers Athletic Conference game. Loving finished with 22 points, while Hayes had 19.
THE BLADE/JEREMY WADSWORTH
Enlarge | Buy This Image
The Titans' late surge belied much of the first half. Before a sold-out crowd, both teams appeared edgy in the first quarter. Whitmer missed its first 11 shots while a two-handed dunk by Loving with 4:42 remaining — the first points of the night — provided the Titans' only field goal until more than two minutes into the second quarter. The score was tied at 5 after the first quarter.
Led by Wisconsin-bound senior Nigel Hayes, who had 19 points, Whitmer opened a 14-11 lead in the second quarter. But the Titans immediately answered when Parker Ernsthausen scored through a foul and hit the free throw, and would not trail again.
The difference the rest of the night? St. John's found its shot while the Panthers never did. Whitmer finished with only 14 field goals.
"The second half, we started hitting shots," Heintschel said. "We probably rushed a few things in the first half and didn't shoot very well. But the second half, we finished shots. Coaches always talk about defense, but it's always easier when you hit shots."
Senior guard Chris Stearns had two fourth-quarter 3-pointers and finished with eight points, Anthony Glover scored seven points and Ernsthausen added five.
"I really didn't know what to expect tonight to be honest," Whitmer coach Bruce Smith said. "I hoped we would be competitive. I think the fact that we didn't shoot very well kind of snowballed on us early in the third quarter. It kind of got away from us. It's frustrating when you get the shots. Right now, they're better than we are."
Girls
Start 49, Waite 30
At Start, Dee Hicks led the Spartans (3-2) with 14 points. Torrie McDuffie added 12 points and Kendra Jones 10.
Maekana Henry paced the Indians with eight points.
Bowsher 62, Scott 42
The Rebels (2-3) were paced at home by Deija Rayford with 17 points. Rachel Marter and Celeste Wade each tallied 15.
Erica Besteder tossed in 14 to lead the Bulldogs.
Rogers 83, Woodward 21
Sasha Dailey the visiting Rams with 26 points, while Tori Easley added 20 and Marquelle Williams 12.
For the Polar Bears (0-8), K'Shauna Barnett had 13.
Guidelines: Please keep your comments smart and civil. Don't attack other readers personally, and keep your language decent. Comments that violate these standards, or our privacy statement or visitor's agreement, are subject to being removed and commenters are subject to being banned. To post comments, you must be a registered user on toledoblade.com. To find out more, please visit the FAQ.