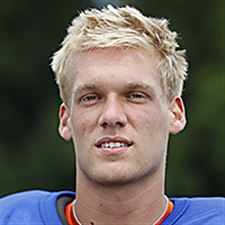 Anthony Wayne kicker Jake Hartbarger has made three field goals and 12 extra points this season, but he will focus on punting with the Spartans.
THE BLADE/LORI KING
Enlarge | Buy This Image
Anthony Wayne senior punter Jake Hartbarger has committed to Michigan State University.
The 6-foot-4 and 196-pound Hartbarger also was weighing offers from Oklahoma, Iowa State, Miami (Ohio), and Toledo.
Hartbarger has made 12 extra points and three field goals this year. But he expects to be used solely as a punter in college.
Last fall Hartbarger averaged 41.5 yards per punt. He also pinned opponents inside their 20 yard line on 10 kicks. He had a long of 62 yards along with five boots of 55 yards and three of 52.
Hartbarger has been chosen to play in the prestigious Under Armour All-American Game on Jan. 2 in Orlando. He earned an all-district and All-Northern Lakes League first team honors and was selected to the All-Blade team last fall.
Hartbarger is ranked as the No. 2 high school punter in the country by Kohl's Kicking recruiting service.
He had planned to make official visits to Michigan State, Oklahoma, Iowa State, and Rutgers this month.
Anthony Wayne coach Craig Smith confirmed that Hartbarger verbally committed to Michigan State.
"He flat out works extremely hard," Smith said. "That's what's gotten him to this point."
Hartbarger told The Blade earlier this month that the recruiting process has not been stressful.
"It's a great time," he said. "They treat you like you are part of their family. I'm enjoying the process. It's something I'll always remember."
Hartbarger joins another local kicker at Michigan State. Ottawa Hills graduate Michael Geiger has taken over as the Spartans' starting kicker as a true freshman.
Geiger ended his redshirt status when he kicked an extra point last Saturday in Michigan State's 17-13 loss at Notre Dame. Geiger also then converted on field goals of 25 and 42 yards.
A redshirt is a possibility for Hartbarger. Michigan State's current punter Mike Sadler will be a senior next season.
Contact Mark Monroe at: mmonroe@theblade.com, 419-724-6354 or on Twitter @MonroeBlade.
Guidelines: Please keep your comments smart and civil. Don't attack other readers personally, and keep your language decent. Comments that violate these standards, or our privacy statement or visitor's agreement, are subject to being removed and commenters are subject to being banned. To post comments, you must be a registered user on toledoblade.com. To find out more, please visit the FAQ.