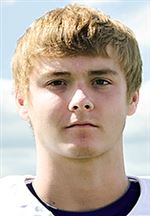 Schimmoeller
PROSPECT ACRES PHOTOGRAPHY Enlarge
For the second straight week, Bryan faces an undefeated team in the Division IV football playoffs
The Golden Bears (11-0) face the region's top-seeded Caledonia River Valley (11-0) at 7:30 p.m. Friday at Findlay Donnell Stadium, one week after getting past Genoa 43-36 with a last-minute touchdown.
"They're No. 1 in the region, and there's a reason we're both 11-0," Bryan coach Kevin Kline said. "We had similar paths to get here."
Bryan, the No. 5 seed in region, has thrived all season with a prolific offensive attack led by dual-threat quarterback Austin Schimmoeller, who has scored a team-leading 29 touchdowns, including three against Genoa. Schimmoeller has passed for 2,304 yards this season after a 336-yard effort against the Comets last week.
In the final Associated Press state poll, Bryan ranked No. 2, while River Valley was fourth.
The Golden Bears, who won the Northwest Ohio Athletic League for a second straight season, have averaged nearly 50 points per game, while holding opponents to 12.6 in the regular season.
"It was a really physical first-round game and some guys are a little sore," Kline said. "But we're pretty excited the way we came out and played against Genoa.
"It wasn't a perfect game, but I think we're excited about how things turned out for us."
Bryan is in the playoffs for a second year in a row and third overall (2-2 all-time record).
River Valley is making its fifth playoff appearance (1-4 overall). The Vikings turned back Lake 36-25 last week.
River Valley found success against the Flyers by rushing for 322 yards on 59 carries, including 140 yards by quarterback Matt Green.
Green, who had accounted for 1,738 total yards (884 passing, 854 rushing) in the regular season, poses a major concern for the Golden Bears.
"They're a very good running team, and the quarterback is very shifty," Kline said. "They run some option stuff so good that you don't know where he's going to go.
"We really don't see the style of option offense that they run. It's more of a hybrid of teams we've faced. They do some things like Patrick Henry's power game and run game. They also run a little Wing-T like Liberty Center."
— Donald Emmons
Guidelines: Please keep your comments smart and civil. Don't attack other readers personally, and keep your language decent. Comments that violate these standards, or our privacy statement or visitor's agreement, are subject to being removed and commenters are subject to being banned. To post comments, you must be a registered user on toledoblade.com. To find out more, please visit the FAQ.