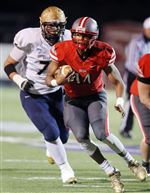 Central Catholic's DeShone Kizer threw for 5,684 yards and rushed for 1,211 in his career. He led the Irish to a 34-6 record in three years including a Division II state championship in 2012.
THE BLADE/JEREMY WADSWORTH
Enlarge | Buy This Image
Although his college football journey at Notre Dame is a chapter yet to be written, now that his career at Central Catholic is concluded, it is fair to say that DeShone Kizer is the most talented high school quarterback that Toledo has produced.
On the heels of perhaps the best single season a Toledo quarterback has ever enjoyed — Nick Holley's sterling run-pass effort that took Whitmer to the 2012 Division I championship game — the 6-foot-5, 218-pound Kizer has finished the best career.
And — following in Holley's footsteps — Kizer is the 2013 All-Blade player of the year.
RELATED ARTICLE: Bryan team thrives with coach Kevin Kline
Never before has a Toledo signal-caller shown the complete variety of physical and mental attributes that Kizer displayed, showing steady improvement during a three-year career that coincided with an overall record of 34-6 for the Fighting Irish.
"At least in my time involved with high school football in the Toledo area, we haven't seen a quarterback like this," said 14th-year Central head coach Greg Dempsey (130-37 record, two state titles). "We've had a chance to watch one of the best in the country. What's amazing is that he has that physical ability, but he became such a student of the game in becoming what you saw out on the field."
Dempsey never runs out of superlatives in discussing Kizer's abilities.
"He's such a great athlete for his size," Dempsey said. "You're seeing what NFL quarterbacks look like in a high school kid, physically.
"He has great feet, great arm strength, and great vision. The pass rush doesn't affect him. He's always looking down field. That's one of the toughest things to do for any quarterback, not just at the high school level.
"He throws the deep ball with more accuracy than any high school quarterback that I remember ever seeing live, and I've seen some good ones. We played against Brady Quinn [in 2001], and I saw Ben Roethlisberger as a high school player. DeShone is in that conversation with those guys."
Kizer's journey produced an 8-2 playoff record, including the 2012 Division II state championship and Central's first Three Rivers Athletic Conference title this season.
This season, Kizer was 150-of-245 (61 perecnt) passing for 2,847 yards and 30 touchdowns with six interceptions. He also rushed 62 times for 530 yards and six TDs, and he punted for a 41.2-yard average.
But no matter what the numbers climbed to, they could not quite paint the picture.
The picture of Kizer's ability to scramble out of a pass rush and fire an on-target laser to an Irish receiver. His knack of breaking out of chaos at the line of scrimmage to run for a key first down. His rare gift of sending a tight spiral 50 yards downfield on the money.
Hyperbole is not required to embellish Kizer's gifts as a quarterback. The experts have judged him among the nation's elite from the Class of 2014.
Last summer Kizer was one of 18 rising senior quarterbacks featured on ESPN at the Elite 11 camp in Beaverton, Ore.
His appearance there was the result of three years of honing his skills in workouts, at camps, and in practices.
Kizer has also added a few intangibles that should serve him well as he takes his game into the limelight at South Bend — maturity, class, and character. And then there's humility.
After suffering the toughest outcome of his career last Friday in a 42-41 loss to underdog Clyde at Bowling Green's Doyt Perry Stadium, Kizer fought through tears to give the opposing Fliers credit for the upset achievement. Upon a few days' reflection, he found more perspective.
"Last Friday showed me that you really have to take pride in every win, because on any given day, in playoff time, that can all be taken away from you really fast," Kizer said. "The guys I've been with for four years, and the underclassmen I've played with — you really learn to appreciate those guys and not take anything for granted."
The loss was especially difficult for Kizer to absorb because he lost a fumble at the Clyde 4-yard line with 52 seconds remaining. One mistake in an otherwise brilliant game that saw him pass for 217 yards and run for 127, leading one sustained drive after another.
Because there was that state title already in the books, perhaps the abrupt end to a 12-1 senior season was a bit easier to deal with.
"Being part of a team that won a state championship coming off a big loss to Whitmer last year, you feel the ultimate achievement," Kizer said. "Going through what I did [last Friday] was a humbling experience. It brought me back down to earth, off the pedestal.
"Those guys [from Clyde] went out and played a great game. Although we had quite a few mistakes and didn't play to the best of our ability, they came out and played harder."
Kizer looks fondly at his Irish football journey as a whole.
"That was one of the best experiences I've ever been a part of, playing football at Central," Kizer said. "There's nothing like it. It developed me into the person I am off the field, and it's made me a better athlete and got me ready to play college football."
Kizer's career was unlike most others with heavy college recruitment, frequent media attention, and the pressure to live up to the hype those two elements created.
"Coach Dempsey has been here and done this for quite a few guys before me," Kizer said of negotiating the distractions. "He's had kids go to Ohio State and Alabama. You have a lot of eyes on you expecting you to do big things, and having coach Dempsey around made that a lot easier."
Kizer said he's known from a young age that he was destined to excel at sports, and why not? His father, Derek, was a standout basketball player at Bowsher and BGSU, and his mother, Mindy, was a three-sport athlete at Clyde.
"It's something I always wanted to do," Kizer said. "I didn't know it was going to be in this sport, but I knew once I had a football in my hand good things were going to happen."
In his career, Kizer was 345 of 584 (59 percent) for 5,684 yards and 56 TDs. He also rushed 151 times for 1,211 yards and 17 TDs.
"Being a part of these teams at Central Catholic, and winning all these games and breaking records — those are all things I wanted to do since I was a child," Kizer said. "My dad always told me, if you're going to take part in something, be the best at it."
Kizer plans on playing his other two sports — basketball and baseball — to complete his senior year, because he said he wants to squeeze every last moment out of his high school experience.
Contact Steve Junga at: sjunga@theblade.com, or 419-724-6461 or on Twitter@JungaBlade.
Guidelines: Please keep your comments smart and civil. Don't attack other readers personally, and keep your language decent. Comments that violate these standards, or our privacy statement or visitor's agreement, are subject to being removed and commenters are subject to being banned. To post comments, you must be a registered user on toledoblade.com. To find out more, please visit the FAQ.