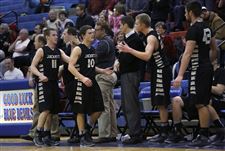 Starters Matt Mesker, 11, and Quinn Thomas, 10 are taken out after earning a large lead.
The Blade/Lori King
Enlarge | Buy This Image
It was supposed to be a showdown for first place in the Northern Lakes League boys basketball race on Tuesday night.
Instead, visiting Perrysburg put on a show — and preseason league favorite Springfield barely showed up — in the Yellow Jackets' decisive 71-42 victory.
Was this Perrysburg's best showing of the season?
"No doubt about it," Jackets coach Dave Boyce said. "We certainly handled the ball well, we rebounded it well, we passed it well, and we shot it well, especially early. And we really followed our game plan on defense.
"The way we broke their press early was key. Then we got pressure from our guards Matt Mesker and Quinn Thomas out front early, and that set the tone."
The win gave Perrysburg (13-1, 7-1 NLL) sole possession of first place and a season sweep against the Blue Devils (8-4, 5-2), who also lost at Perrysburg 59-50 on Dec. 17.
PHOTO GALLERY: Perrysburg pummels Springfield
Despite early foul trouble, senior leader Nick Moschetti led four Perrysburg players in double-figure scoring with 17 points.
Matt Kaczinski had 14 points, and Nate Patterson and Thomas added 11 and 10 points, respectively, for Perrysburg, which shot a sizzling 65 percent (26 of 40) from the field.
The Jackets also outrebounded Springfield 28-22 and forced 19 turnovers.
"We got outcoached, outplayed, outshot, outrebounded, out everything," Springfield coach Stan Joplin said. "I didn't get them ready to play. We didn't have two good days of practice, and unfortunately this is something we thought we should get just by showing up. We just have to bounce back and go from there. Give [Perrysburg] credit. They shot the ball pretty well. They played pretty well. They took us apart."
The only Perrysburg starter not to score in double figures was Mesker (six points), but he was perhaps most responsible, along with fellow guard Thomas, in sparking the Jackets' rout.
They combined four steals, as Springfield committed seven turnovers in the first eight minutes while falling behind 22-12.
The Devils led just once when guard Markese Hicks (15 points) hit the first of his three 3-pointers to put Springfield up 3-2 early.
Perrysburg responded with a 9-0 run capped by a Thomas 3, and it never looked back in dominating Springfield from the opening tip to the final buzzer.
"That just made us go more," Kaczinski said of his team's fast start. "We knew we were playing well, and that we could play that well the rest of the game."
With Moschetti on the bench, the Yellow Jackets extended their lead to 37-21 by halftime. When he returned, his eight points keyed a 19-8 run that made it 56-29 entering the fourth.
"It started with our defense up top with Matt Mesker," Moschetti said. "He came up huge with some steals, and that gave us our momentum. It frustrated them and kept them from getting into their offense."
Springfield's top scorer, Manny Durden (15.7 average) was held to six points and fouled out with 5 minutes, 31 seconds left.
The Devils were 17 of 45 (38 percent) from the field, and just 4 of 12 (33 percent) from the foul line.
Contact Steve Junga at: sjunga@theblade.com, or 419-724-6461 or on Twitter@JungaBlade.
Guidelines: Please keep your comments smart and civil. Don't attack other readers personally, and keep your language decent. Comments that violate these standards, or our privacy statement or visitor's agreement, are subject to being removed and commenters are subject to being banned. To post comments, you must be a registered user on toledoblade.com. To find out more, please visit the FAQ.