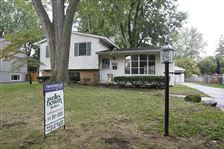 An overall drop of inventory for homes in Lucas and northern Wood counties will likely lead to a surge in home building in 2014.
THE BLADE
Enlarge | Buy This Image
Area home sales took a solid step forward in 2013 with increases in the number of homes sold, the average and median home price, and overall volume.
The number of days a home stayed on the market decreased, which was good for sellers. But the number of new listings coming onto the market also decreased, which was bad for buyers.
Probably most important to buyers, sellers, and real estate agents, the overall available inventory in Lucas and northern Wood counties was down 13 percent at the end of December, according to year-end statistics from the Toledo Board of Realtors.
That likely will mean higher sales prices for sellers, and a tougher time finding the right home for buyers and the real estate agents that represent them.
But in the long run that situation is good for the market because it likely will force new subdivision development, an area that has been nearly stagnant since the housing bubble burst in 2007, said John Mangas, Toledo Board of Realtors president.
"If there were more buildable home sites ready to go, I think the market's there for them," said Mr. Mangas, broker and partner of Re/​Max Preferred Associates in Toledo.
"Over the course of the recession, the loan dollars were not there for developers to put in new subdivisions. So the [building] lot inventory really kind of aged itself in the recession process," Mr. Mangas said.
"At this point, we have burnt through those remaining home sites. Builders have gone through much of that inventory that was left," he said. "But I now hear that [builder] Blair Saba is buying new land to develop. So we'll have a new subdivision soon and Mike White of Buckeye Specialty Homes has done really well at developing land."
Perrysburg's planning commission last month approved the first plat of a proposed 241-home subdivision to be built by Saba Custom Homes in Toledo
Sales of homes in metro Toledo rose 7 percent in 2013, totaling 5,192 units compared to 4,832 sold in 2012, according to the board's statistics.
The median sales price rose 16 percent to $90,000 from $77,500 in 2012. The median means half the homes sold for above the $90,000 figure while half were below.
The average home sales price rose 9 percent to $117,394, up from $107,859 a year ago.
Meanwhile, new listings were down 1 percent and homes for sale spent an average of 115 days on the market, down from 119 days in 2012.
For the entire 10-county multiple listing service of northwest Ohio, sales rose 6 percent to 7,214 units sold, the median price rose 12 percent to $89,900, and the average price was up 7 percent to $112,609.
Mr. Mangas said local real estate industry members expected 2013 to be a good year and it was. "I didn't see any real surprises in it. The year ended pretty much as we expected it to," he said.
"Some of the suburbs in particular are performing better than we thought. Northern Wood County continued to be a bright spot," he added.
Dave Browning, co-owner of Toledo's Welles-Bowen Real Estate Co., said his company's internal data closely mirrored that of the board of Realtors.
"We were surprised how strong the first quarter was. We were a little disappointed in the second quarter, and we were pleasantly surprised in the third. And we were sort of looking for things to flatten out in the fourth but the fourth quarter business was pretty good," Mr. Browning said.
Both men agreed the local real estate industry finally has momentum heading into a new year.
"Our expectation is 2014, in our opinion, is going to look a lot like 2013, and that's OK," Mr. Mangas said.
Mr. Browning said the area is seeing a rise in manufacturing and other positive developments, like strong sales of the new Toledo-made Jeep Cherokee.
"I don't know if I would be willing to tell you that I think we'll get as big a bump in sales as we did between '12 and '13, but I think we will be up some in '14. Maybe a normal amount like 6 or 7 or 8 percent," he said.
"We are nowhere near the good old days, but we are making decent strides," he added.
Mr. Mangas said there are only two items that have local real estate industry people concerned.
One is the almost certain upcoming rise in interest rates following a December decision by the Federal Reserve to ease back on measures to stimulate the economy.
The other concern is new regulations governing the lending industry that are designed to prevent lenders from engaging in risky loan practices.
But Mr. Mangas said no one knows what those regulations will look like, even though they are due to go into effect fairly soon.
"Lenders still didn't have the handbook on the guidelines," Mr. Mangas said. "When lenders aren't sure to the degree to which they're being held accountable to, they tend to do nothing. So we're a little concerned that lenders may become overly cautious," he said.
Contact Jon Chavez at: jchavez@theblade.com or 419-724-6128.
Guidelines: Please keep your comments smart and civil. Don't attack other readers personally, and keep your language decent. Comments that violate these standards, or our privacy statement or visitor's agreement, are subject to being removed and commenters are subject to being banned. To post comments, you must be a registered user on toledoblade.com. To find out more, please visit the FAQ.