We are down to the final lap. Let's consider the players: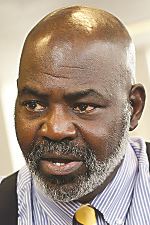 Mike Bell.
The Blade/Dave Zapotosky
Enlarge | Buy This Image
Mayor Mike Bell is a charismatic and heroic figure, a former firefighter who takes the view that holding political power is not that important in the great scheme of things. He'd like to be re-elected mayor, but he can live his life happily if he is not re-elected. His view of the mayor's job is that he is a command officer who must take the heat. That's both good and bad. A good mayor should not be a straw in the wind. But he should be able to change his mind. It's a balance. Mr. Bell also believes in being a salesman for the city to big business, at home and abroad, but, so far, he has had limited success in this regard. His biggest pluses politically are: His personal and political courage and his record as a fiscal hawk and rescuer of the city. His biggest minus is the perception that he has forgotten the poor.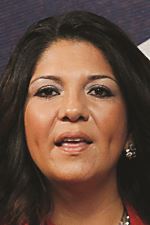 Anita Lopez.
The Blade/Lori King
Enlarge | Buy This Image
Anita Lopez is a high-energy career politician who has done well with every job she has won, most recently county auditor. Her view of the job is that a mayor must shake up city government. She promises to make everyone in city government work harder and even to fire people. But it is not clear to what end. She is all about conquest. In the corporate world she would be a raider or take-over specialist. She does talk often about the poor, but she provides few specifics. Her biggest pluses are her work ethic and union support. Her biggest minus is a lack of depth.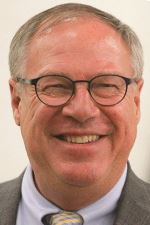 D. Michael Collins.
The Blade/Andy Morrison
Enlarge | Buy This Image
Mike Collins is an odd mix of policeman and professor, both of which he has been, and an interesting mix of union leader with an old-school conservative. He is one of the hardest-working councilmen the city has seen. He puts many hours a week into constituent case work, he is a detail-oriented legislator, and he is a sharp-eyed watchdog. He has, perhaps, run the most innovative and substantive primary campaign of the top four candidates. His big plus politically is that he knows what he thinks and can answer almost any question put to him without riffing or wondering what his handlers want him to say. (No handlers.) His big minus politically is that he had very little money for his campaign.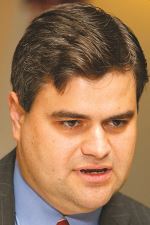 Joe McNamara.
The Blade/Andy Morrison
Enlarge | Buy This Image
Joe McNamara, like Ms. Lopez, is a career politician. Politics is his life, and, no matter what happens in this campaign, he will probably be back. But he is the anti-Lopez. He is all policy, programs, and substance. But, also the opposite of Ms. Lopez, he sometimes seems to lack consistent drive and the ability to connect. Almost all his supporters genuinely believe that he would make the best mayor of this or any recent field. His big political pluses? Love for Toledo and for urban policy. His big minus is lack of a natural constituency beyond earnest white liberals and academics.
So there you have it: The loner-hero; the feisty take-over specialist; the cop-academic; and the policy progressive.
Let's see how many voters want to change the current shape of this race.
Pay your money and take your chances.
Keith C. Burris is a columnist for The Blade.
Contact him at: kburris@theblade.com or 419-724-6266.
Guidelines: Please keep your comments smart and civil. Don't attack other readers personally, and keep your language decent. Comments that violate these standards, or our privacy statement or visitor's agreement, are subject to being removed and commenters are subject to being banned. To post comments, you must be a registered user on toledoblade.com. To find out more, please visit the FAQ.