Lilly Ledbetter is an Alabama gal with a musical name and a deep southern drawl. "People don't forget me," she says.
They sure don't.
And they won't.
She has a federal law named after her now. And, at age 76, she travels the country advocating equal pay for equal work. It's not a "women's issue," she says. It's a family issue.
In 1979, Ms. Ledbetter was hired by Goodyear Tire & Rubber Co. in Gadsden, Ala. She'd read that radial tires were the wave of the future and that they would be made in her hometown. She and her husband had two children to raise, and she thought she should try to "get on" at that factory. She succeeded and soon rose to a supervisory position, area manager.
In 1998 she discovered that the company had been paying her significantly less than three men doing exactly the same jobs as she was doing at the factory — almost $1,500 a month less, in one case. This, though she had been given awards as an exceptional employee and filled in for two of the men, doing their jobs as well as hers when necessary. What really galled her was that the lower pay affected her pension and Social Security.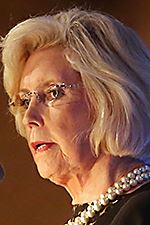 Ledbetter,
THE BLADE
Enlarge | Buy This Image
She filed a lawsuit, which she initially won. But, eventually, the Supreme Court denied her claim because she did not file suit 180 days from her first paycheck. Of course, the pay discrepancy was initially unknown to her and developed over a 20-year span.
Ms. Ledbetter credits Justice Ruth Bader Ginsburg with opening the way to new law. In a dissenting opinion that resounded and dwarfed the majority opinion, and which Ms. Ginsburg read word by word to the court, the justice scored the obtuseness and unreality of her court colleagues and challenged Congress to correct a grave injustice.
In time, Congress did, led by Rep. George Miller of California. The Lilly Ledbetter Fair Pay Act was the first law President Obama signed. The law makes it possible to sue for wage discrimination after the discrepancy is discovered. Ms. Ledbetter's journey had taken a decade. In that time, she had retired and lost her husband, Charles, who supported her in her fight. She never got her lost wages.
But, in a conversation at her hotel the day before her speech Wednesday night at the annual Access to Justice banquet in Maumee, she told me she'd gotten something better: a cause. Just a few weeks ago, the President signed an executive order mandating that the federal government may monitor extreme salary discrepancies. She believes this will make what Goodyear did to her impossible.
In her book, Grace and Grit, the President and his wife, along with Mr. Miller and Ms. Ginsburg, emerge as heroes — people who walk the walk.
That's what Ms. Ledbetter believes in — living your values. She tells young people you need three things to survive in this world — mental toughness, family, and reliance upon a higher power.
When she hit the lecture circuit, she was worried. She wasn't a polished speaker, and she didn't do jokes. One of her grandchildren told her, "Don't worry grandma, you're funny." And she is. She's also a testament to the willpower, intellect, and adaptability of working class folk. Grace and grit won out.
Keith C. Burris is a columnist for The Blade.
Contact him at: kburris@theblade.com or 419-724-6266.
Guidelines: Please keep your comments smart and civil. Don't attack other readers personally, and keep your language decent. Comments that violate these standards, or our privacy statement or visitor's agreement, are subject to being removed and commenters are subject to being banned. To post comments, you must be a registered user on toledoblade.com. To find out more, please visit the FAQ.