Sister Geraldine Nowak, a Sister of St. Francis, invited me to meet with members of STOP! — Stop Trafficking of Persons. The group is a loose organization of religious sisters and lay people in the Catholic Diocese of Toledo trying to do something about human trafficking. They are small but mighty.
The victims of trafficking are young women who have been enticed under false pretenses, often kidnapped, and enslaved in the sex trade.
Slavery is the correct word for what is happening to vulnerable teenage women while most of our minds are elsewhere — on shopping, cable news blather, or exploding superheroes and villains of the big screen. Meanwhile this horror is occurring in plain sight.
The leadership of STOP! is: Sister Frances Marie Penwell; Sister Pat Gardner; Fatima Al-Hayani, a professor of Muslim studies; Sister Mary Kuhlman; Sister Sandy Sherman; and Sister Geraldine.
They are part of a larger, informal coalition of conscience that is building in our area. It includes the Second Chance Center; the Daughters Project; a new film called Shadow on the Heartland; one key University of Toledo professor; and a gutsy and determined state legislator.
But there is still a long way to go. Too many middle-class folks don't know about human trafficking. Too many parents know of it vaguely but don't take it seriously. I am just learning.
We all need to wake up. Fast. Class and social status do not necessarily protect anyone. It happens to girls from good families.
One of the STOP! sisters goes out into the streets on weekends and befriends prostitutes. She gives them toothbrushes and shampoo and the like. She asks if there is anything else she can do. She tells them she'll see them next week. Eventually, personal and even spiritual conversations happen. Not right away. Almost all these women started in the sex trade under age.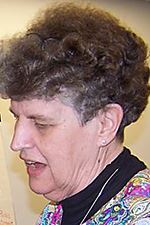 Sister Geraldine Nowak.
No one wants this life. It is romanticized in movies. In life it is brutal. Just addiction and violence.
Celia Williamson of UT, a national expert on human trafficking, makes two key points in a recent Ted Talks lecture. First, this is not just prostitution; this is selling kids as sex slaves. Just try to take that in. I can't quite.
Second, it is a system oppressing these women. An organized economic system. We have to crack down on the customers and the enslavers to break the system.
Enter, Teresa Fedor. She just got House Bill 130 — the "End Demand Act" — passed.
Among other provisions, House Bill 130:
● Increases the penalty for purchasing sex from a minor to a felony.
● Removes the legal requirement to prove a victim under 16 was compelled to engage in sex for hire. Under the age of consent, there is no consent.
● Terminates parental rights for those found trafficking their own children.
● Prohibits the advertisement of sex for hire when the materials depict a minor.
The bill also contains an "emergency" clause: As soon as the governor signs it, it is law.
This is impressive, meaningful work by a focused legislator.
The women fighting this scourge are heroes. We are in their debt. They need our help.
Keith C. Burris is a columnist for The Blade.
Contact him at: kburris@theblade.com or 419-724-6266.
Guidelines: Please keep your comments smart and civil. Don't attack other readers personally, and keep your language decent. Comments that violate these standards, or our privacy statement or visitor's agreement, are subject to being removed and commenters are subject to being banned. To post comments, you must be a registered user on toledoblade.com. To find out more, please visit the FAQ.